5 Steps for Developing a Social Media CRM Strategy
A Customer Relationship Management (CRM) strategy that revolves around social media is a great way to increase customer engagement and improve customer service. Over half of the 18-29 age group value a quick resolution as the most useful aspect of customer service-related social media, according to a recent study by J.D. Power and Associates. Here are five steps to for developing your social media CRM strategy.
Related: How Integration of Social Media with ECommerce Site Drives Up Sales
Select a Social Network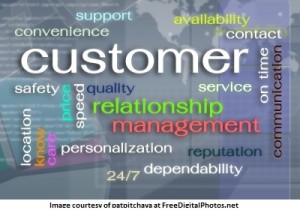 Regardless of how many active profiles you have created on various social media outlets, choose the social network that provides you with the best interaction with your target market to use as your hub for customer support. For many businesses, Facebook will be the most appropriate hub since it's the most popular social media network and allows the most flexibility for interaction. LinkedIn is strong for B2B relationships while Twitter provides a fast interaction due to its character limitation.
Organize and Prioritize Service Requests Decide on a process and a pecking order of how you will respond to customers whose needs should be addressed right away. Since you may not have time to respond to all messages on the day they come in, it's important to develop a strategy that ensures that the most important issues are dealt with first. You should also have a pre-planned strategy for dealing with complaints.
Track and Manage Data Investing in social media monitoring software can help you keep track of the people who are engaging with you. Small companies may want to use listening services like HootSuite and TweetDeck while larger company might pursue more robust software such as Zendesk.
Analyze Data Use your data measuring tools to analyze your productivity and how well you are meeting customer needs. Consider shifting or narrowing your focus to certain customers that may be under-served.
Related: Boosting Social Media Efforts With SEO Data
Fine-tune the Process Once your CRM strategy is in motion, work on tweaking it to increase effectiveness. Remember to avoid resorting to automated responses when it comes to customer complaints or compliments since auto responders are now perceived as negative and personalization is perceived as positive.