Their Situation
Because of increased competition, one of their urgent care centers was losing patients. Not only was there increased competition, but their online presence was very weak, they had an outdated website, and very few reviews on review platforms.
GMR was brought in to design and develop their web marketing improvement effort and also noticed that the majority of patients were actually very much satisfied, contrary to the reviews online.
Our Solution
When it comes to online reputation in the healthcare field, we found a big discrepancy. Although a large majority of patients were happy with their service, FCCMG's online reviews did not reflect this. This is because customers who have bad experiences are 2 - 3 times more likely to post a review in comparison to happy, satisfied patients. And because 88% of people trust online reviews as much as their best friend's recommendations, this can be extremely dangerous for your practice.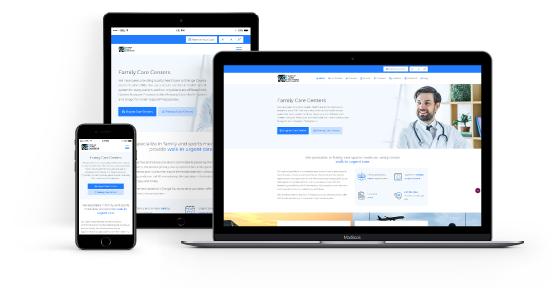 Develop a reputation strategy to reach out to new patients after their visit, gather feedback, and prompt satisfied patients to online review sites.
Promote patient engagement and brand loyalty through a monthly email newsletter
Create a website that is easy to navigate and optimized for viewing across all devices.
Develop a customized content marketing and social media strategy to get the urgent care center ranked highly on all search engines, especially Google.