Why Dental Practices Should Be on Social Media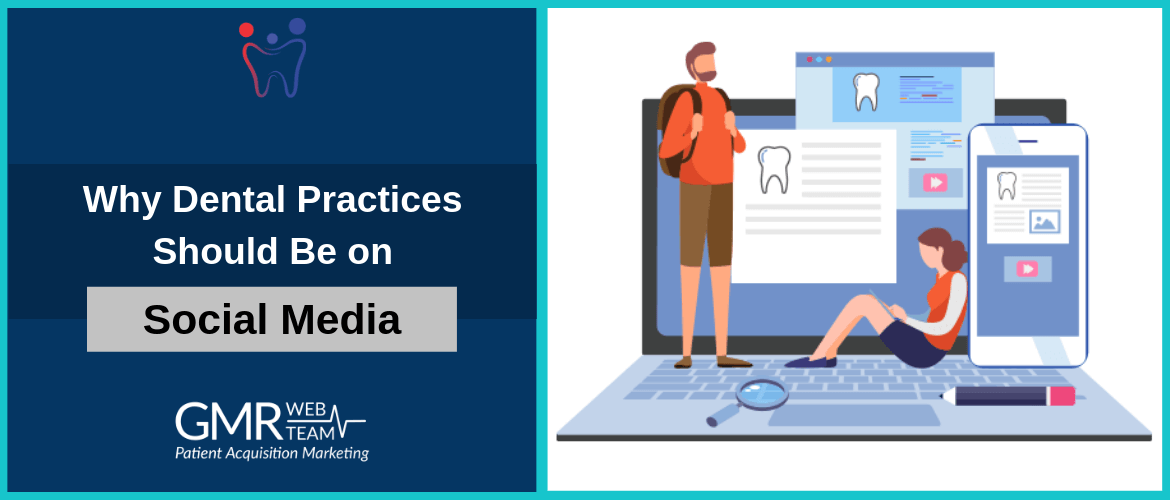 If I were to ask you how many people you know have their own social media account, I bet that you would you say that just about everyone you know has at least one account. Today, social media platforms like Facebook, Twitter, and Instagram have evolved as an essential part of our lives. All of us use these to not only share our stories, photographs, and announcements but to seek information about our communities as well. In 2005, the Pew Research Center had concluded that in America, only about 5% of adults used social media. Compare this to the 2018 data of 69% of adults who use social media in the U.S, and you can see that it is increasingly important that businesses ensure they have a presence online.
Why Social Media Is Important for Every Dental Practice Today
I think social media is an excellent place to market your dental practice. Dental practices have an online presence to increase awareness, engage with current patients, attract new patients, and grow a practice's online reputation, all encouraging business growth. The right kind of message and approach encourages potential patients to get in touch with a dental practice for further information. It also entices existing patients to request an appointment for a regular or much-needed dental service. It's well known that patients who refer their friends and family to your practice are more likely to have trust in you, and when they eventually refer more people, you continue to become highly regarded to prospective patients in your community.
How Social Media Helped My Dental Practice
Early on, I was fortunate to be able to identify how my dental practice could maintain its presence on social media and work in my favor! I realized that social media is a convenient and inexpensive means to connect with thousands of people on a day-to-day basis. More importantly, it offered an avenue for my business to bond with existing and prospective patients. I believe social media is here to stay for a long time and learning how it can shape your practice is more essential than ever. Here are a few benefits that my dental practice gained by using an extensive social media marketing strategy:
Showcased My Brand: When I tried to figure out about what made my practice stand out from the others, social media helped me define and maintain my desired reputation. From the latest events in my dental practice to posts that resonate with my practices' mission and vision, social media has offered me a great platform to publicize and showcase my brand.
Emphasized Team Culture: Plaza Dental Group, my dental practice in Des Moines, IA, wouldn't have been what it is today without the presence of my excellent team. I tried to make it a point to let my audience learn what our office culture is like by putting up posts highlighting my team members' personalities and latest accomplishments.
Connected with Patients: Through the social media page for my dental practice, my patients could post questions and remarks on our products and services. This type of interaction offered my business a valuable chance to not only display our willingness to care for our patients but helped us gain significant insights from them on our services.
Supported Community Bonding: I believe that it's essential to connect with both your patients and your community. Luckily, I was successful in setting up my practice's presence among various business leaders in the Des Moines area by joining online discussions and exposing my practice and what we had to offer.
Build Trust & Authority: Social media is an ideal place to share your knowledge as a dental expert. I made sure to involve content that informs and distinguishes itself from our competitors and establishes our expert views, while also developing trust among our patients.
How Can I Incorporate Social Media into My Practice?
I think, when you create a robust dental practice culture, it gives you a voice on social media that cannot be imitated by other practices. The most vital thing that I learned is that having a suitable social media strategy is crucial to market your dental practice online and grow your business. I also realized that if we wanted people to connect with our practice, visit us as new patients, or for existing patients to return, social media posts should be engaging. In my practice, we usually post about community events that involve our dental practice and the unique attributes of our practice, like providing a comfortable environment to our patients. We created appealing social media posts using live videos, images, and recorded videos that described our practice story and revealed what sets us apart. After creating those compelling Facebook posts for my practice, the next thing I did was promote those posts among our existing followers, patients, website guests, and matching audiences. In this way we entered people's newsfeed; and people began liking, commenting, and sharing our posts. This triggered Facebook's algorithm to circulate the posts into the newsfeed of more and more people, which eventually helped our posts go 'viral' and rapidly increase our follower count. Thus, at a reasonable cost and with an excellent social media strategy, we generated excitement amongst our audience and grew our business.
Conclusion
Just as people search for stores, restaurants, and local businesses on social media, they are also looking for dental care. When I learned about the vast potential of social media marketing for dental practices, I fully embraced it and have always tried to maintain an active social media presence. It has allowed me to reap the significant benefits of getting internal referrals, which is crucial for driving a dental practice to success.
More Dental Marketing Blogs:
Online Marketing for Dentists: A Guide for Getting More Patients
Email Marketing for Dentists: How It Helps Grow Your Practice
4 Highly Effective Dental Marketing Ideas to Attract More New Patients