Online Marketing for Dentists: A Guide for Getting More Patients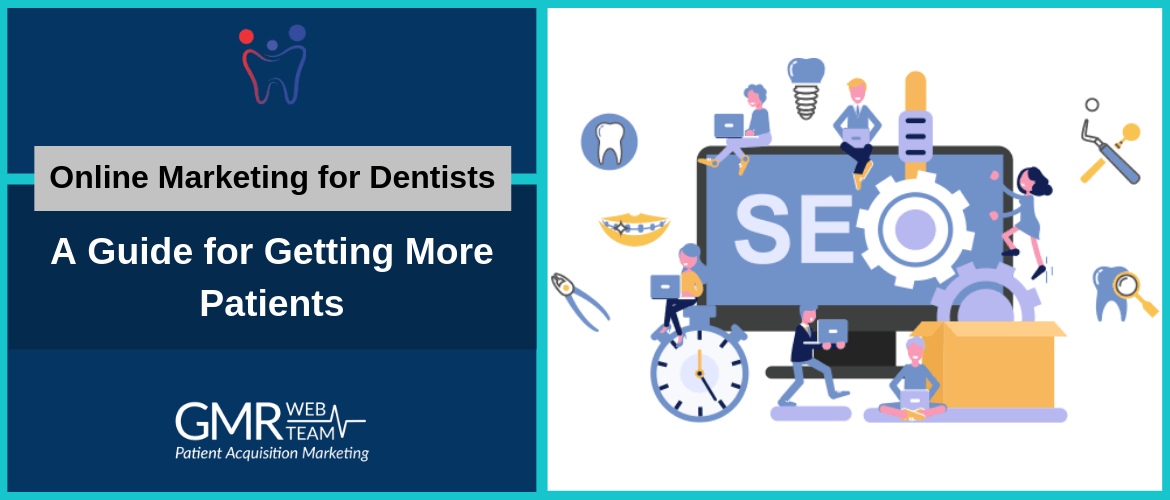 Whether it's finding a nearby dentist on Google, learning more about a provider from a friend or relative on social media, or evaluating their quality of service and reputation on review sites, the internet plays an important role in every patient's search for a dentist. With the impact of digital media on patients' decision-making, the need of online marketing for dentists and dental care practices has never been more necessary. With the implementation of online marketing, your dental practice can take charge of how your business appears on the internet, and make it easier for patients to select your practice over your competitors. In this blog, we'll talk about different online marketing solutions for growing your dental care business. Before that, let's understand why exactly you need online marketing for your dental practice.
Why Dentists Need Online Marketing Like Never Before
Dental patients are not always in a hurry to get an appointment. Generally, they delay it making an appointment, thinking that it can wait, or because they fear a dentist. However, when they eventually do make an appointment, they first consult the internet to find the best care provider for them. During their research, patients travel across different internet platforms, such as Google, Facebook, YouTube, Yelp, etc., to learn everything about the dental care providers they are considering visiting. In our experience, we've found that prospective patients tend to select providers who made a strong impression with a wide internet presence, strong reputation & authority, and an interesting website. Dental online marketing solutions include search engine optimization, social media marketing, reputation management, content marketing, etc. These solutions can improve your patient acquisition, increase your overall patient base, and increase your ROI (return on investment).
Here's how these dental online marketing solutions will help you gain maximum exposure and reach online so that you keep obtaining new patients consistently:
1. Dental SEO (Search Engine Optimization)
When implemented effectively, Search Engine Optimization helps dental care providers acquire new patients on a consistent basis. SEO raises your dental care website's ranking position (i.e., unpaid organic SEO ranking) on Google and other major search engines, in turn attracting more user clicks improving your chances of getting online appointment bookings. For example, patients search on Google for queries such as, "best dentist near me," "dental services in [name of your city]," or more specifically, "dental implant services in [name of your city]." With proper and effective dental SEO implementation, your practice can appear at the top of the search where your customers can easily click on your website to book an appointment.
77% of health inquiries begin on search engines. – Google
With dental SEO, you can acquire a top ranking position not only in the organic results but also in the coveted "local 3-packs" on Google that is known to attract a significant portion of the website traffic from locally residing patients.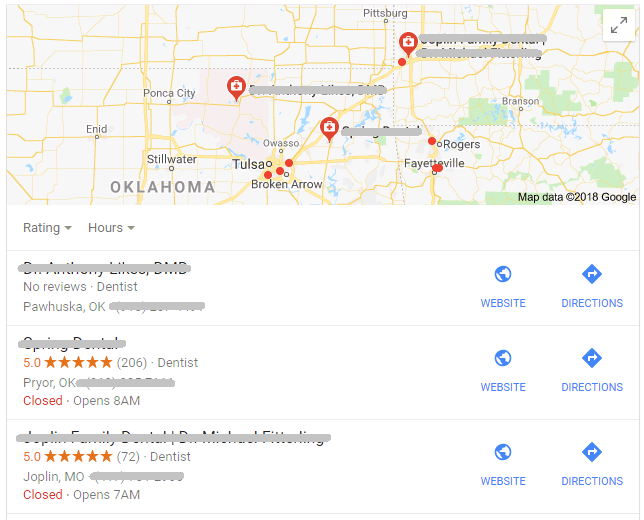 2. Pay-Per-Click (Online Advertising)
The Pay-Per-Click or PPC advertising model will help you acquire new patients from search engines in the fastest way. Google's PPC network (Google Ads) allows you to advertise your practice on the different websites your potential patients visit— including on Google search results (as text ads), on any website (as image or video ads), and on YouTube (as video ads).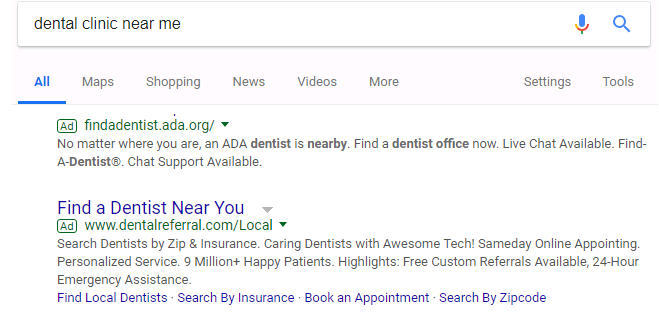 Over 35% of people do not differentiate between the organic results and the Google Ads results at the top of the page. – Dental Town
This advertising model comes with several benefits. You are charged only when your target users (your potential patients) have interacted with your ads. That means every penny you spend is accounted for! Additionally, you are able to set your own maximum daily advertising budget.
3. Social Media Marketing & Advertising
One of the most significant areas of improvement we see for dental providers is extending the exceptional service they provide to not only during patient visits, but after as well. In order to retain your customers, you need a medium of communication to ensure that patients are always in the loop. Social media is that touchpoint between your business and your customers. Facebook, Instagram, and Twitter are examples of mediums in which most of your existing and potential patients reside.
77% of American adults ages 18 to 64 use some form of social media. – Pew Research Center
However, you cannot fully succeed at marketing your dental practice through social media just by making a page or account and posting a few times a week or month. You'll need to communicate regularly and effectively with your patients: answering their questions as they come in, providing useful, entertaining, and overall relevant content, updating news and events on a daily basis, and advertising any new offers and discounts. A vibrant online community of patients contributes to your dental care business by helping you increase patient retention and earn more referrals.
Related Blog: Why Dental Practices Should Be on Social Media
4. Online Reputation Management
The internet is a free and sometimes unfiltered place where anyone can share their thoughts, appearances, and experiences. In this day and age, everyone has their own "microphone" and can be a champion of their favorite brand, or harsh critic of a restaurant they dislike. This microphone can be channeled and consolidated for consumers through business review sites such as Yelp. Therefore, in this ever-present age of accessibility, businesses, including dental practices, need to be wary of their perceived online reputation from consumers. But, with the use of an online reputation management service, you can be in control.
72% of patients use online reviews as their first-step in finding a doctor. – Software Advice
Online reputation management services let you keep track of what your patients are saying about your business online. By monitoring online reviews and strategically managing them—especially the negative ones—your practice can reflect an accurate picture of patient satisfaction online. This positive and accurate appearance of your business will enhance the perceived trust and credibility of your practice and ultimately increase the chances that potential patients will select you over your competitors.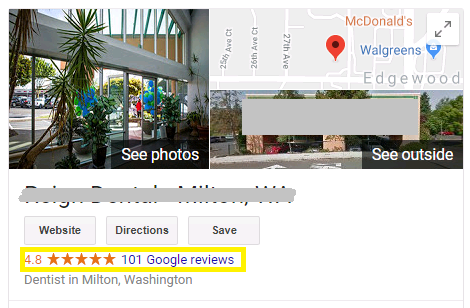 Related Blog: Handling Negative Reviews: The Dos & Don'ts for Dentists
5. Content Marketing
Content marketing for dental practices entails creating, publishing, and distributing different forms of branded content across relevant internet platforms. It aims at stimulating interest in the practice and its service amongst potential and existing patients. Marketing emails, blog posts, advertisements, e-books, infographics, and videos, are all different forms of content that you can utilize to appeal to and attract potential patients as well as educate and inform current ones.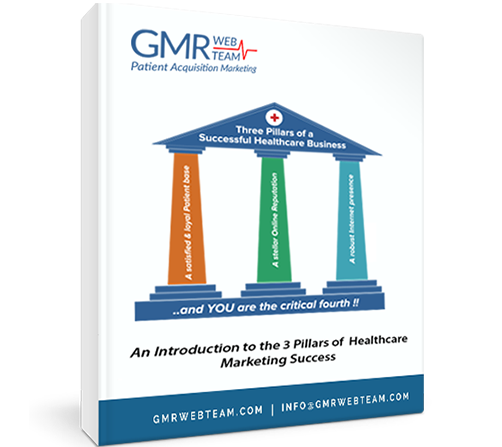 83% of healthcare organizations are now engaged in content marketing. – MarketingProfs
Posting informative and relevant content is intriguing to patients because they get to learn about various aspects of their health condition, treatment options, recovery chances, etc. Simultaneously, it benefits your practice as well as every time patients interact with your content, they notice your brand and feel an urge to contact you for further inquiry. This entire approach of attracting prospective patients through useful and relevant content is called inbound marketing.
6. Dental Video Marketing
Video content will drive 90% of all internet traffic by 2019, and the healthcare industry will capture a significant share of it. According to Google, about 3 billion health-related searches are already happening every month on YouTube. Facebook and Instagram are also showing the highest user engagement rates on video content. This means your dental practice will be required to create and distribute video content in order to attract your patients' attention.
72% of people would rather use video to learn about a product or service, where both video and text are available on a webpage. – HubSpot
You should be able to deliver video content in all industry-popular formats, such as 2D & whiteboard animation. You'll need to identify the topics that are highly searched by your potential patients and create short explanatory animated videos on them and also distribute them across all popular video platforms.
At GMR Web Team, we provide the most comprehensive online dental marketing solutions. We strive to achieve the best results for our clients that are based on improved patient-base and increased return on investment. To learn more, call us at 800-523-7187 or fill the form below.