Online Marketing for Dentists: A Guide for Getting More Patients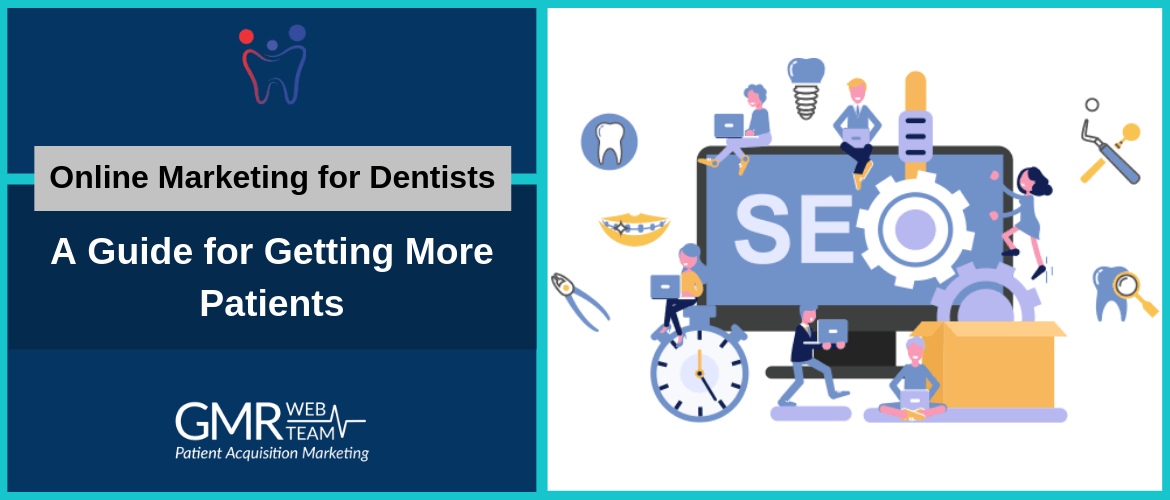 Are you a newly established dentist managing a fresh dental clinic and in search of high-quality leads? Do you need help to secure the appropriate market presence despite offering superior services and expertise? Like any other business, dental clinics face difficulties they must overcome. Besides having the proper knowledge, skills, equipment, and experience, using the Internet to inform potential customers about your dental clinic is essential.
We will help you explore how to attract and retain patients in today's competitive landscape. This blog will give you a precise understanding of the essentiality of digital marketing as a dentist.
Why Dentists Need Online Marketing Like Never Before
According to information from Google Health, as reported by The Telegraph, about 7% of Google's daily searches are about health. It adds up to a massive number of over 70,000 health-related searches every minute, totaling more than 1 billion daily health-related searches. Now, why is online marketing for dentists essential? With more patients looking for healthcare information online and the dental field getting more competitive, digital platforms are becoming popular among patients. It makes online marketing crucial for dentists. It helps them shine, catch the right people's attention, and succeed in this ever-changing environment.
Prospective patients now predominantly rely on online platforms to research, evaluate, and select oral or dental services. This shift in patient behavior underscores the necessity of a robust online presence for dentists. A well-crafted digital marketing strategy enables dentists to target and engage with their potential patient base effectively.
Which Online Marketing Strategies Enhance Your Dental Practice?
A robust online presence in dental marketing is indispensable for attracting new patients and nurturing a loyal patient base. Here's an overview of vital digital solutions and elements that can amplify your exposure and ensure the continuous growth of your dental clinic:
#1 Dental SEO (Search Engine Optimization)
When implemented effectively, Search Engine Optimization helps dental care providers acquire new patients consistently. SEO raises your dental care website's ranking position (i.e., unpaid organic SEO ranking) on Google and other major search engines, attracting more user clicks and improving your chances of getting online appointment bookings. For example, patients search on Google for queries such as "best dentist near me," "dental services in [name of your city]," or, more specifically, "dental implant services in [name of your city]." With proper and effective dental SEO implementation, your practice can appear at the top of the search, where your customers can easily click on your website to book an appointment.
With dental SEO, you can acquire a top-ranking position in the organic results and in the coveted "local 3-packs" on Google, which is known to attract a significant portion of the website traffic from locally residing patients.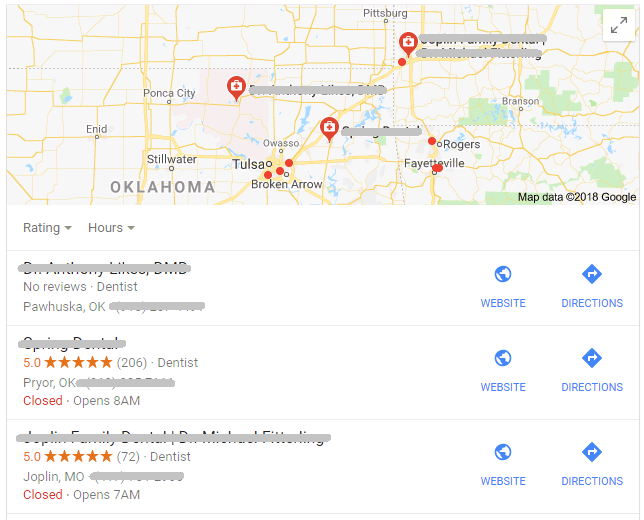 Practices under dental SEO comprise of:
Local SEO: Optimize your website for local searches, making it easier for potential patients to find your clinic when they search for dental services nearby.

NAP Consistency: Maintain consistency in your clinic's Name, Address, and Phone Number across various online platforms, including Google My Business, business directories, listings, and maps.

Content Marketing: Create valuable and informative content that addresses common dental concerns and questions, establishing your clinic as a reliable source of expertise.

Pay-Per-Click (Online Advertising): Utilize targeted online advertising campaigns to reach potential patients searching for specific dental services in your area.
#2 Leveraging Social Media for Dental Marketing
One of the most significant areas of improvement we see for dental providers is extending the exceptional service they provide during patient visits and after. To retain your customers, you need a medium of communication to ensure that patients are always in the loop. Social media is that touchpoint between your business and your customers. For dental practices posting before and after pictures defines your niche and builds credibility among your potential customers. Social media marketing can be done by:
Organic Social Media: Utilize platforms like Facebook, Instagram, and Twitter to engage with your audience, share informative content, and showcase your dental clinic's personality.

Paid Social Media: Run targeted paid social media campaigns to reach a broader audience and attract your prospective patients.
Related Blog: Why Dental Practices Should Be on Social Media
#3 Referral Marketing
Referral Marketing in dentistry presents a powerful strategy for practitioners to extend their reach, establish meaningful connections, and cultivate a robust patient base. This marketing approach thrives on mutual benefit, where dentists, patients, and potential clients all gain from the virtuous cycle of referrals. So you can initiate your referral marketing strategy by:
Dentist Referral Marketing: Collaborate with other dentists to receive patient referrals, fostering a network of trusted medical partnerships.

Patient Referral Marketing Encourage satisfied patients to refer friends and family, incentivizing referrals with special offers or discounts.
#4 Dental Video Marketing
In 2020, the number of individuals engaging with digital videos in the United States surged to a remarkable 244.4 million. This surge demonstrated a year-on-year expansion that greatly surpassed the expectations of experts.
72% of people would rather use video to learn about a product or service, where both video and text are available on a webpage. – HubSpot
Consequently, it has become imperative for your dental practice to develop and share video content as part of your strategy to captivate the interest of your patients. You may include:
Video Testimonials: Showcase testimonials from satisfied patients to build credibility and trust with prospective patients.

Educational Videos: Empower your patients with valuable knowledge through educational videos. Create content that explains standard dental procedures, oral hygiene practices, and answers to FAQs.
#5 Online Reputation Management
Online reputation management services let you track what your patients say about your business online. By monitoring online reviews and strategically managing them—especially the negative ones—, your practice can accurately reflect patient satisfaction online. This positive appearance of your business will enhance your practice's perceived trust and credibility and ultimately increase the chances that potential patients will select you over your competitors. Monitor and manage online reviews to maintain a positive reputation, promptly addressing negative feedback and highlighting positive patient experiences.
72% of patients use online reviews as their first-step in finding a doctor. – Software Advice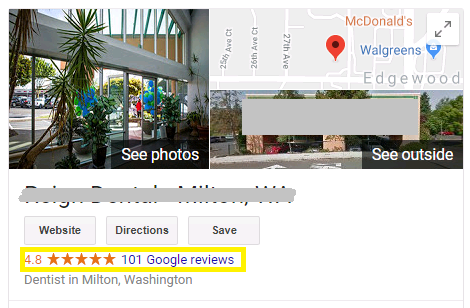 Related Blog: Handling Negative Reviews: The Dos & Don'ts for Dentists
#6 Online Patient Engagement
Enhance patient engagement and accessibility for your dental practice by incorporating dynamic online features into your website. Simplify the appointment-setting process with convenient scheduling tools that allow patients to choose suitable time slots. Introduce virtual consultations, enabling patients to discuss their oral health concerns from the comfort of their homes, fostering a sense of ease and flexibility. In addition, integrate an online chat platform to provide instant responses to inquiries pertaining to treatment options, insurance inquiries, or general oral care advice. By embracing these interactive elements, your dental practice can forge stronger connections with patients, ensuring their needs while embracing the technological advancements that enhance their dental care experience.
#7 Patient Satisfaction Monitoring & Surveys
Implement a comprehensive patient satisfaction monitoring system within your healthcare facility, ensuring the continuous enhancement of patient experiences. Employ regular surveys to solicit valuable patient feedback, enabling your organization to pinpoint areas that require refinement and optimize overall satisfaction.
By engaging patients, you can proactively address concerns, tailor services to their preferences, and consistently elevate the quality of care. This approach demonstrates your commitment to patient-centered care and cultivates an environment where patients feel heard and valued, fostering lasting trust and loyalty towards your healthcare establishment.
#8 Improve Patient Retention
In the evolving landscape of healthcare, patient retention has become central to digital marketing strategies.Keeping your existing patients happy is the key to maintaining a loyal patient base. To achieve this, as a dentist you need to collect patient feedback to improve practice operations and care. Programs like patient service recovery, engagement strategies, and patient surveys collectively contribute to retaining your patient base.Among the strategies we adeptly deploy for our clients is the integration of AI-driven sentiment analysis.
By integrating these multifaceted digital marketing strategies into your dental practice, you can attract new patients, nurture existing relationships, and establish a solid online presence that resonates with today's tech-savvy patient population.
Elevate Your Dental Practice With GMR Web Team
At GMR Web Team, we specialize in crafting captivating dental websites, optimizing them for search engines, and creating a seamless mobile experience. Engage patients with informative content, targeted online advertising, and a secure, high-performance website.
With years of experience in dental practice marketing, we understand your unique needs. Contact us today to discover how we can transform your online presence and drive remarkable patient growth. Don't miss out on thriving in the digital age – partner with us for dental practice success!