4 Highly Effective Dental Marketing Ideas to Attract More New Patients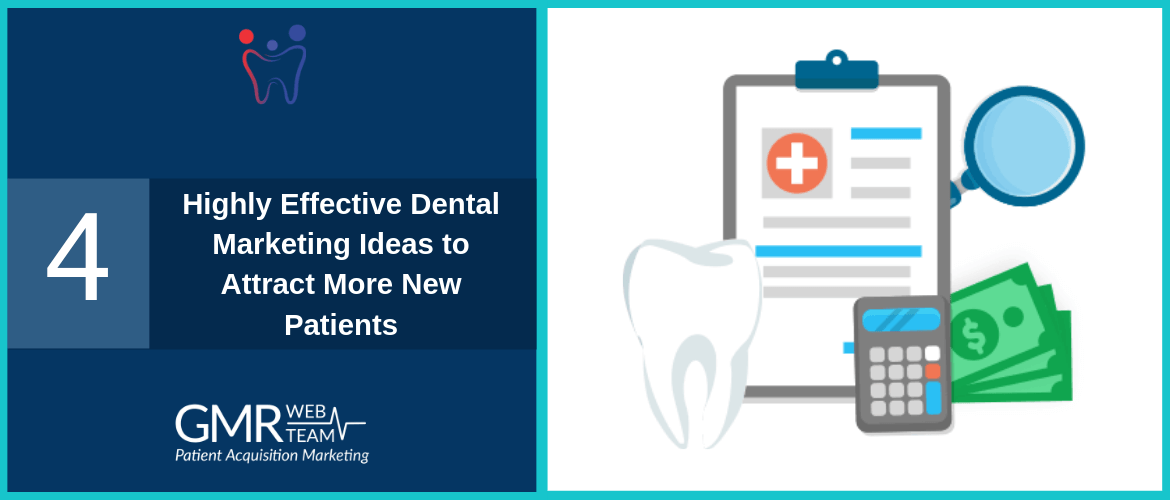 Dental online marketing is a highly competitive sector. Practices that want to succeed will need to keep assessing their marketing strategies and finding newer ways that are highly effective in reaching out to potential patients. Here are four of the most effective dental marketing ideas that will help you attract more patients online:
1. Integrating voice search in your local SEO strategy
Voice searches are increasingly becoming the primary search option for users. According to comScore, 50% of all searches will be voice-based by 2020. A BrightLocal study has also pointed out that one-third of healthcare consumers are using voice searches for scheduling a medical appointment, speaking to a healthcare professional, getting map directions, etc. Optimizing your website for voice searches would mean making it answer-ready for question phrases that start with Who, What, When, Where, Why, and How. For example, "who is the best dentist nearby?", "how far is ABC dental clinic?", "where can I find a dentist nearby who accepts ABC insurance?", etc. Patients searching for such terms may look for a direct answer that could be read out loud by their voice assistants. Voice assistants only read out the content that appears in Google's answer box—that box with content that appears on the very top of Google's search result pages. Since, most voice searches also include location-specific terms like nearby, near me, distance, far, closer, etc., it's crucial that your website and its content is optimized for local users. There are several local dental SEO and voice search methods, but the following must be done ASAP:
Use structured data: Google loves to show well-formatted, visually-appealing content in its answer box. Examples could be content in a table, pointers or bullet list form. Using structured data or schema markup, you can tell Google to show the tabular or list-type content as it is in the answer box.




Claim your GMB listing: A well-organized listing of your practice on Google My Business (GMB) is essential especially if you want to get found for location-specific terms which are highly lucrative for a dental practice. In the listing, ensure that your name, address, and phone number are accurate and that the right business categories (dental clinic, dentist, oral surgeon, pediatric dentists, etc.) are selected based on the services you provide.




Get mobile-friendly: According to Google, of the 88% of patients who use search engines for finding a treatment center, 60% use a mobile device. This means your website's design and its content need to be mobile-responsive.




Create blog posts that answer your patients' questions: Create FAQ-like blog posts on different relevant topics. Identify the topics patients usually search for online. For example, "What is Invisalign?" Include it in the blog title. Then see what other things patients are asking around this topic. For example, "What is Invisalign made of?" "Is Invisalign as good as braces?" "How long does it take to get straight teeth with Invisalign?" "What is the cost of Invisalign?" etc. Try to include them in your blog under separate sub-headings. Keep the answers brief, concise, and in an active voice. You may find that this single blog may get ranked for more than one of the included question phrases.
2. Advertising to the right patients with remarketing
It takes time and consistent team effort for your website to rank on Google and get visited by prospective patients. What if, after all those hassles, most of these patients who landed your website walk away (for any reason) without taking any desired actions? In fact, it happens most of the time. So how do you keep your practice on their minds after they leave your site? That's where remarketing comes into the picture. Remarketing refers to the advertising method in which your prospective patients are followed across the web and are shown visual ads (image or video based) on many websites they may visit. A unique tracking code is used to attach a cookie on the browsers of those who visit your site, and then that cookie triggers the ads on other websites that are accessed through that browser. Here's how remarketing works under Google's online advertising model, i.e., PPC (Pay-Per-Click):
A prospective patient visits your website using any browser
Your website, which has that Google Analytics tracking code, places a cookie in the potential patient's browser
Google places the ad on any website on Google's Display Network (GDN) that the prospective patients may visit
Remember that Google Ads will allow showing ads on those websites that are a part of its display network, which means almost the entire web. For remarketing your ads on Facebook, which doesn't fall under Google's display network, you'll need to go through a similar process, but with Facebook Ads. With Facebook Ads, rather than showing your ads across websites within Google's display network, they will be shown on only Facebook.
3. Cross-platform targeting on social media
Social media is a big part of peoples' lives. There's an opportunity for your dental care brand to increase its visibility by consistently showing up on different social media platforms that your target users or prospective patients will likely use. That's called cross-platform marketing of your practice on social media. One of the proven practices is to post your content on all platforms simultaneously. For example, if you're uploading a patient's video testimonial on your Facebook page, post it on Instagram at the same time. That way, you'll have higher chances that your target users encounter your post at least on one platform. That way, people will start taking notice of your brand across different social platforms they use which will slowly and steadily increase your brand's reach and recognition. Also, always try to create content that has the potential to drive higher user engagement. Apart from the regular informative posts, you can also utilize more interactive options like poles, ratings, live chats, check-ins, etc., on Facebook and Instagram. Some ideas include a "Brightest Smile" photo contest on Instagram and a poll or a live chat on Facebook. These are among the easiest ways to create engaging content in a matter of minutes. At last, post as frequently as possible—at least 2-3 times a day. Doing so will further increase the chances that your brand will show up on users' feed.
Related Blog: Why Dental Practices Should Be on Social Media
4. Promoting trust with patient testimonial videos
Online reviews are a great option to showcase your practice. Potential patients may go looking for stories or experiences from other patients. Your patients' experiences are an important resource for growing your practice. According to Google, patients love to hear from other patients' stories when they feel that no one understands their problem. Creating and promoting trust with testimonial videos is so easy that any of your staff members can do it all by themselves. A smartphone can be used to record, edit, and even share videos on different social platforms. However, we suggest that you render the recorded video on a desktop editing program and do a little touchup like cutting out the unnecessary footage and adding the intro texts or patient's name before posting them online. Also, for better branding, place a banner of your dental practice behind the patient while recording their testimonial video. Be warned that you must take written consent from your patients before using their testimonial video for promotional purposes. That will keep you from violating any privacy guidelines. The four dental marketing ideas discussed have been tried and tested by our dental marketing team and are highly rewarding when it comes to boosting patient acquisition online. So don't waste your time and start working on including these tips in your dental marketing strategy today!
More Dental Marketing Blogs:
How to Get More Dental Patients: Let's Crack the Code
Online Marketing for Dentists: A Guide for Getting More Patients