How to Get More Dental Patients: Let's Crack the Code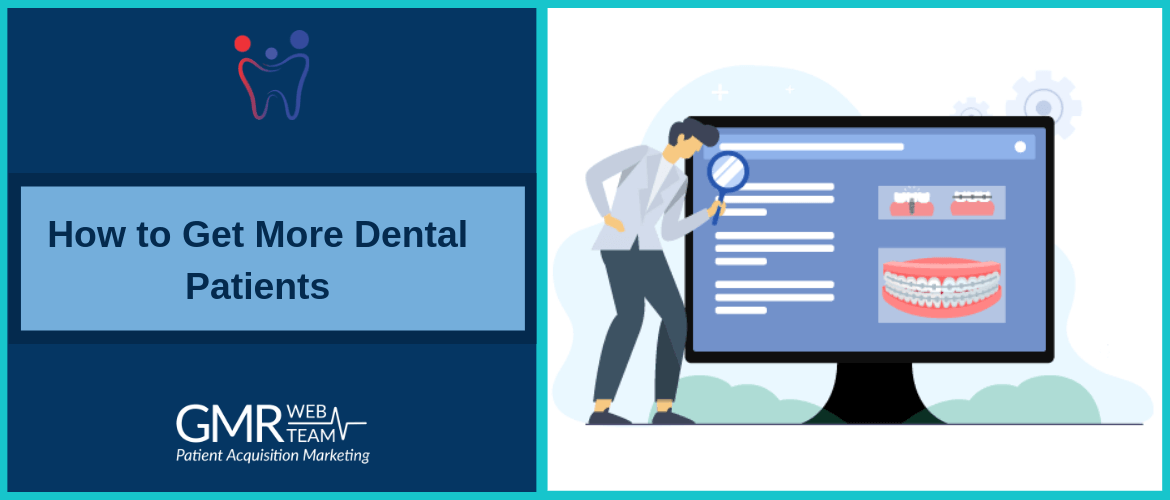 Competition is tough in the dental industry. Younger and more tech-savvy dentists are entering the workforce and as a result, patients have more options. So if you are a dental practitioner and are looking to get more patients, start focusing on aspects that help you stand out, and let patients know that you care.
Here are 10 dental marketing strategies that you should implement right away to get more new dental patients at your practice.
1. Be Part of the Local Community
When you are just starting out your dental practice, acquiring new patients can be challenging. You may realize that most patients in your area already have a dentist they prefer. In this situation, one of the easiest ways to get the word out about your practice is to be involved in community projects. You can sponsor a local event or distribute your practice flyers during such events. Highlight your unique services, special offers or 'after hours' dentistry to gain a competitive edge. Make your unique value proposition prominent in your dental marketing materials.
2. Revamp Your Website to Look Professional
About 38% of potential customers stop engaging with a website if it looks unprofessional. After looking at a website, it takes about 0.05 seconds for a visitor to decide whether to stay or leave. Your website is most likely the first interaction that a patient will have with your dental practice. To acquire customers, make sure your site is engaging and attractive. Here are a few tips on how to do this:
Make the website easy to navigate
Include personal details of the different dentists at your practice
Highlight customer reviews and testimonials
Have a blog section with educational and engaging content
Post engaging videos
Have a "products" and "services" page
Include call-to-action messages
Make your contact information easy to find
3. Harness the Power of Social Media
Social media is a wonderful marketing tool. The average consumer spends more than 2 hours on social media sites every day. Unfortunately, most medical practitioners ignore social media marketing. Having a presence on social networking sites is important as 70% of consumers expect your practice to be there. Post engaging and shareable content on your social media accounts to keep your followers engaged. Here are a few ideas you should pursue:
Create simple, easy-to-read dental infographics
Let your prospects see the work you do by posting live videos
Post before and after photos of your work
Encourage engagement by requesting for user-generated content
Related Blog: Why Dental Practices Should be on Social Media
4. Include Patient Reviews and Testimonials
About 72% of patients look for reviews when searching for a dentist. A patient is more likely to choose a dental practice with positive reviews than one with either negative or no reviews. The easiest way to get reviews is to ask your patients to write them. Encourage them to write reviews in a friendly manner by word of mouth, email, or on social media sites. After a patient writes a review, respond to it. Should you get a negative review, respond to it and clarify your business's position to gain the trust of both your existing and prospective patients.
Related Blog: Handling Negative Reviews: The Dos & Don'ts for Dentists
5. Invest in Videos
Today, consumers are engaging more with videos than with text content. Research shows that videos will account for 85% of online traffic in the US market in 2019. Also, videos are easy to create in the dental industry since the practice has a visual element to it. Videos don't have to be about your work only. For example, you can get patients to give video testimonials or post videos that address commonly asked questions in dental care. These videos will help you add a personal touch!
6. Partner with Local Businesses
Partnering with local businesses such as oral surgeons or orthodontists can also help you acquire more clients. You can work together and refer patients to each other. You can also partner with businesses that offer unrelated services and recommend each other through social media or by displaying fliers at the reception area. Doing this can help more customers to find your practice, especially if you are new to the area.
7. Get Listed on Dental Directories
Prospects looking for a dental practice are likely to start their search in an online directory. This is why listing your practice in relevant online business directories is important. When listing your practice in directories, use the same name as the one on your website and social media sites. Your company address and phone number should be consistent to make your website rank well on Google. Some sites where you can list your dental practice include:
Google My Business
Yelp
American Dental Association
ZocDoc
The Dentist Hub
8. Optimize Your Dental Website for SEO
Search engine optimization (SEO) makes it easier for your website to rank on Google. You want your content ranking to be high because 89% of people use search engines to find businesses prior to making a purchase decision. If your website ranks highly for various dental-related searches, prospects will find your practice first when they need local dental services. A major aspect of dental SEO is using relevant keywords in your content. Additionally, SEO contributes to having a reputable online presence, great website speed, and the mobile-friendliness of your site. If you find it difficult to understand all the details to do with SEO, you can hire a professional to optimize your site for better rankings.
9. Encourage Patient Referrals
Patient referrals are a cost-effective way to acquire new customers. Patients referred to you by their friends, family members, or colleagues are more likely to become loyal customers. Treat your patients with respect and encourage them to refer their friends to your practice by offering a referral bonus, such as a special discount. If you don't have patients yet, open the program to your employees and reward them for referring their friends.
10. Advertise Your Special Offers
Cost is an important factor patients consider when looking for dental services. Did you know that 44% of patients aren't willing to visit the dentist due to the high costs? To overcome this challenge, offer special discounts for new or existing patients and ensure they are aware of them. Promote special offers through advertising, for example, 'Free Teeth Whitening Offer' or a 'Tooth Care Tuesday'. Examples of incentives you can provide include:
Special prices for new customers
Discounted service bundles
Free services in case the patient is undergoing another dental procedure
Attracting new patients to your dental practice is simple if you know how to gain an edge over your competitors. Follow the above tips to grow your dental practice and to get exceptional patient conversion ratios.
Read Also: 4 Highly Effective Dental Marketing Ideas to Attract More New Patients
Looking for a dynamic dental online marketing team? We are there for you. Get in touch to know more.