SWOT Analysis: An Absolute Must for Your Small Business
Every small business owner should consider doing a SWOT analysis, a strategic evaluation of the organization's strengths, weaknesses, opportunities and threats. First you need to set a time frame for achieving your goals. The main reason for going through this process is to help identify your weaknesses and what you can do to make improvements, as well as how you can maximize your strengths. The following breakdown of SWOT analysis will help you plan critical decisions for your business.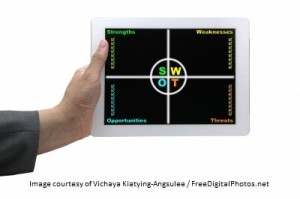 Strengths Internal factors of the business that help the operation advance are considered strengths. By documenting your strengths you can build upon your edge over competitors. This exercise helps you see beyond obvious business activity and tap into the foundation of your business to make sure it is solid enough to be a concern for competitors. Some of your strengths might include strategic business location, patents and a well seasoned staff who share your vision. Ask yourself how well your supply chain and distribution channels are set up. Do they allow you to move product on time in a manner to satisfy customers or clients?
Weaknesses Internal factors that prevent your goals from happening are considered weaknesses. It's important not to be so optimistic about your business that you ignore the pain points of customers. Examples of weaknesses might be lack of adequate customer service or financial resources to compete in the market. The old saying that a business is only as strong as its weakest link fits into this area, as you simply need to think of examples of weak links and how to correct them. Every business has fragile elements, especially when starting out. Don't be afraid to address these weaknesses so that you can get passed them. Trying to cover them up defeats a major purpose of this exercise.
Think of the skills involved needed to advance your goals. If too much effort is needed to strengthen internal skills among employees, consider outsourcing the work to people who already have experience.
Opportunities External factors that help you reach your goals are considered opportunities. Outside the walls of your business there is a world of technological development and individuals who may be looking for what you have to offer. This step is important because it can help you clarify who your target customers are and build personas. It can also help you put together your marketing list and develop a lead scoring system as new prospects present themselves.
A big part of your business plan should involve creating your own opportunities based on your market research. The more you can fill holes in your market that competitors are ignoring, the more you can take control of niches that present additional revenue streams to pad core income.
Threats External factors that may block your goals should be considered threats. The more threats you can see on the horizon, the better prepared you will be to meet these challenges. Typical threats might be new competing products introduced on the market, rising manufacturing costs and an overall sluggish economy. New government regulations might also pose a threat to your goals. The point is not to find reasons to shut down your business, but to find solutions to resolve potential problems.
Threats can be the most difficult part of this analysis to document, but it must be done. Think of how all businesses that use the internet must deal with potential security breaches. You will want to protect your data, as many owners are now deciding between hiring an IT staff or moving toward a turnkey cloud solution. New technology can also be a threat if it requires massive upgrading.
Basic SWOT Analysis Tips
• Make sure that your analysis is designed with a special purpose in mind. • Use SWOT analysis as a planning tool for seeing the big picture of your business on one sheet. • Create four boxes on a sheet of paper to view a matrix that contains strengths, weaknesses, opportunities and threats. • Don't be afraid to fill each box with subjective as well as objective ideas. • SWOT can be used for focusing and adjusting your business or marketing plan. • When visualizing a startup business, use SWOT to get a quick overview if it is a viable idea. • For an existing business, use SWOT as a roadmap for fine tuning the operation moving forward. • Set goals to be more productive with the help of SWOT analysis. • Another type of analysis that can be combined with SWOT includes Core Competency analysis.