Healthcare Marketing – A Guide for Doctors & Practice Managers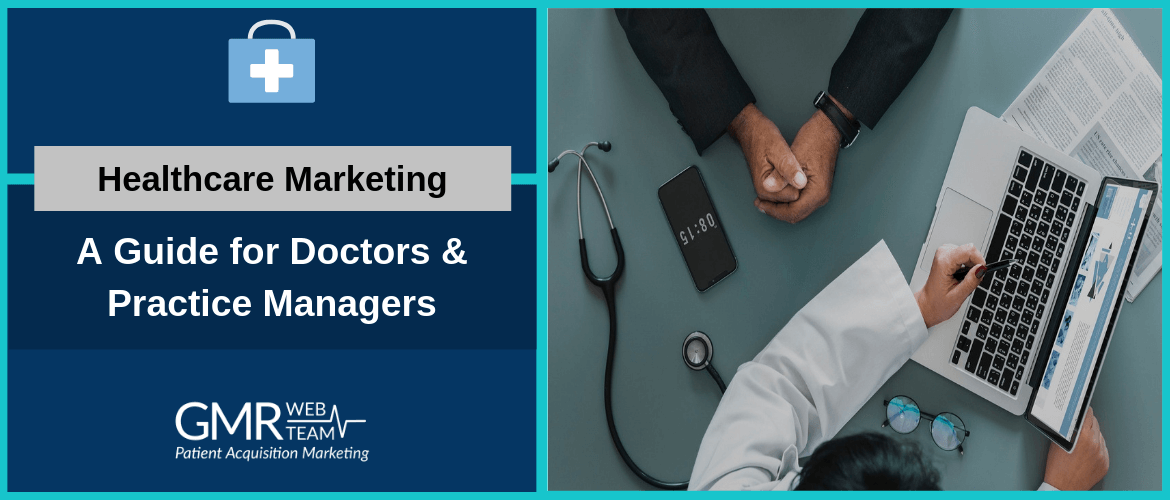 What Is Healthcare Marketing?
As a promotional strategy, healthcare marketing should utilize different marketing channels and tools to create, optimize, and share valuable, branded health-related content that doesn't just help teach and promote public health information, but also promotes the particular healthcare brand publishing the content. This is a patient-centric approach to marketing, as you aren't just promoting a service, but are providing valuable information that instills trust in a patient and helps build a long-lasting relationship.
From an online standpoint, healthcare marketing delivers results by helping your website rank higher in the Search Engine Result Pages (SERPs) for prospective patients' search queries -- in order to improve patient acquisition. Different tactics, such as Search Engine Optimization (SEO), social media marketing, content marketing, online advertising, and others are utilized to accomplish the desired results -- getting new and high-paying patients to your practice. That's why healthcare marketing experts can also call it patient acquisition marketing or patient-centric marketing.
Different Benefits of Healthcare Marketing
Modern healthcare marketing is a value-based, patient-centric, and cost-effective approach to promoting a healthcare brand and its services. It allows you to create personalized marketing campaigns for targeting prospective patients based on their online interests, behaviors, and actions. Not just that, but the analytics tools and technologies in healthcare marketing also make it trackable and measurable -- which means you can easily keep a track of all your marketing campaigns at every stage and also measure and analyze the results to optimize your ROI (return-on-investment).
Here's how a modern healthcare marketing agency can help you accomplish all of the above:
Develop a robust online (and offline) brand presence
Build and manage your reputation
Create personalized marketing campaigns for targeted groups of potential patients
Attract prospective patients and turn them into qualified leads
Increase referrals from patients & other providers
Provide tools to keep a track record of all marketing and advertising expenses
Maximize revenue opportunities by lowering cost-to-conversion (average total spend to acquire each patient)
Improve patient retention and loyalty by always keeping existing patients in the loop
To maximize the benefits of healthcare marketing, you need a healthcare marketing strategy that will help you get the most out of your healthcare marketing efforts.
What Is a Healthcare Marketing Strategy?
A healthcare marketing strategy is a documented plan of action that lays out various opportunities and threats, and all the resources that the healthcare business intends to utilize in order to realize its final goals. Leaving the other details aside, a healthcare marketing strategy aims at finding and acquiring new patients on an ongoing basis. It also helps create engagement opportunities to nurture your existing patients to develop long-lasting relationships (patient retention).
Different areas that a healthcare marketing strategy focuses on accomplishing are:
Online brand building
Online patient community development & management
Online reputation management
Lead generation & nurturing (the action of identifying & cultivating potential patients and guiding them towards making a purchase)
Campaign performance evaluation
Staff performance reporting
Patient service recovery
ROI optimization (Making the best or most effective use of resources or ad spends to get the best results)
As every healthcare practice has its own unique values to offer, each one requires personalized marketing plans that can complement their own needs and goals. A healthcare marketing strategy typically starts with:
Thorough auditing of your website
Checking of overall website visibility and compatibility
Studying your brand's overall reputation & authority
Analyzing the unique value propositions (UVPs**) that your service has to offer
(**) - UVPs are a clear statement that describes the benefit of your offer All of these are done in order to develop a sound outline of the different short-term and long-term goals and objectives and the different strategies and methods to accomplish them. No matter how big or small and new or established your practice may be, its healthcare marketing strategy should always focus on building the 3 most valuable pillars of healthcare marketing success to ensure its overall development. Those 3 pillars are:
A Satisfied and Loyal Patient Base
A Stellar Online Reputation
A Robust Internet Presence
About The 3 Pillars of Healthcare Marketing Success
The "3 pillars of healthcare marketing success" is a healthcare marketing strategy designed by the healthcare marketing professionals of GMR Web Team to manage the overall performance and growth of your practice. This plan helps in acquiring more patients, improving patient satisfaction, and building a robust online presence and reputation. Implementing this "3 pillars" approach in your healthcare marketing plan will result in improved patient service recovery, retention, and acquisition.
Healthcare Marketing: Different Tools & Techniques
Gone are the days when a one-way, unquestioned and non-interactive communication of your services (TV, radio, newspapers, etc.) are sufficient enough to grow your patient base. Today, as patients have become smarter and information-empowered non-interactive traditional advertising tools have become obsolete. New patient-empowering channels and tools have taken center stage to meet modern patients' demands of learning everything before choosing a healthcare specialist. Modern healthcare marketing tools and techniques help you successfully market your practice by:
Allowing you to create the most effective marketing strategies
Letting you stay on top of the latest trends and techniques
Helping you produce measurable results and achieve your set goals
Here are different healthcare marketing tools and techniques that help achieve a successful healthcare marketing campaign:
Important Healthcare Marketing FAQs
What problems can healthcare marketing solve?

Actually, many! Healthcare marketing solutions can help you acquire new patients on a regular basis so that your practice can achieve a profitable growth. Moreover, it can assist in the overall growth of your practice by improving its performance at providing high-quality patient experience and customer service. Healthcare marketing also strives to build your strong professional reputation among community and peers that alone can keep you winning professional referrals to help you transition to an "all-referral" business.

What is the role of a provider for making a healthcare marketing campaign successful?

As providers are the closest "touchpoints" for healthcare consumers, they have a huge role to play in making a healthcare marketing campaign successful. Providers who have a dedicated system to collect patients' demographic, social, and behavioral information, as well as their sentiment data, can help marketers design more effective marketing campaigns for the specific target groups of patients.

What are the challenges in healthcare marketing?

The most common challenges in healthcare marketing that can prevent the success of your practice include:

Departmental silos - This prevents delivering a consistent patient experience and communication within different departments of your practice.


Keeping up with the latest trends - Keeping pace with the digital world and the latest healthcare trends and technology is essential to beat the competition.


Meeting the ever-growing expectations of patients - Staying one step ahead of your educated and empowered patients will help in improving patient experience and satisfaction.


Adhering to the HIPAA regulations - Failing to protect patients' Personal Health Information (PHI) during situations like responding to patient issues publicly can invite unnecessary financial and/or court-related troubles.

Is healthcare marketing all about advertising?

No! Advertising is only a small subset of healthcare marketing. In fact, the modern 'digital' approach to healthcare marketing allows you to market your practice and its services, generate patient acquisition, and build a successful healthcare brand -- all without even having to necessarily spend on advertising. However, that will depend on many factors such as your overall marketing budget, objectives (increasing brand awareness, improving patient acquisition, or both), competition, your healthcare marketing philosophy, and many other factors. Also, healthcare online advertising is highly cost-effective as it allows for intent-specific advertising with a payment model that requires you to pay for ads only when the targeted patient has seen it and/or interacted with it.

Is healthcare marketing expensive?

As long as your marketing investment is providing considerable profits, it cannot be called "expensive." Also, the modern "digital" healthcare marketing tactics -- even if they require a reasonable investment -- will always have a return-on-investment attached. What's more -- most healthcare marketing packages can be easily customized according to the goals you are trying to achieve for your practice.