Handling Negative Reviews - An Integral Part of the 3 Pillars of Healthcare Marketing Success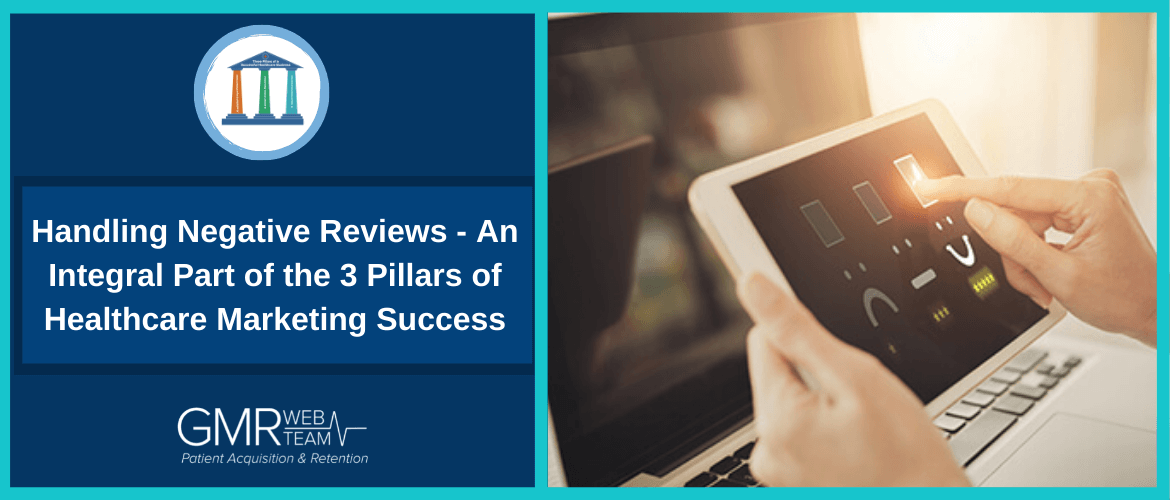 With more patients turning to online reviews for guidance when choosing their new healthcare providers, it's important to monitor and handle your reviews as they roll in-- especially the negative ones.
A plethora of negative reviews (or no reviews at all) can inadvertently show prospective patients that your practice has a less-than-ideal reputation and offers subpar services and care. Also, negative reviews can leave a poor first impression on patients and damage your reputation in the eyes of search engines, which results in lower visibility on the web.
Negative online reviews, whether from real experiences or untruthful patients, can cost you 30% of your business in the long run, and studies show that 40% of patients refrain from using a healthcare service if they find too many negative reviews online. However, how you respond to these can make all the difference.
Never take any negative reviews too personally. Thoroughly read the review to understand the problem or concern and let cooler heads prevail. Apologize, if needed, and make the patients feel that you value their opinion. You can also consider offering a free consultation or a special discount, if applicable. Responding to negative reviews will not only appease your dissatisfied patients but may also help establish your healthcare practice in a new light.
Remember, people like to see that healthcare providers care about their opinions and value their health concerns. Additionally, with a proper negative review management strategy in place, you will be able to achieve the three pillars of healthcare marketing success; a loyal and satisfied patient base, a stellar online reputation, and a robust internet presence.
How to Handle Negative Reviews
First, all review responses from staff are required to be HIPAA compliant, so keep that in mind when developing a strategy for replying to patient reviews.
HIPAA requires providers to respond to online patient reviews without disclosing the patient's identity and/or their personal health information; such as, but not limited to, phone number, email address, appointment dates or times, diagnosis, test results etc. Failure of HIPAA compliance when replying to online patient reviews can lead to hefty fines and/or other legal ramifications.
Never ignore negative reviews, as it can show prospective patients that you are not interested or engaged in the feedback. Responding to negative reviews also shows that you are committed to improving the patient experience.
When a negative review is received, make sure to take time to examine all sides. While angry patients may add in words and details that may seem overdramatic, try to understand how and why they had such a terrible experience.
Once you have considered all sides to a negative review, begin your reply with an apology- even if you do not agree with what the patient claims to have happened. It is important to remain sympathetic to their experience.
Next, let the patient know that their poor experience is not normal, and even take this time to add in more detail about your practice. For example, "We pride ourselves on short wait times, and are sorry to hear that you experienced a long wait."
Finally, offer to make it right for the patient by inviting them to contact you for an offline conversation. For example, "we would like to help you further, please contact us at…"
If you come across a negative review that is objectionable, it is important to take action to get it removed. False, inflammatory, or overly exaggerated negative reviews can come from online bots, competitors, upset past employees, and irate patients.
Luckily, review platforms like Google, Facebook, HealthGrades, and Vitals, make it simple to report these false and inappropriate reviews. While there is never a guarantee that they will be removed, reviews that clearly violate a platform's terms and conditions will most likely be taken down.
That's why you should get familiar with each platform's terms and conditions, so as not to waste your time in reporting reviews that ultimately will not be removed.
Developing a plan for reading and replying to negative reviews, along with reporting false ones, can greatly help you achieve the second pillar of healthcare marketing success: a stellar online reputation.
How to Use Negative Patient Reviews to Improve Your Practice
There are several benefits to handling negative patient reviews swiftly and correctly.
First, in listening to unhappy patient feedback, you understand what you need to change to improve patient experience at your healthcare practice.
Additionally, your proper replies to negative patient reviews can resolve their problems, increase patient retention and make a positive first impression on prospective patients.
There is great potential in an unhappy patient review. It comes from listening to their experience, understanding the issue, offering a resolution, regaining lost trust, and turning the unhappy patient into a loyal promoter.
By hanging negative patient reviews in a professional and empathetic way, it strengthens the second pillar, your stellar online reputation.
Negative Reviews and Your Stellar Online Reputation
The second pillar of healthcare marketing success is achieving and maintaining a stellar online reputation. The way your practice handles negative reviews plays a large piece in your online reputation.
By handling all negative reviews in the proper way, as discussed in this article, you can build a stellar online reputation that 81% of prospective patients will use in their decision making process when choosing a new healthcare provider.
How GMR Can Help!
Review management as a whole can seem like a tedious task for a busy healthcare practice. With today's technology, our HIPAA compliant proprietary software can monitor and protect your practice from negative reviews with minimal hands-on action.
By intercepting negative reviews before they hit the public eye, this software gives healthcare practices their best chance at service recovery to resolve any unhappy patient complaints and keep them coming back for their next visits.