An Introduction to the 3 Pillars of Healthcare Marketing Success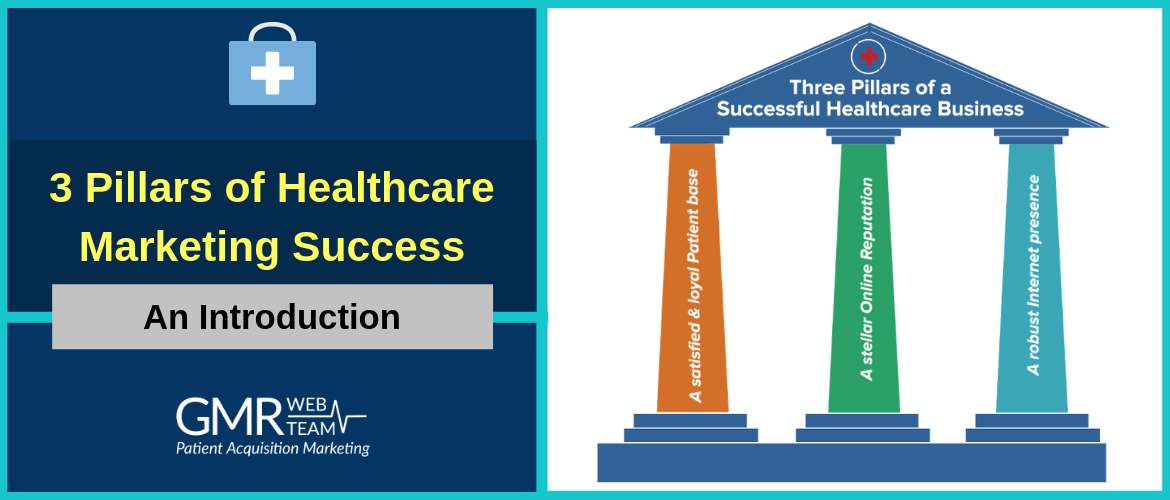 Undoubtedly, the evolution of digital media and the decentralization of information has completely changed the way patients used to find a doctor or specialist for treatment or consultation. Instead of depending on word-of-mouth referrals or commercials, internet has enabled patients to seek out information, compare all options, and make decisions regarding their health.
While you might consider it as a hurdle to your healthcare business's success, you can actually leverage it as a strategic advantage – so long you take the right approach. That right approach is three-pronged: engage your patients, educate them with informative content, and instill in them a trust factor to motivate them to take the desired action. In healthcare marketing, you can't skip even one!
But what kind of internet marketing strategy for your healthcare business can actually get these things done?
It has to be a marketing plan or strategy that incorporates the 3 pillars of healthcare business success, which are:
A satisfied and loyal patient base
A stellar online reputation
A robust internet presence
Throughout long experiences with our healthcare clients – that include primary care centers, urgent care centers, dentists, and other small and medium sized medical practices – we have come to a conclusion that these (given above) are the three most important pillars of a successful healthcare marketing. And that's what we are going to talk about in this educative blog.
"This is the first blog in a series of blogs focused on different aspects around these 3 pillars of healthcare marketing success."
1st Pillar of Healthcare Marketing: A Satisfied & Loyal Patient Base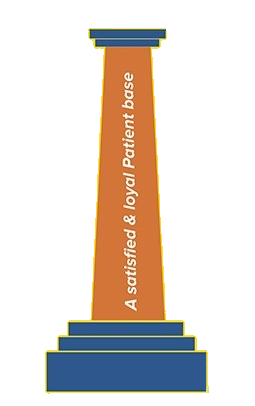 Patient satisfaction, which is the 1st and most important pillar of healthcare marketing success, is about whether a patient's expectations about a medical care were met or not. It can vary on individual basis which makes it important for your healthcare business to take care of the expectations of each patient who visits your facility.
To decode it more simply, patient satisfaction is a result of good patient experience and patient care.
Patient experience encompasses the range of interactions that patients have with the healthcare system, including their care from health plans, and from doctors, nurses, and staff in hospitals, physician practices, and other healthcare facilities. As an integral component of healthcare quality, patient experience includes several aspects of healthcare delivery that patients value highly when they seek and receive care, such as getting timely appointments, easy access to information, and good communication with healthcare providers.
Understanding patient experience is a key step in moving toward patient-centered care. By looking at various aspects of patient experience, one can assess the extent to which patients are receiving care that is respectful of and responsive to individual patient preferences, needs and values. Evaluating patient experience along with other components such as effectiveness and safety of care is essential to providing a complete picture of healthcare quality.
Source: Agency for Healthcare Research and Quality
It's human nature to spread the knowledge about a good service or positive care that a patient receives. When you provide great experience to your patients and be able to meet their expectations, they go on talking about it to everybody they meet. Slowly but certainly, a full neighboring locality come to know good things about you. However, if you're not able to deliver on your patients' expectations, the same could happen, except that the response will be negative.
It's not so easy to build a base of satisfied and loyal patients who can become your promoters. It needs to be done on two fronts. On the first front, it's your quality of service that decides how good your patients are going to feel about you. On the second front is a marketing company who can help you improve your care and patient base.
Our experience says that by contacting your patients post-treatment, and listening to their issues and concerns, you already win the half battle. This way you give yourself a chance to rectify the error, if any.
The benefits of higher patient satisfaction include improved clinical outcomes and patient retention. It also ensures for your healthcare business a timely, efficient, and patient-centered delivery of quality healthcare.
2nd Pillar of Healthcare Marketing: A Stellar Online Reputation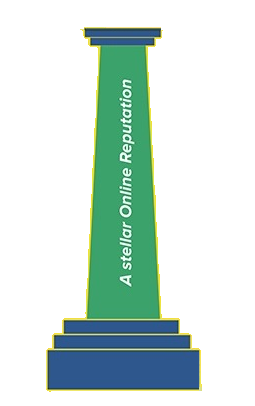 The 2nd most important pillar of healthcare marketing success is a stellar online reputation of your healthcare business. Since more than 72% of patients use online reviews as their first step in finding a new doctor, your online reputation is what makes the first impression to them.
Online reputation consists of an imaginary index of all ratings and reviews about your healthcare on various review websites. Since it's called "online reputation", it also points towards the kind of presence (influencer or not) you may have on various social media platforms like Facebook, Twitter, LinkedIn, etc.
There are many medical review websites like RateMDs, HealthGrades, WebMDs, and Vitals, apart from other general review websites like Yelp, Facebook, Google+, etc., where patients go to share their experience at a clinic or hospital with others. Mostly two types of patients are very prompt at writing reviews: ones who are extremely unhappy and others who are extremely happy. The unhappy patients take the lead here.
If you don't work towards improving your ratings online, it can cause severe harm to your reputation and to your practice.
Digital marketing agencies with expertise and specialization in healthcare marketing are offering Online Reputation Management (ORM) solutions that work by bridging the communication gap between patients and service providers. It's a system that works by influencing and controlling what shows up when people look you up online.
Apart from managing reviews, ORM solutions also help you monitor your hospital or staff's performance and let you analyze the key areas where you can improve. Various benefits of integrating online reputation solutions in your healthcare's marketing strategy for managing your reputation online include:
The medical staff will know what patients are thinking about their service
Doctors/physicians will know how well their staffs are providing service to the patients
They will also know what patients would like to get improved
Control on the flow of negative as well as positive reviews online
ORM will also help against the 'Yelpification' of online reviews for your healthcare center. As you must be aware how Yelp's algorithm is badly affecting the nature and purpose of posting reviews and ratings for (especially) the reputation of a healthcare business or physician. Going by how Yelp's algorithm works, it's confirmed now that Yelp ratings don't actually reflect patient satisfaction from the provider. That's why having a reputation management strategy is a must in today's marketing age.
3rd Pillar of Healthcare Marketing: A Robust Internet Presence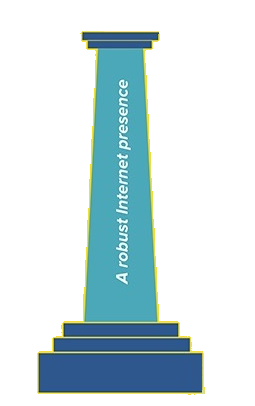 Having a robust internet presence is the 3rd most important pillar of healthcare marketing success. A robust internet presence is about
ranking on various related keywords on search engines
having an influencer position on the web and especially on social media
getting great reviews and ratings from your patients on all important review websites
There are many factors for getting your brand ranked on the internet and becoming an authority on social media. These include:
having a high-speed loading website that also is easy to navigate
an awesome content marketing strategy because content is what you'll feed to people to create attraction and attention towards your brand
a solid social media marketing strategy to engage your relevant audience, interact with them for relationship building, and imparting utility information to create awareness (also helping to become an authority)
a strong reputation management system for gaining stellar reputation score throughout all review websites.
Apart from that, a robust internet presence is also about integrating some of your services with the online media so that your patients can have access to educative content, can fill in appointment form online, can monitor their lifestyle and health changes through some kind of a mobile app, can talk with other patients and the doctors for information sharing and awareness, and have access to their complete medical history and records anytime at their finger touch.
Final Thoughts!
In today's modern marketing world where digital has already acquired a huge space for information sharing, your healthcare practice also needs to adapt to these changes. Since healthcare marketing in digital space is still in its evolving phase, you need to see the future today and adopt these 3 pillars into your healthcare marketing strategy so that you can focus on acquiring new patients through tracking their needs online.
For your enlightened knowledge, this 3 pillars strategy isn't something that we have devised today, but it's a result of a long experience of working with all sizes of medical and healthcare practices and physicians across the United States. That's what made us realize that we should share that experience through a series of blogs on the "3 Pillars of Healthcare Marketing Success". This was the first blog in the row, wait for 15th December when we'll come with our 2nd blog which will be a start into a more detailed discussion on the 1st pillar of healthcare marketing success. Stay tuned till then!