Google Search Celebrates Its 15th Birthday Today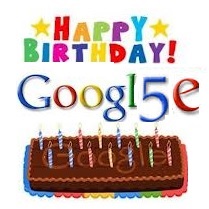 Google is celebrating its 15th birthday with an interactive piñata doodle. Google is an American multinational corporation specializing in Internet-related services and products. These include search, cloud computing, software and online advertising technologies. Most of its profits are derived from AdWords. Google's headquarters in Mountain View, California, is referred to as "the Googleplex".
Google was founded by Larry Page and Sergey Brin in January 1996 while they were Ph.D. students at Stanford University. They incorporated Google as a privately held company on September 4, 1998. An initial public offering followed on August 19, 2004.
Google search is the most popular web search engine in the world.Other online products offered by Google are Gmail, Google Drive, Google+, Google Maps, Google Docs, Google News, You Tube, Google Code, Google Earth, and so on.
The search giantleads global smartphone market with Android mobile operating system.Google Now, an intelligent personal assistant developed by Google is available within the Google Search mobile application for the Android and iOS operating systems. It was the winner of "Innovation of the Year" award for 2012. Users are asking increasingly long and complex questions and are searching Google more often on mobile phones with voice search.A few days earlier Google announced the new algorithm, called Hummingbird to handle more complex queries.
Google is on the cusp of revolutionizing transportation with its driverless cars. This could see a huge drop in the number of traffic fatalities each year, might reduced road congestion and increase fuel efficiency. The equipment installed on Google's test cars costs about $150,000.
Google is also coming up with Google Glass, it will give the users instant access to relevant information based on what they see and hear. It will allow real-time language translation too. It recently announced Calico, a new company that will focus on health and well-being, in particular the challenge of aging and associated diseases. It's going to be headed by Arthur Levinson, a chairman at biotech giant Genentech.
That's great going by Google, with products like these, it is sure to go a long way.