What FB Q3 2015 Earnings Report Means for a Business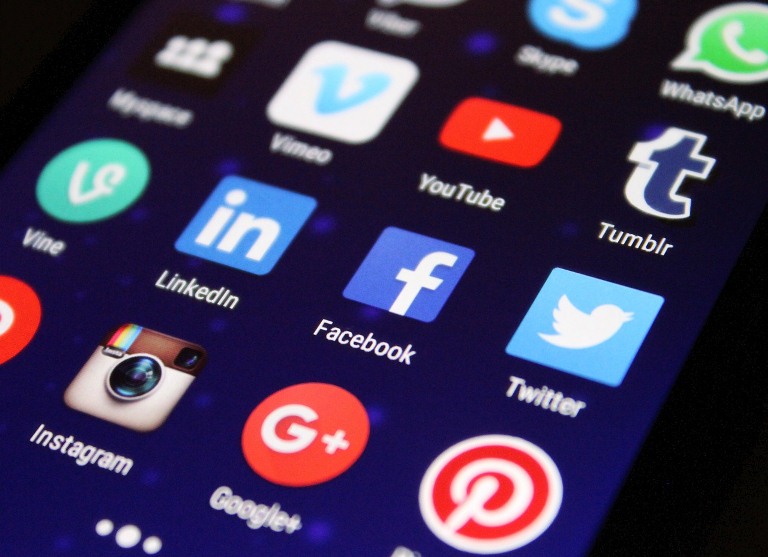 Facebook released its 3rd quarterly earnings report on 4th November. As Mark Zuckerberg puts the bullish performance in his Facebook post:
"We just announced our quarterly earnings and gave an update on our community's progress to connect the world.
Our community now has more than 1.55 billion people, including more than 1 billion people active every day. Through Internet.org, more than 15 million people now have access to the opportunities of the Internet who didn't before.
In the last three months, we've also announced our first aircraft to beam down internet access, our first satellite launch to deliver connectivity, an AI-powered digital assistant and our first Oculus virtual reality consumer release.
Our community has a lot to be proud of.
Thank you for being a part of our community, and for helping to connect the world."
Know the Figures:
The social media giant quarterly results beat analyst's expectations in ad revenue generation, monthly active users (MAUs) addition and user base expansion. Facebook has recorded its third-quarter earnings per share of 57 cents on $4.5 billion revenue. It has surpassed its past quarterly earnings by 11.3%.
Insights on the key metrics and the growth registered by Facebook for the quarter ending September 30, 2015: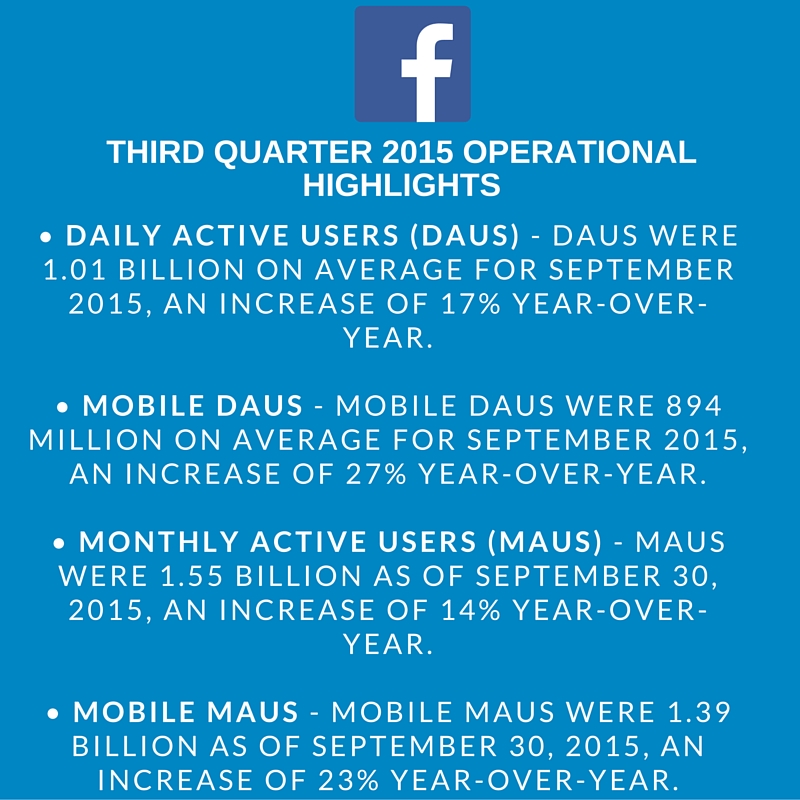 Source: investor.fb.com
The Mobile Active Users (MAUs) has remarkably shown the growth of 14% compared to the last year. In the Mobile Users segment, it has reported the growth to be at 1.31 billion MAUs. On an average, Facebook has 1 billion people logging in each day. Its User Base is recorded as a staggering 1.55 billion people each month.
This burgeoning user base is reflected in Facebook's record sales gains. Its advertising revenue has reached $4.3 billion. 78% of the advertising revenue has been sourced from online mobile ad space which 66% higher than last year figure.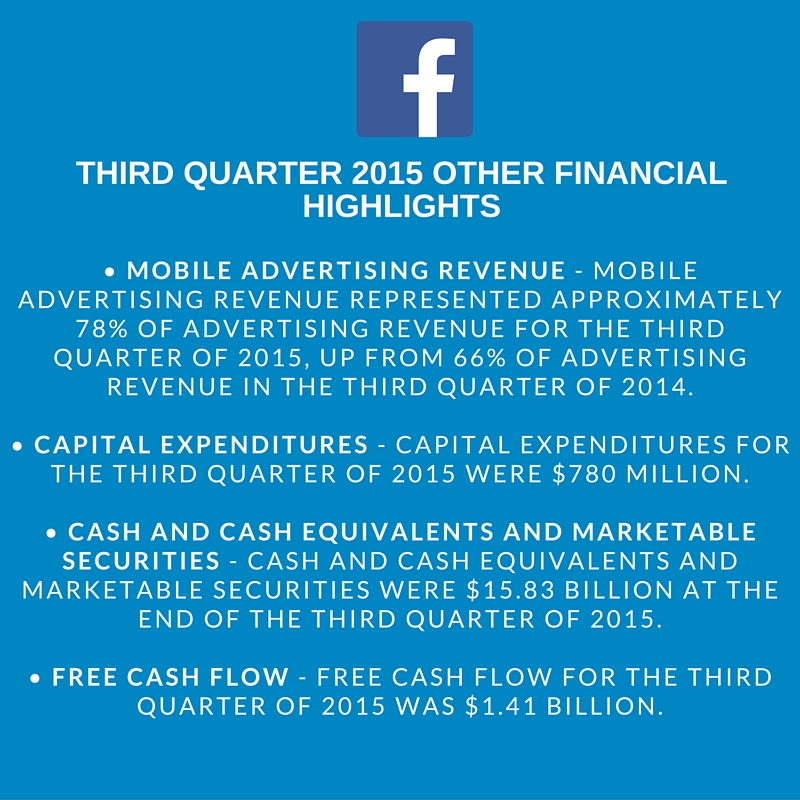 Source: investor.fb.com
The market valuation of Facebook has reached $15 billion, which has surged it ahead of Amazon.com Inc. It is valued now as world's sixth most valuable company in U.S after Apple, Alphabet Google, Microsoft, Exxon Mobile and Berkshire Hathaway.
Key Insights: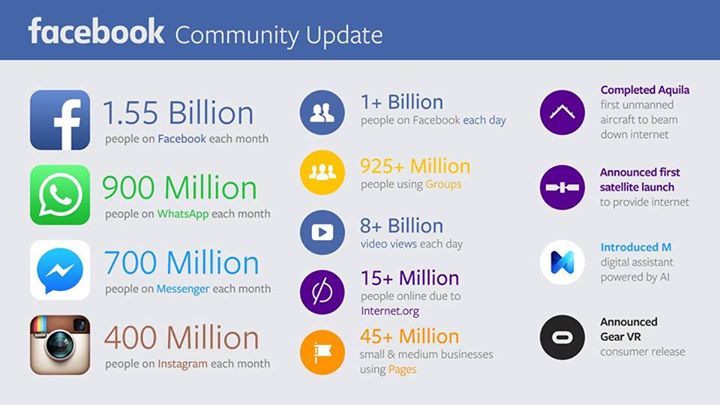 The social media giant is now dominating mobile advertising space.

Its monthly active user base comprises 1.55 billion which is higher than the population of U.S. and Europe.

The daily active users have reached a record high figure of 1 billion.

Videos have garnered 8 billion views a day.
What are the Growth Opportunities?
Fuelled by its huge success, Facebook has leveraged its future projects and has drafted solid plans for further expansion. One of the biggest growth opportunities lies in the form of videos. Zuckerberg has told investors in a conference call, "Over the next few years, video is going to be some of the most engaging content online, and by continuing to innovate here, we have a chance to build the best place to watch and share videos."
Following the success of Facebook, Instagram has registered 300 million users showing room to scale further. WhatsApp has 800 million users and Messenger has room to grow with 700 million users. Revealing about his plans for Oculus which was bought in 2014, Zuckerberg said, "It is going to be the best VR experience in the world when it launches, and I'm really excited for us to begin delivering on the promise of virtual reality."
The amount of money spent on R&D - $1.17 billion, hints on Facebook's effort to prepare for the future. Zuckerberg summed up the overall growth as, "The important story here is we're executing well on the business, the community is growing, and engagement is strong. Over the next few years, our main focus is on helping our existing communities and businesses reach their full potential."
What You Are Missing if You Haven't Joined the Bandwagon:
If you are a small business owner, these Facebook metrics means a lot for your business. If you are not having an active engagement on Facebook, you are missing the success bandwagon.
Here's why small business owners should pay heed to the Facebook's quarterly results:
Facebook has one-seventh of world's population as its daily active users.
Analysts foresee the user base to grow further in the future. If you are not a part of the Facebook bandwagon, you are losing a large portion of your customer's base. The huge size of user base has potential for new opportunities for a business. The technology sectors have more opportunity to reach an influential position in the market. Pay special attention to focus on your niche customers, communities, groups and influencers on Facebook.
Facebook receives more than 1 out of every 5 minutes spent on smartphones in the U.S.
Mobile business generates three-quarters of ads revenue. The core mobile business on Facebook is a significant factor that is driving its growth. According to Facebook COO Sheryl Sandberg, "People are spending more time on their mobile devices and on Facebook apps." She also added, "We believe we have the best-performing mobile ad product in the market." This revelation presents a huge opportunity for every business that has a presence in the mobile ad space.
As Mark Zuckerberg sums the success, "We had a good quarter and got a lot done. We're focused on innovating and investing for the long term to serve our community and connect the entire world."
By being the part of the Facebook success, you will be able to turn your own business into a success story. Fortunately, you can get help in that department from a digital marketing agency that can lay out a detailed digital media marketing plan, follow a proper execution and giving the best ROI. If you are one of those businesses that still lack mobile marketing, you are missing a huge opportunity to reach your target audience.