2nd Pillar (Part 3): What Steps Should Doctors Take to Improve Their Online Reputation?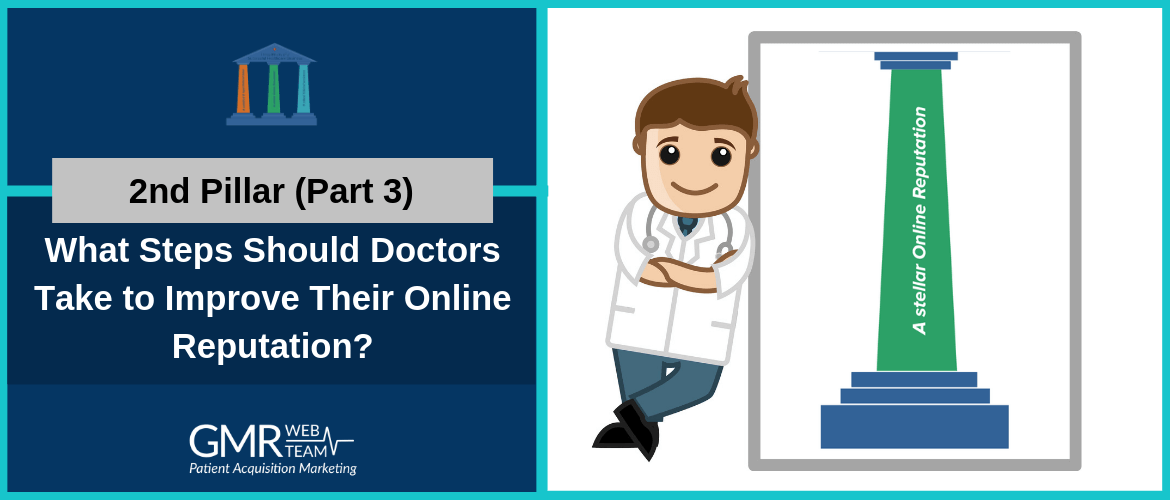 Online reputation management (ORM) is not an unknown term for doctors by now. Its credibility in reputation building and performance enhancing, has made it a necessity in either the active marketing strategy or at least the wish list of every provider (big or small). For those who are reluctant, they should waste no time and read this blog from start to finish to clear the air regarding ORM's value. [Read
part 1
and
part 2
of the 2nd pillar (a stellar online reputation) of healthcare marketing success. Read also about the
3 pillars of healthcare marketing success
.] For healthcare businesses, ORM has evolved into the need for a complete reputation management strategy that focuses not just on increasing the number of positive reviews, but also improving your practice's performance as a whole. We'll tell you how. Keep reading! In this third installment of the 2nd pillar blogs, we'll also provide a step-by-step guide to doctors for improving their online reputation. And of course, for an overall development of their practice.
An Overall Development of Your Practice with ORM
Medical practice reputation management focuses on an overall development of the practice in their way of providing care, thereby improving patient experience. As your patients feel satisfied about their visits, their gratefulness reflects in your satisfaction survey scores as well as in the positive online comments and reviews. An increase in the number of positive comments lessens the negative impact that a few bad reviews can leave. Be clear that ORM only helps in improving the volume of positive content; it doesn't directly interfere with the negative content in any way.
ORM doesn't need to be confused as a practice that aims at stopping unhappy patients from posting their negative comments, or removing negative comments from online sites. That's not what it does, but the contrary. ORM doesn't interfere with the negative content that are already posted online. All it does is encourage and facilitate happy patients to share their great experience online to increase the number of positive reviews in order to negate the impact of poor reviews and comments.
- An excerpt from our previous blog. Read the full blog. But how can a reputation management strategy improve practice's overall development? It starts with understanding patients' emotions, and their needs and expectations, then acting upon improving on those fronts. The key process in reputation management that initiates all of this is the patient sentiment analysis.
Patient sentiment analysis is the systematic analysis of the written reviews or comments to understand the overall sentiment of your visiting patients.
Reputation management software for doctors are powered by an Artificial Intelligence (AI) technology that helps providers understand their patients' sentiments with their emotional intensity – low, medium, or high. It identifies and categorizes opinions expressed through written texts (reviews or comments), then breaks them into their various components and classifies them according to their topic, meaning, and their intensity. It helps providers know about how their patients' are feeling as they go through the treatment, and about what lacks in their service quality. By knowing their areas of improvements, providers find themselves in a better position to launch marketing and staff training programs that are highly specific about their goals. This way, healthcare reputation management also improves the return on investment by reducing the costs on performance enhancement programs.
What Providers Should Do (Step-by-Step)
Because patients are increasingly using online reviews for finding treatment and evaluating physicians, you cannot ignore the importance of having a stellar online reputation for your practice. So where do you start on this? Keep reading...
Understand Why You Need Reputation Management and Get Started

Do you know that almost half of the patients have no problem in going out of their insurance network to select a doctor with favorable reviews? This means that patients are ready to spend whatever it takes for availing the best quality of care. Many other surveys and studies conducted on patients have made it clear why online reputation management is not just a recommendation for doctors now, but an essential thing. Let's have a look at some of them:

72% of patients use reviews as their first step in finding a doctor
82% of them use online reviews to evaluate physicians
84% of patients trust reviews as much as they love personal recommendation
65% of them feel that a doctor's response to reviews is important
(Also read the explanations of these stats) The various purposes that ORM fulfills for your practice are:
Influence your prospective patients' decision making in favor of you
Understand the emotions and sentiments of your existing patients
Monitor and manage the reputation of your (multi-location) practice
Keep a check on your staff's performance
Knowing about your areas of improvements
Retain unhappy patients by solving their issues on the right time

What more can you want from it? Don't sit back. Go on the web and do your evaluation of the best online reputation management process out there. And don't wait to get it included in your healthcare online marketing strategy.

Ask for Reviews in a Way Your Patients Can't Refuse

Directly asking your patients to leave a review won't help much. They may assure that they will, but at the end of the day, they'll most likely forget about it. As a matter of fact, patients don't want to indulge in anything other than getting well and get back to work after they have received your treatment. So, how do you ask them so that they actually get encouraged to write? The formula is simple – engage them as you ask them. Here are the tips:

Ask as a favor – It will show your honesty and professional behavior.
Tell how much time it'll take – This will let them sort things out as to when they should remind themselves for writing one.
Clearly reveal your purpose – Telling them that it'll help other patients (who are looking for a provider) in their decision making.
Clarify the process – Will you send a text message, or an e-mail with a link to leave a review? Whatever the whole process is, clearly explain it, but keep it short.
Let them know your concern – Let them understand that you're really looking forward for reading their comment. It assures patients that their reviews will get noticed.
Take care of the timing when you ask - Avoid asking for reviews if the patient doesn't seem to be satisfied with your service. Unhappy patients are not going to praise you anyway.
Make the review writing process easier – Use a HIPAA-compliant healthcare reputation management software to make the review writing and posting process easier for your patients.

- Know more about how to actually get your patients to write a review

Solve Issues and Retain Your Unhappy Patients

The healthcare reputation management software will not only facilitate review writing, but it will also do the patient sentiment analysis of those reviews. Sentiment analysis will give an understanding of your patients' emotions, their feelings about you and your service, and also let you know how strongly your patients feel. This is especially useful in case of your unhappy patients. Having ORM as your patient feedback system helps you in retaining your unhappy patients. Knowing your patients' cause of concerns and their feelings about it help you resolve them in a proactive manner. Intercepting the issues at the right time will let you address the concerns effectively, and retain your unhappy patients. It also saves from unnecessary troubles of more negative online reviews. Here's how the process works:

Your unhappy patient leaves your office, upset and in a mood to vent out their frustration somewhere publicly.
You send them a link (via text message or mail) to write and post reviews.
Your patient registers a negative comment with a poor star rating.
A message regarding this is immediately sent to your practice manager who takes notice.
Your practice manager lets you know about this and helps you connect with the patient personally.
You ask your patient's concerns and do your best to solve them as soon as you can.
Seeing your efforts and concerns regarding their issues, your unhappy patient will make-up his mind and tell others about this by writing a positive review this time.


So, this whole process actually helps your unhappy patients know how you address an issue, which instills a trust factor in them that their voices will not go unheard. Addressing their concerns is the best way to turn your unhappy patients into your most loyal promoters.

Know Where You Lack and Focus on Performance Improvement

Apart from managing your online reviews, healthcare reputation management's second function is to monitor and manage your staff's and hospital's performance. Its satisfaction score breakdown, sentiment analysis, emotional intensity breakdown, word cloud analysis, and other such metrics help you understand where you are lacking and how you can improve. Suppose if the word cloud analysis shows friendly, professional, listened, explained, attentive, knowledgeable, etc., as the most used words in the patients' comments, it suggests that your patients were mostly satisfied with your providers. On the contrary, if words like wait, hours, questions, problems, pain, etc., were used more frequently, it means that you need to make a change in process in order to improve patient experience. Check out this video to know how RepuGen (GMR's proprietary online reputation management software) helps hospitals and healthcare practices to improve their performance.

Keep Repeating the Cycle

The reputation management cycle is never ending. With every new patient visiting your facility, a new cycle of reviews and responses, their tracking and monitoring, etc., starts and keeps on rotating. It ensures a smooth and successful practice. The cycle will build a stellar online reputation that will be impressive to both the search engines and to your patients over a period of time. With that, you'll have to worry less about acquiring new patients on an ongoing basis.
This was the third and last installment of the 2nd pillar of healthcare marketing success: a stellar online reputation. Next time, we'll come with the first installment of the 3rd and last pillar of the 3 pillars of healthcare marketing success. Stay tuned till then!