Why Patient Engagement is Essential for Private Practices in This Digital Age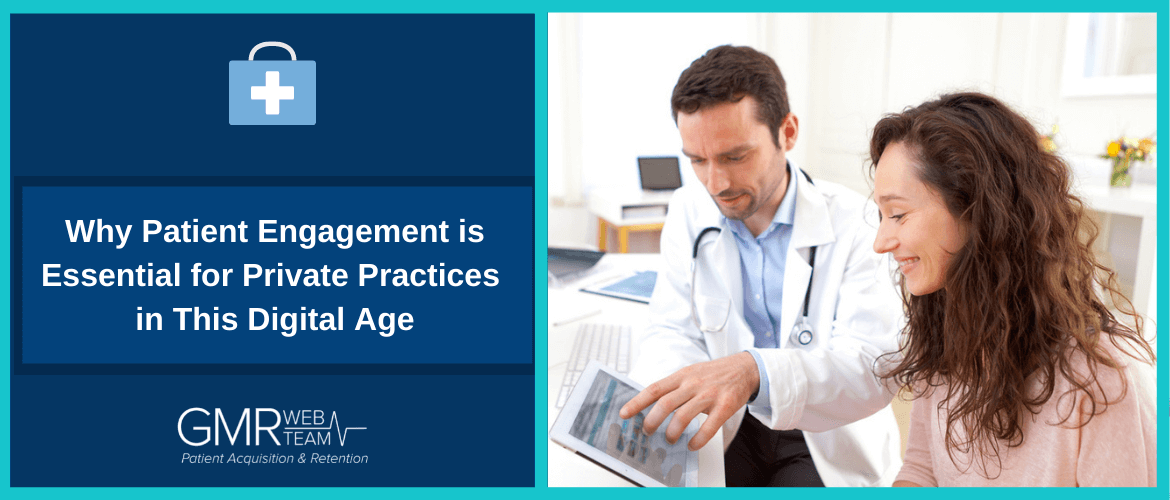 With more options than ever before, patients expect more than top-tier care. They look for providers who deliver top-tier care paired with options and tools available to them that make their experiences easy, timely, and convenient.
Keeping patients coming back to private practices for their care needs starts with meeting their expectations as consumers. When patients feel like they are playing a part in their care journey, they are more likely to refer others and return for appointments.
To begin to meet these expectations and keep patients coming back, you must first have a strategy in place to keep them engaged.
In the digital age, patient engagement goes beyond small talk at the admin desk or snail mail appointment reminders.
What Does Patient Engagement Mean in the Digital Age?
Patient engagement is any effort made by healthcare providers designed to increase and promote positive patient behavior.
These behaviors can vary greatly and can change with your private practice's needs, such as sending educational monthly newsletters or supporting preventative care activities between appointments (like diets and exercise).
Why is Patient Engagement Important for Private Practices?
The need for patients to stay digitally engaged with their healthcare providers is on the rise now more than ever. Patients want to have control over their own care wherever they can, and the new digital world makes the communication bridge between patient and provider possible.
With patients already exploring their healthcare options entirely online, it is important for providers to have a strong and holistic digital presence with a focus on patient engagement.
Effective patient engagement comes with many benefits, such as:
#1: Increased Competitiveness:
Stay ahead of competitors who may not be paying enough attention to their patients or patient engagement strategies.
#2: Increased Collaboration:
Get ahead of schedule and mitigate problems by fostering a collaborative environment between the patient and all providers.
#3: Improved Patient Understanding:
Avoid confusion and dissatisfaction brought on by patients not knowing certain information about their healthcare journey.
#4: Improved Communication:
Keep everybody on the same page to mitigate miscommunication and mistakes
#5: Better Patient Outcomes:
Improve patient health outcomes by providing them with educational materials and an open line of communication throughout their care.
#6: Fewer Patient Complications:
Avoid complications, extra phone calls, and extra visits that happen due to miscommunication or error in treatment.
#7: Reduced Cancellations:
Keep patients informed and engaged during their care journey to reduce appointment cancellations and no-shows.
When patients feel in control of their own care, and providers take extra steps to ensure this happens, both parties reap the rewards.
How to Improve Patient Engagement for Your Private Practice
So, you want to keep patients engaged, but where do you begin? Luckily, there are several ways to encourage and sustain patient engagement through simple digital tools.
#1: Multi-Channel Outreach:
By using different communication channels to reach your patients, you can ensure that your messages are reaching them via their chosen or favorite channels. Communication channels include email, SMS, phone calls, snail mail, social media, and more. When conducting patient outreach, which can be anything from appointment reminders to updating office hours, using a multi-channel approach is the way to go.
#2: Resources & Education:
Keeping patients engaged includes providing them with resources and education relevant to their care journey. These can be provided in infinite ways, including via internet links, emails, texts, brochures, and more. Resources and education can include, for example, a detailed plan on how to exercise with hip pain, or how to prepare meals for GI patients. The purpose is for providers to get patients involved with their own care, even outside of appointments.
#3: Patient Feedback & Recovery:
Keeping patient reviews monitored and actively asking for patient feedback. By engaging with patients, whether satisfied or unsatisfied, you show patients that you are timely with responses, and care about solving any issues that may have occurred.
#4: Telemedicine & Virtual Services:
With ease and convenience at the forefront of services offered today, private practices are no exception. By offering telemedicine and other virtual care options, providers stay ahead of any competitors lacking this offering. Patients also greatly appreciate virtual visits, as it cuts down on commutes and long waiting room wait times. Virtual options encourage patients to continue care with comfort and ease.
#5: Digital Patient Engagement Platform:
The most powerful, all-encompassing digital tool available to healthcare providers are digital patient engagement platforms. These types of platforms/software can cover several different engagement strategies along with automating, optimizing, and reviewing results.
For busy private practices, a digital patient engagement platform is a necessity. A healthy engagement between your private practice and patients in the digital space does not have to be hard or tedious. In fact, almost all of the features offered are automated after a brief setup.
This means that your outreach, educational resources, birthday messages, appointment reminders, retention strategies, etc., are delivered to the correct patients in a timely manner without direct intervention from your staff.
Whatever your choice in managing digital patient engagement strategies for your private practice, the end goal is for patients to feel more connected and satisfied with their visits.