Digital Patient Engagement Platform: All You Need to Know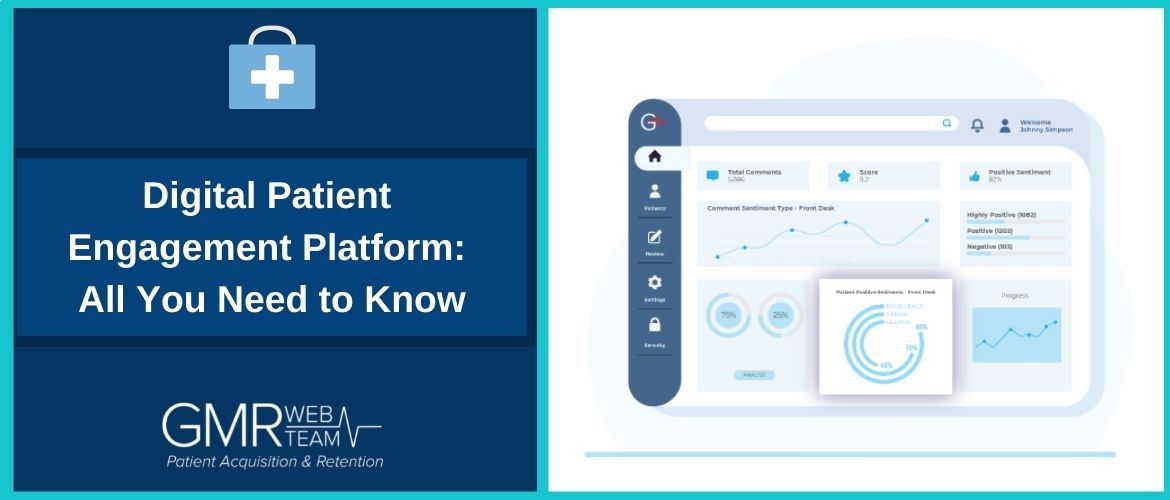 The need for patients to stay digitally engaged with their healthcare providers is on the rise now more than ever. Patients want to have control over their own care wherever they can, and the new digital world makes this possible. With patients already exploring their healthcare options entirely online, it is important for providers to have a strong and holistic digital presence with a digital patient engagement platform.
What is a Digital Patient Engagement Platform?
Essentially, this type of patient engagement software is a one-stop digital interface with powerful tools to keep patients engaged in their own care. This can include scheduling, appointment check-in, general communication with the staff, education, billing, reviews and surveys, and more.
Digital engagement in the world of healthcare can take on many forms, from SMS text reminders for upcoming appointments to patients leaving a review of their experiences with just a few taps on their phones. Digital patient engagement platforms for both the patient and provider, as they provide a seamless and modern experience for all parties, and give the patient an active role in their care process. Patients also want to hear from you; They want to know that you are involved and that you care about them.
Allowing patients to have involvement in their own healthcare journey with your practice not only keeps them happier and more well-informed, and can also relieve the stress of dissatisfied patients from you and your staff. A digital patient engagement platform provides the following benefits:
Increased patient satisfaction
Increased patient engagement with your practice
Improved patient knowledge
Increased ROI
Improved patient retention
Reduced patient no-shows
Before choosing a digital patient engagement platform, there are several main features to keep in mind that are tried and true thus far. These features keep patients involved, making them feel that you care about their business and that they are in control of their own care. First, consider direct patient engagement tools.
Direct Patient Engagement
1. Upcoming Appointment Reminders:
Automatically send patients reminders of their upcoming appointments, and reminders to schedule routine appointments.
2. Seamless Scheduling:
Allow patients to automatically request and update their own appointment times online.
3. Holiday and Birthday eCards:
Show how thoughtful and patient-centered you are with an automated yet personalized email campaign for holidays, birthdays, graduations, and more.
4. Two-Way SMS:
Grant patients the convenience of text communication with your front office staff.
More Digital Patient Engagement Features to Consider
5. Push One-Way Updates and Information to Patients:
In the wake of new office hours, holiday closures, or even emergency events, the office staff would traditionally spend their time and resources personally contacting every patient. With a one-way updating system, offices can easily mass broadcast any message to all patients with the touch of a button.
6. Collect Patient Feedback and Power Service Recovery:
Take control of any negative reviews with patient service recovery. Here, you are provided with a single source of truth for collected patient feedback, where all staff responses are documented. Whether it is a negative review from a disgruntled patient or survey feedback, staff can see it all in one place and respond promptly to mitigate any trouble. This also shows patients that you are timely with responses, and care about solving any issues that may have occurred.
7. Improve Your Online Reputation and Generate More Reviews:
About 70% of patients say online reviews are extremely important in selecting a new doctor. Therefore, reviews that are untouched by an office, whether through Yelp, Google, or otherwise, are not a great sign to potential patients. It shows them that you may not care to keep up with your patients' thoughts and concerns. Reputation management for healthcare practices is an important task to not only keep up with reviews but to generate fresh, new reviews often.
8. Patient Satisfaction Insights:
Surveying and collecting reviews from patients is of utmost importance to keep your practice strong. Insights gathered from these systems can help you and your staff makes changes for the better of both your practice and your patients. Viewing all insights in one place makes this otherwise tedious task a breeze.
9. Improve Patient Retention:
By placing the patient at the forefront of your practice, they are more likely to become loyal to your practice. Establishing a stable retention process can help your practice retain and engage patients, and may even encourage word-of-mouth referrals. Easily turn an apathetic reviewer into a loyal patient who sends in their referrals.
10. Telemedicine:
Video meetings have become a staple of 2020 and 2021, with patients reporting a 95% higher satisfaction rate with telemedicine versus in-office visits. Telemedicine as a tool also offers appointment accessibility for almost everyone, regardless of geographical location, transportation availability, family situations, time granted off of work, etc.
A healthy engagement between your practice and patients in the digital space does not have to be hard or tedious. In fact, almost all of these features are automated after a brief setup!
With GMR Web Team's all-encompassing digital patient engagement platform, you can easily take control of your part in the patient journey. Keep your patients engaged, satisfied, and retained through the use of the features mentioned above with our comprehensive, easy-to-use, no-nonsense platform.