Successful Adwords Campaigns Declassified
After a year of handling, running and auditing PPC campaigns at both national and local levels we discovered that we could actually advise people on how to run better and successful campaigns. And that too; for free!
The essence of a successful Adwords campaign is high ROIs. So it basically comes down to running campaigns at a comparative low costs and bringing in higher conversions.
Let's go through the components of a local Adwords campaign
Keywords
Ad Copy
Landing Page
Keywords
Keywords decide the budget of a campaign. The thumb rule is, the more competitive the target keywords higher is the budget. The budget for most campaigns in the same genre of business is kind of obvious. A startup will have a small budget while a moderate size business will bid somewhat higher. A well-established business will definitely have more money to spend (and often run the most awful campaigns). All campaigns aim for #1 rankings as they are deemed to get the most visibility.
Small businesses should start with long tailed conversion based keywords despite the fact that they have fewer searches. One good example would be, to prefer "online car insurance quotes" over "car insurance quotes" despite dramatically fewer searches because you will be targeting exactly what your service caters. You will pay for a bid that is $13.73 lower per click with the possibility of having greater visibility, depending on your landing page quality score.

Keyword research is a very important aspect of running a successful Adwords campaign and we will go into greater depth in the follow up article. Keywords should be thoroughly tested, paused, deleted and restarted based on the results of the campaign. While Adwords suggestions are good, you can delve into the mind of what your customers require and how they talk when they are describing your services or business and come up with good keywords that actually have high CTRs because they are relevant.
Ad Copy
In the example below, look at the ad copy for the keyword term "car insurance quotes". State Farm actually does a great job in the ad copy while Progressive Car Insurance, despite having a #2 ranking will give way to Geico at #3 because it has no additional information as to why it should be preferred over others and who named them #1 website.
With Google Adwords giving us the option of adding several features as extensions, we can actually increase our visibility with more real estate occupancy as State Farm Insurance is doing very smartly.
Imagine searching for water flooding services:
Water Damage is an emergency service. Does the prospect have the time to open the website and look for a phone number? The ad above is missing a call extension despite having a relevant ad copy.
Landing Page
Landing Page or LPs, as they are called in PPC parlance, are now evolving into complete science by themselves. Google Adwords accords them with quality scores and if your page quality is high and you are bidding lower than your competitor, you may still rank #1 for the ad. That's a lot of reason to work on a good quality landing page.
Lets see the landing pages for the three ads above for "car insurance quotes"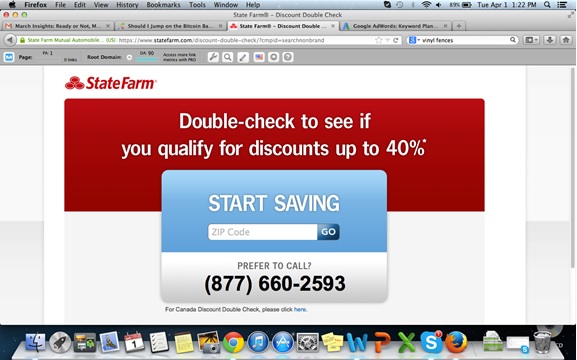 State farm Insurance has a good landing page with prominent CTA (Call-to-Action). It reinforces the message in the ad.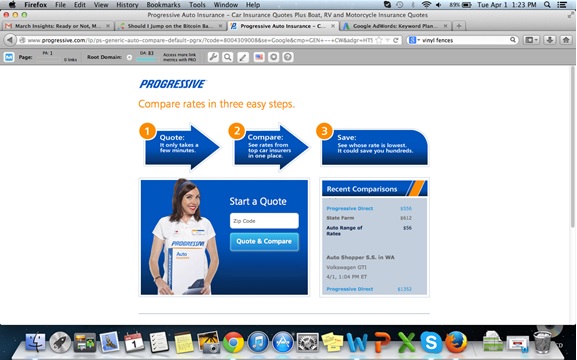 Progressive Insurance may have a great algorithm for comparisons but have poor landing page. Nothing stands out, not even the CTA.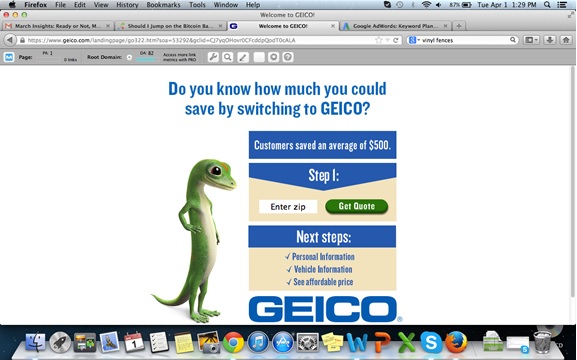 Geico does a superb job. Its logo immediately draws attention. It reinforces its ad copy and it lays out the future action in concise steps. Even the Gecko's eye looks towards the form on the LP drawing attention to it!
Takeaways:
Research keywords well. Especially if you are in a competitive business. If you are on a tight budget, focus on long tailed conversion based keywords to keep the costs low and focus on ad copy and landing page to get maximum conversions from these keywords. As your business grows with these leads, gradually increase your budget to include more specific keywords.
Ad Copy Matters. To reinforce your message, use keywords in the ad copy and clearly state benefits for the prospective customer. The best ad copy will vary as per the specific situation - like including clickable phone numbers on mobile ads for emergency services or including site links for any possible related services. All of Google's ad extensions give you greater visibility and using them smartly also ensures that your ads take up more of real estate on a screen. Use them.
Landing Pages can reduce the cost of your campaigns. Focus on headline, sub-headline. Add reinforcement statements and work to get your landing page some good links. These increase the quality score. Landing pages with little time spend on page send out negative signals.