Patient Acquisition Marketing: How Digital Strategies Are Defining the Healthcare Journey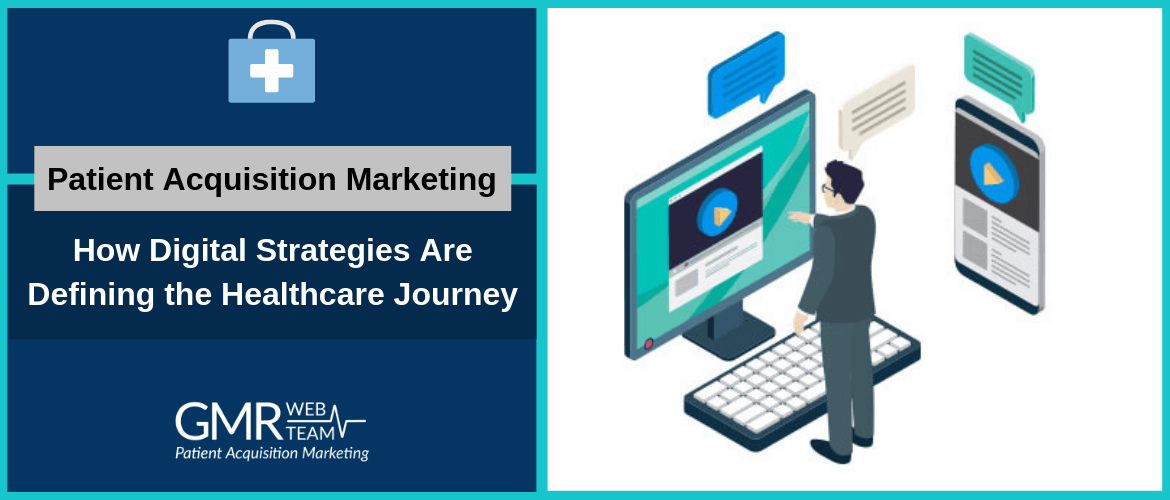 Today, when more and more patients are increasingly relying on the web for medical information, the term 'patient acquisition marketing' refers to the healthcare brands' need to align with patients' needs across the web. You need to show that your practice is the best choice for patients' healthcare needs, through your websites, email programs, social media, advertisement campaigns, YouTube channel and more. Why?
47% of internet users search for information about doctors or other health professionals - Pew Research
A Widespread Digital Marketing Strategy Is a Must
The narrowing information gap between healthcare providers and patients digitally has made it crucial for medical practitioners to grow their brand online. To do this they need a widespread digital marketing strategy that focuses on creating branded content like explainer videos, live videos, blog posts, etc., or encourage and facilitate users (patients) in generating the flow of positive content (reviews and testimonials) on different review websites and social media sites. A healthcare brands' challenge is maximizing outreach and acquiring more patients, in order to be at the top of the game. As already mentioned, there are many effective options for promoting healthcare services to prospective patients online, these include:
A High Converting Website
Email Marketing
Social Media
SEO/Paid Searches
Influencer Marketing and
Online Events
Once you start focusing on these options to connect and interact with your patients, you will go a long way in keeping the patient-provider (partnering) relationship strong and long lasting, along with generating more revenue for your healthcare business. Let's now explore how managing your online reputation through these options will have a significant impact on your ability to acquire new patients. However, note that every healthcare practice is different, which means all patient acquisition marketing strategies will not be the same. Be sure to ask yourself, or your healthcare marketing agency, what marketing tools will work best for you and your team before moving forward.
Your Website Needs to Be at the Center Stage Online
Healthcare practice websites need to stay updated with new technological improvements. You need more relevant attributes than just writing a blog or posting on Facebook. Prioritize content to show why you are the best in the business and share valuable information to those who are looking for a healthcare professional they can trust. Furthermore, focus on showcasing your relationship with your patients by creating an ad that links to positive patient reviews and testimonials. Use images that are "clear and evocative," but also tell real stories that make you more relatable and gives your patients more information about your healthcare practice. Remember, your website is a window into your practice for all your prospective patients.
Get Better at Email Marketing
Today, email marketing for healthcare is a top-of-the-list option because more than 90 percent of adults in the US prefer a doctor's office that provides email communications. Email marketing is an effective way to keep patients informed about your services and products, and to get the word out about your medical practice. It helps you stay digitally connected with your patients and helps you deliver content to them, whenever it's convenient. It also helps develop loyalty and trust in your practice as it is individually addressable. Thus, with email marketing, you can build and improve relationships with potential and existing patients, as it has become an indispensable business tool for practitioners.
According to research from Statista, the number of email users worldwide is likely to rise to 2.9 billion by 2019.
Connect on Social Media to Build Credibility
With patients wandering on social media in search of relevant health information and guidance, it has become a priority for healthcare practitioners to connect with their patients and provide them with useful blogs, infographics, visual quotes, videos, etc. Social media engagement is important as it helps doctors build credibility and trust with the online community and measure the response from their audience. Social media platforms have turned out to be popular as they don't just build an online community, but also contribute to how a patient speaks about healthcare providers to the people they know.
85% of users use social media for knowing about and sharing with others health related information. - Greatcall
Outpace Your Competitors with SEO & Paid Searches
We all know that there are plenty of prospective patients coming from the internet. How your healthcare practice ranks in search results, plays a vital role in getting more local visitors to your website. Search engine users who are intentionally looking for you with keywords like the conditions you treat or services you provide along with the 'near me' search term, are a more immediate conversion of traffic into new patient appointments. What's more, 39% of patients that see a paid search ad for a healthcare facility visit the website that was advertised. With increased advertising-based attraction, as well as paid searches, you can drive better engagement and awareness of your practice, thus, succeeding online in patient acquisition.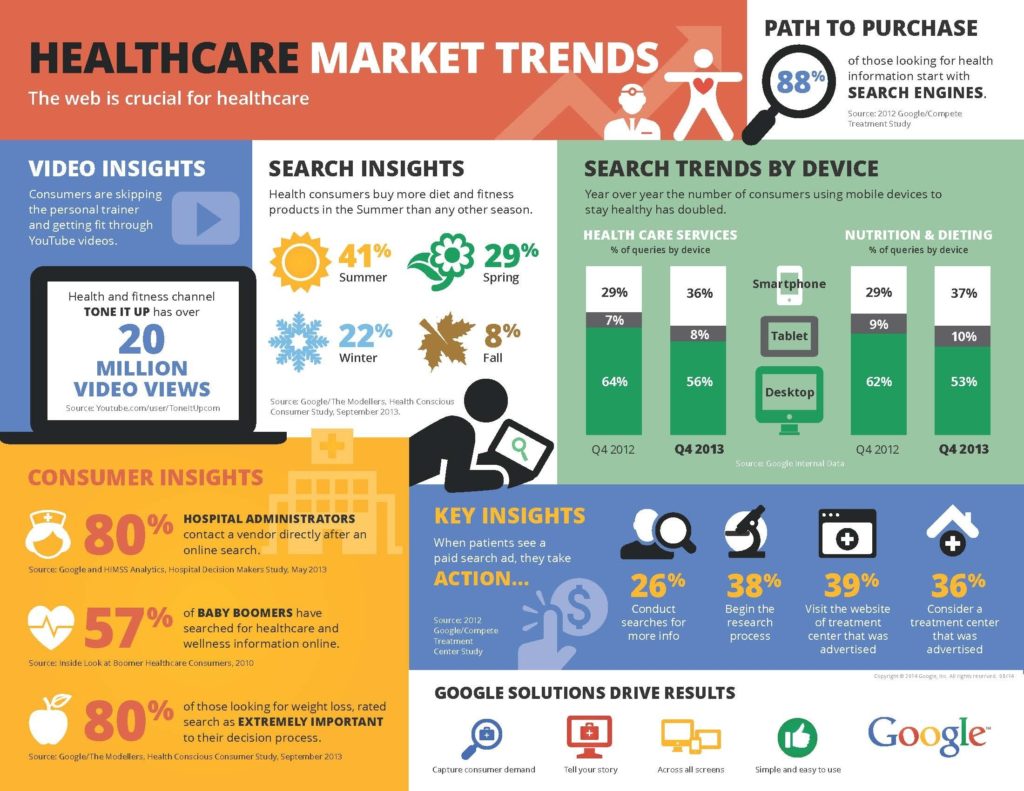 Image Source: Google
Convince New Patients with a Stellar Online Reputation
It is imperative to manage your online reputation, as it does have a significant impact on your ability to acquire new patients. Almost 72 percent of patients use online reviews as their first step in finding a new doctor, so your online reputation is often the first impression for many patients. Also, this is a reason why you want most of your reviews to be positive. Ask the patients loyal to your office to share some positive reviews online. The more positive reviews you receive, the more visible your presence will become, allowing you to dominate the searches made in your area. Not just that, you can also use ORM tools like RepuGen to monitor the performance of your hospitals, clinics, and staffs, while maintaining the highest level of service and value to earn a sustained relationship. Moreover, you can use online events and short online surveys to dramatically improve targeted brand reach and reputation.
Conclusion
With all these options mentioned, you have time to think about, and eventually implement, a proactive and relationship-building acquisition strategy for new patients. However, note that patient acquisition is not the end of the road, instead it is just the beginning, and there will be more work ahead to retain these new patients. For this, you must partner with a healthcare marketing agency that will increase your chances of success with patient acquisition and retention.