Online Reputation Management: Making Patient Engagement More Effective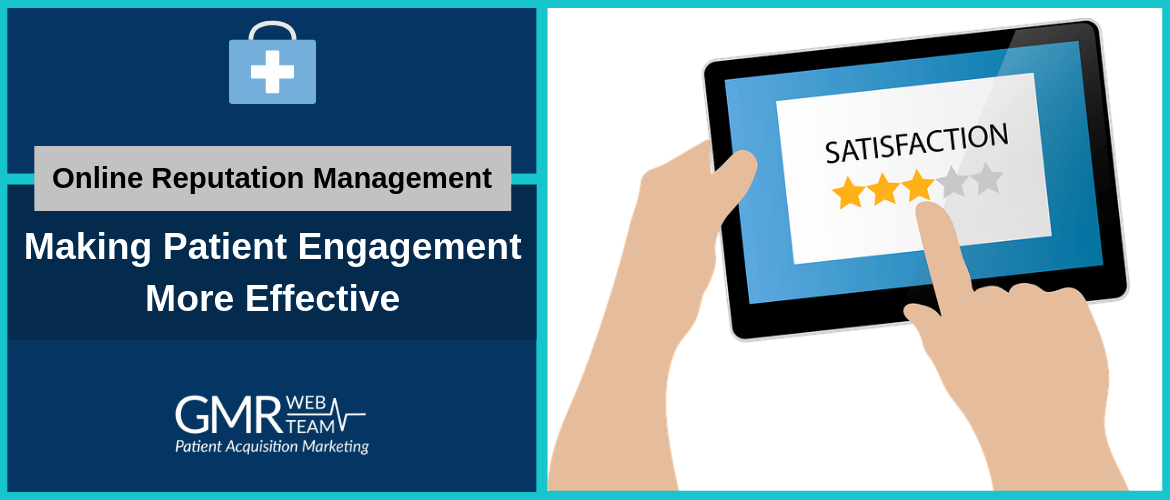 Why do you need Online Reputation Management (ORM)?
ORM is a process focused on managing online patient engagement for you and your practice. It deals with influencing patients' perceptions about you by ensuring that your reviews are accurately representing your services. ORM's strategies focus on countering and overshadowing negative online reviews with more positive reviews, and proactively intercepting potential negative reviews. The purpose is to improve the way people talk about you and your practice, which in turn will boost your credibility and help you gain new patients.
Patients are increasingly using the internet and online reviews to select a physician. In fact, 82% of patients use online reviews to evaluate physicians and their quality of care [source: Software Advice]. Hence, in order to acquire and retain patients, it is essential for you to put online reputation management at the top of your priorities. So how do you implement online reputation management? The first step is to build a process to monitor your online reviews and respond promptly to both positive and negative reviews. For negative reviews, you must also build a process where you reach out to these unhappy patients to understand and address their concerns. Next, you must implement a regular survey process to direct happy patients to review sites and intercept unhappy patients before they post online.
How can ORM improve patient engagement?
Patient Service Recovery & Patient Acquisition

Unhappy patient recovery Having ORM as a major aspect of your patient feedback system helps you recover unhappy patients, retain your happy patients, and acquire new patients. ORM allows you to instantly know the negative aspects of your patients' experiences, which in turn helps you resolve them immediately. Intercepting the concerns at the right time will let you address the issue effectively.




"Angry reviews" prevention In the future, if another unhappy patient wants to leave a review you can hopefully intercept them before they decide to post a review. Also, your responses to negative reviews that are published will show others how you address unhappy patients' concerns. This limits the negative effect of a negative review, as it shows patients you are addressing concerns and are trying to provide the best possible care. Just picture an unhappy patient ready to post a review, then by seeing your responses to other negative reviews they decide it would be best to reach out to you before posting a review...I've seen it happen! Responding to similar comments in a tactful way, and addressing the problems while keeping your cool, could prevent more patients from posting negatively about your business. However, it will definitely reduce the impact of the negative review and add a more positive light to you and your practice.

Engagement with Current Patients

Patient-provider relationship creation As said earlier, showing you care about your patients garners trust among your current patient base along with potential patients looking at your practice online. Consider those review sites as a window into your healthcare practice. New patients get a chance to gather insights about what it's like to be your patient and the care you will take in addressing their concerns. Are you someone who is easy to talk to? Your patients are your best assets and being able to communicate with them is what a longstanding relationship relies on. Answering reviews will allow you to improve contact with your patients and helps you stand out. More importantly, engaging with patients is a chance to learn about their experience and be a real listener.

Engaging with your current "happy patients" can turn them into promoters! Current patients can feel flattered to get an answer from you. A lot of businesses do not pay enough attention to reviews and what people say about them, and especially don't often respond to positive reviews. Engaging with patients can take a satisfied patient and turn them into a major promoter of your practice and a great referral base for you.

Manage Your Staff's Performance

Something you might have not considered yet part of the ORM role is to manage your staff's efficiency. ORM has an aspect about it where you can analyze sentiment based on keywords and other metrics to help you understand where you are lacking and how you can improve. You can do this on your own or find an automated sentiment tool to help you. This is particularly useful in the case of your unhappy patients. Suppose most of the reviews contain the words wait, hours, slow, problem, etc. It suggests that people are dissatisfied by how long your staff makes your patients wait. Sentiment tools will guide you in doing all those small adjustments that can benefit your business. In addition, letting them know you keep a check on their performance will help increase your staff's and practice's overall productivity. In a nutshell, ORM is essential for you to be competitive in the healthCare industry. ORM allows you to have complete control over your online reputation so that negative reviews do not hurt your business, and also to turn current patients into promoters and manage your staff's performance. However, it is important to not be afraid of negative reviews. They are a chance to show patients and others that you care and listen to feedback. Furthermore, getting bad reviews is a chance for improvement. Honest feedbacks will help you shape the perfect patient-focused health care business