How Website Ranking Affects the Growth of Your Urgent Care Center [Study]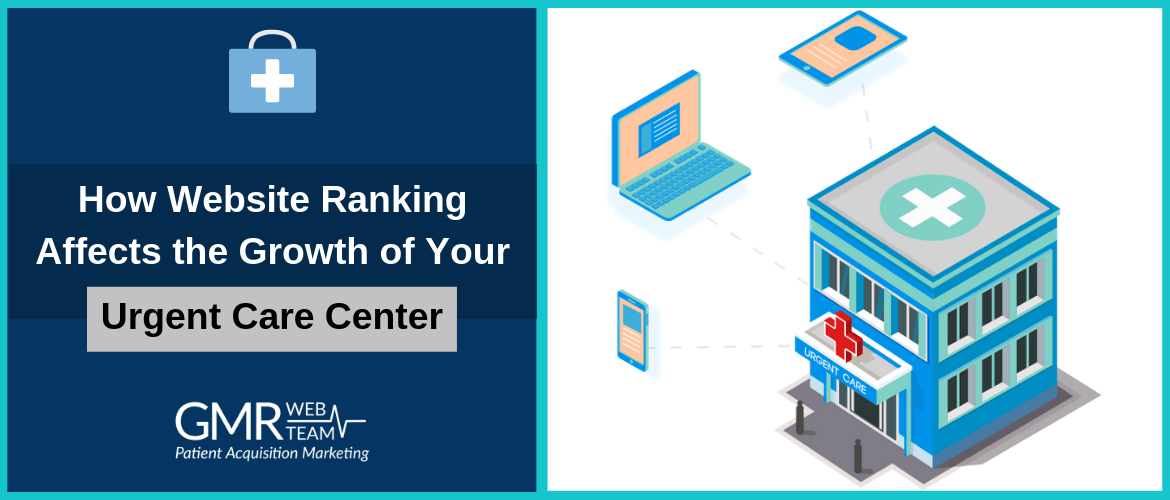 As most patients are now taking the internet route for finding urgent care centers in their time of need, it's crucial that your practice ranks on top of the Google Search Engine Result Pages (SERPs) to attract most of that patient traffic coming from the internet. This is not an assumption, but a fact! A closer examination of patient activities on Google's SERPs suggests that most patients tend to visit websites of those healthcare practices which are ranking not just on the first page but also on a higher position on it; from 1 to 4. Be it their laziness to scroll down the page to check other results, or their hurry to find a nearby treatment center (as is the case with most urgent care patients), the fact is that your chances of acquiring most of these patients are only as high as the position on which your practice ranks.
Studies Related to Website Ranking Position & Its Effects on the Performance
A WordStream study that tracked a group of 1,000 keywords and URLs continuously for five months found that the Google algorithm was shifting to increasingly higher click-through rates** (CTRs) for top 4 organic ranking status.
(**) – "A Click-through rate (CTR) is the ratio of users who click on a specific link to the number of total users who view a page, email, or advertisement." – Wikipedia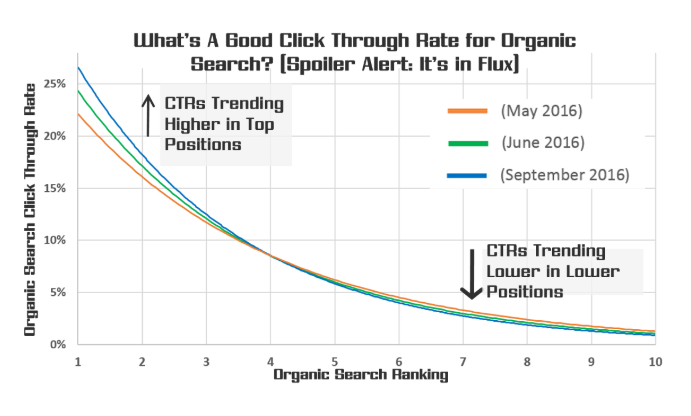 Source: WordStream
You can see in the above stats that more than 60% of the click-through rates were for keywords that were ranking on positions 1 to 4. These are results for keywords belonging to different industries, including the healthcare. A closer look at only the health-related keywords suggests the same idea. Read below: Advanced Web Ranking, a leading SEO software company, has an open database that shows average click-through rates by position in the SERPs. The database shows the most current results on a monthly basis where you can see the CTRs by positions for your select industry. We looked for the health-related keywords for three months: April, May, and June (the July data is not yet available on the site). Here's what we found:
For June: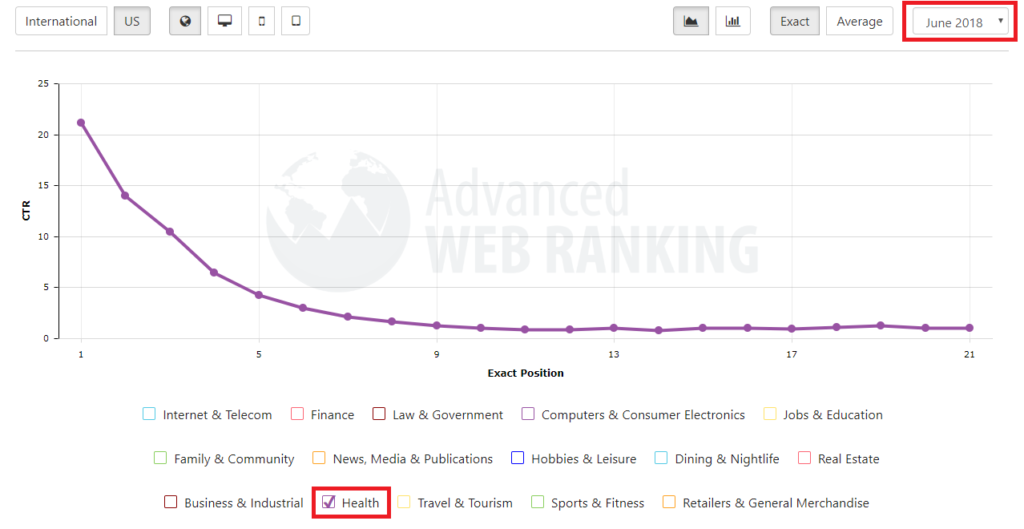 Click-through rate for position 1 is 21%, position 2 is 14%, position 3 is 11%, and position 4 is 7%. In total, 53% of CTRs in June for health-related keywords were for those links that ranked on positions 1 to 4.
For May: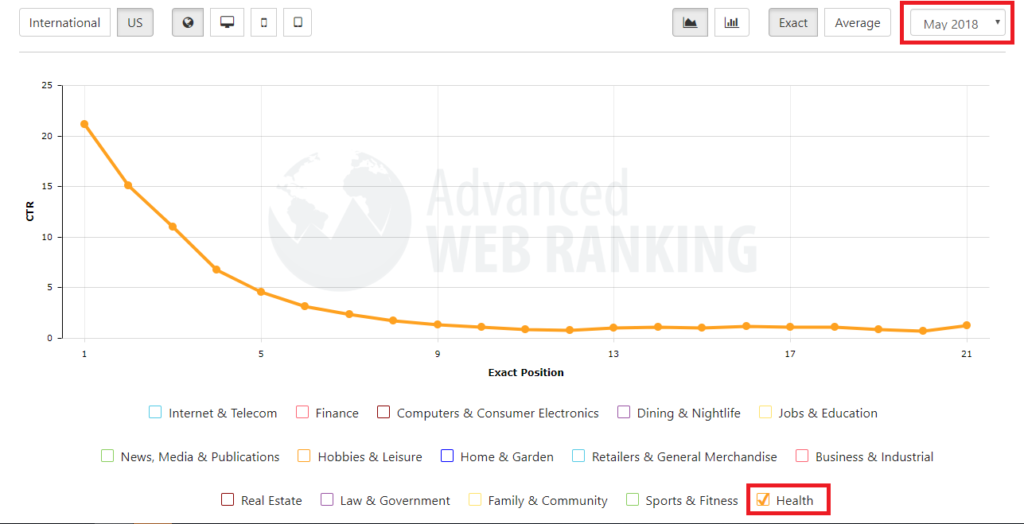 Click-through rate for position 1 is 22%, position 2 is 13%, position 3 is 9%, and position 4 is 6%. In total, 48% of CTRs in May for health-related keywords were for those links that ranked on positions 1 to 4.
For April: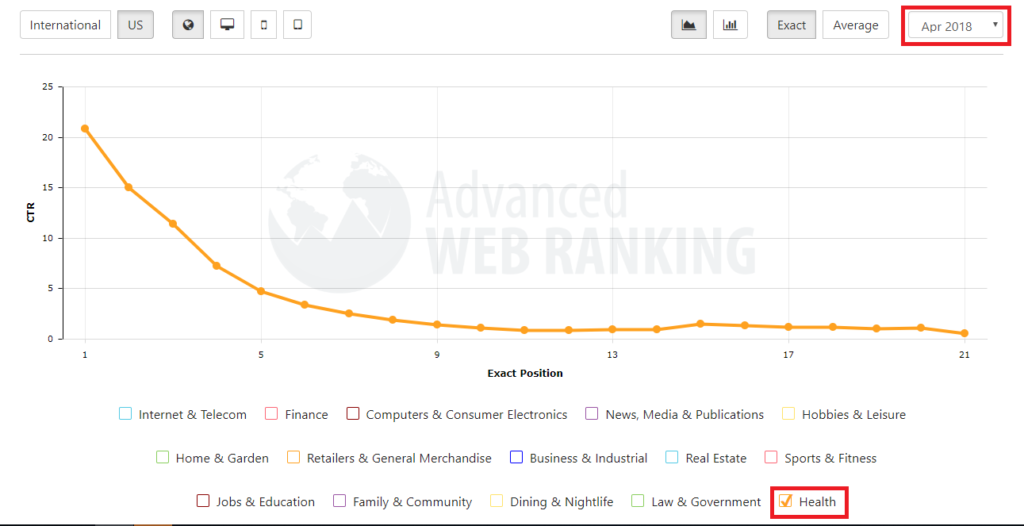 Click-through rate for position 1 is 22%, position 2 is 14%, position 3 is 12%, and position 4 is 7%. In total, 55% of CTRs in April for health-related keywords were for those links that ranked on positions 1 to 4. If we average out findings for these three months (April, May, and June), we get these results for CTRs by position for health-related keywords:
Position 1 – 22%
Position 2 – 14%
Position 3 – 11%
Position 4 – 7%
Position 1 to 4 (Total) – 54%
The data led us to the conclusion that about 54% of all user traffic for health-related keywords are clicking on websites that rank on positions 1 to 4 on the Google SERPs.
Success Scope for Urgent Care Practices by Increasing Website Ranking Position – Our Study
To give you a better idea of how your urgent care practice should perform based on your Google SERPs ranking status, we conducted a hypothetical study on the target keywords for one of our esteemed urgent care clients. [For privacy concerns, we cannot disclose our client's name here] We compared the estimated website traffic for three important keywords that we were targeting for our client based on their location. We took the "keywords search volume" and "ranking status" data from the performance report for two different periods. First, for March 2018 when the overall rankings for these keywords were relatively down and second, for June 2018 when we had raised the rankings to acquire the top positions. Here are the traffic estimates for both the periods:

(Location name*) – It's the name of the location that we are targeting for our urgent care client. (CTR by Position) – Based on the average CTR percentages found in Advanced Web Ranking's health-related keywords for three months; April, May, & June
In March 2018, when these keywords were ranking relatively lower (on position 4-5), the estimated site traffic would be 70 for "urgent care services," 1-2 for "(location name) walk-in urgent care," and 5-6 for "(location name) walk-in clinic." In total, an estimated 76-78 website visits from patients who were using these three keywords for finding immediate care. After three months, in June, when we had the improved ranking status (to position 1 and 3) for the three keywords, the total website visits from patients were estimated to be 241-243; a total percentage increase of 211% inpatient visits to the website. To check how exact our hypothesis was, we finally compared its estimated organic traffic results with those as shown in the original data of our client's account for those periods (March'18 and June'18). We were looking at an average of the organic traffic results for all keywords of our client during the two periods. Here's what we found:

As you can see, after we improved our client website's ranking for their targeted keywords, site's traffic and goal conversions also increased. The percentage increase of 38% in website traffic and 30% in goal conversions is not parallel to what our hypothesis suggested, but that's because the hypothesis was considering only three top keywords while the exact data is for all the keywords that our client was (and is still) targeting. That way, the findings related to click-through rate by positions (as shown by data from WordStream, Advanced Web Ranking, and our hypothetical study) can be considered to be near to accurate. This means that urgent care practices need to focus their efforts on targeting the right keywords and more than that, ranking on top for it to get the best results from the internet.
Higher Website Ranking Position vs. Other Google SERP Features
While ranking on top certainly benefits by allowing more traffic, however, latest studies suggest that #1 ranking on Google is less valuable, at least in terms of click-through rate, than it was just two years ago.
The primary reason associated with this is the increase in distractions caused by newer SERP elements, such as; increasing number of ads on top position—just last year Google increased the number of top ads from three to four; and, different SERP features such as local packs, featured snippets, People Also Ask, etc. This means that a good percentage of user clicks are shared by these SERP features. In that scenario, urgent care centers should focus on appearing on all these newer SERP features along with holding on to their coveted #1 organic position. Increase in click-through rates through any of the SERP features would ultimately add value to the organic ranking of your site, which should help in (maybe) keeping the #1 organic position firmly acquired, while also leveraging from other SERP features.
Read Also: The Best Ways to Market Your Urgent Care Practice