The Best Ways to Market Your Urgent Care Practice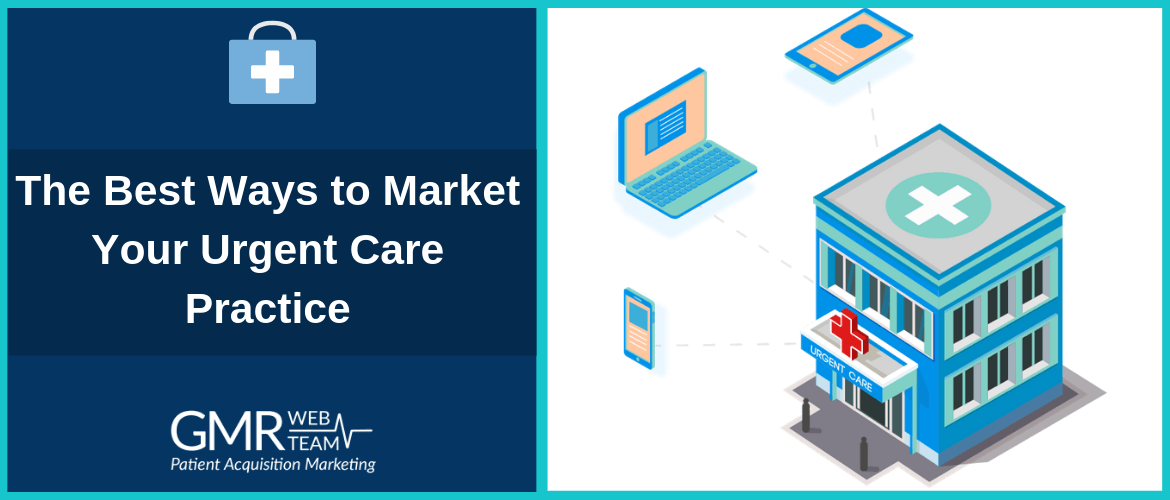 Attract new patients and grow your practice with these successful urgent care marketing strategies
The need to visit an urgent care practice emerges unexpectedly, and many people will immediately search online for the nearest clinic. This is why urgent care practices need a robust online presence, great online reviews, and customized digital marketing strategies to increase patient acquisition.
Not sure, how to do this? This guide will dive into the best marketing strategies that urgent care practices can use.
Why Is Digital Marketing a Must for Urgent Care Centers?
With more than 80 percent of people using the internet to do a healthcare-related search in the past year, urgent care providers need to be visible online. Not only that, 81% of patients will actually consider your online reviews when choosing their provider. If you are not being found online and have poor reviews, you will be struggling to get new patients through your doors.
Since the patient journey starts online, you need to position your practice for success and that starts with a digital marketing plan.
Acquiring more urgent care patients depends on you creating a continuous digital marketing strategy.
#1. Improve Your Online Presence
Because the internet is now the first source of information for most patients, you'll need to improve your practice's online presence. Here are some ways you can improve your online presence:
Patient Friendly Medical Website: Your urgent care website can make or break your practice. Get a responsive website that best showcases your services, content, reviews, skills, and other essential information that your prospective patients are looking for. Your website should also load fast, be mobile-friendly, and have optimized pages that search engines can find easily.

For over 15 years, we have been proudly serving the healthcare practices across the US with all their medical website design needs. We incorporate both functionality and style to create custom medical practice website design solutions that will help your practice thrive online. Visit our medical website portfolio.

Local SEO for Improved Visibility: Keep updating your existing local listings and adding new ones for your urgent care practice in significant healthcare directories such as Google My Business, Yelp, WebMD, and others so that it ranks for local search terms like "urgent care near me." This makes it easier for locals to find you and helps increase your website traffic

Content Marketing for Urgent Care: The content you provide to your patients gives them insight into how authoritative your urgent care brand is and if you can address all their healthcare needs. As more people search the internet for the symptoms or conditions they have, they decide who to consult on the basis of the content they find. Consistent blog posts and relevant website content let prospective patients know that you are a leading practice when it comes to urgent care.

Paid Search and Social Media Advertising: Paid search advertising helps your practice rank at the top of the search results. It allows you to zero in on the exact target patients for your urgent care clinic. And since you rank above other urgent care clinics in your area, it improves your website traffic and your local visibility.
What's more, you can pair your paid search campaigns with paid social media ads to promote your organic content, as social media ads give you an opportunity to reach out to a broader audience. Try creating ads based on urgent care-specific keywords and search queries to be found easily in the searches.
#2. Improve Your Online Reputation
According to studies, satisfied patients are less likely to review than disgruntled and unsatisfied patients, who tend to be more outspoken despite not being in the majority.
As 81% of people consider online reviews while selecting their healthcare provider, poor online reviews will result in fewer patients picking your practice for their care.
With an online reputation management system, you can generate more genuine reviews on a consistent basis to improve your online reputation.
#3. Focus on Patient Experience and Satisfaction
Listening to patients and taking measures to improve the patient experience will encourage them to refer you to their friends and family. You'll need to develop a welcoming environment at your clinic to do this. A neutral décor, background music, and nice staff members will all help to improve the patient experience and maintain a high level of patient satisfaction.
#4. Create a Referral Process
Like any other healthcare practice, urgent care facilities require a large number of recurring patients to be successful. Give each patient two business cards: one for the patient and one for them to use to recommend you. Bette yet, set up an automated email system that asks your happiest of patients to refer you to others! This helps keep your urgent care top of mind!
#5. Increase Local and Digital Media Outreach
The Journal of Urgent Care Medicine emphasizes that urgent care facilities infrequently use local media outreach to propose interesting medical stories. Make connections with editors at local media sources such as newspapers, and television news channels. Submit intriguing medical story ideas based on the services provided by your urgent care clinic. Also, focus on online content production through blogs, microblogs, and eBooks, and promote visual content sharing through YouTube. It will gradually turn you into a prolific influencer in your business.
#6. Network with Local Businesses & Online Communities
Connect with local businesses and community members to bring awareness to your urgent care. One of the most effective methods to accomplish this is to fund or organize local activities. You may put up a booth and give information or first aid services to the participants and sponsor events for brand promotion purposes. In addition, join online communities where you can read research articles, consult other providers regarding patient issues, and engage in health advocacy to build online credibility.
Our Successful Urgent Care Clients
See how our urgent care advertising and marketing strategies have helped numerous urgent care providers thrive.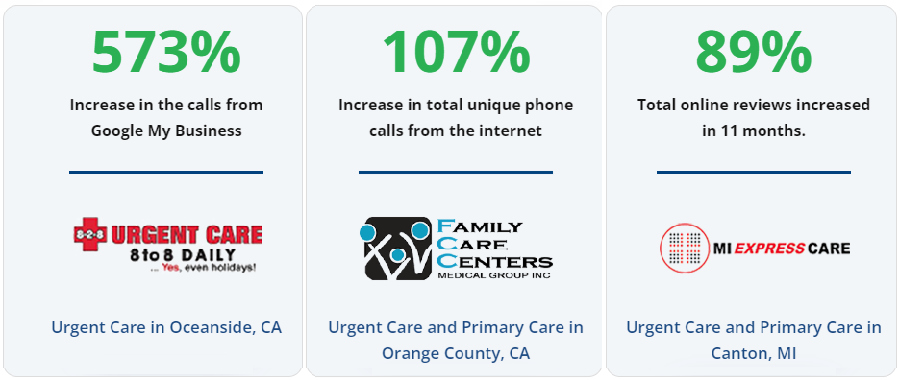 What Makes GMR Web Team Different?
1. No Long Term Contracts
We don't tie you down to long-term commitments. Every month, we work hard to earn your business with proven results.
2. Dedicated Account Manager
You will be assigned a professional account manager who will work with you to implement and execute your customized plan.
3. When You Build a Website with GMR Web Team, You Own It!
When we build a website for you, it will be yours. We don't take down the site if you leave us, instead you can take your website with you at nominal charges.
4. Proprietary Reputation Management Software
We have patented tools to manage your online reputation, monitor patient satisfaction, and generate more reviews.
5. One Market, One Client
We don't want any conflicts of interest among our clients, so we only service one client in the same specialty within a 5-mile radius.
Implement these strategies to market your urgent care practice so that you never have to worry about your patient base. Learn more about our urgent care marketing services if you are looking for an in-depth consultation for your urgent care practice.