GMR Web Team Features in Google Partners' Community
Google AdWords is the most renowned PPC (pay-per-click) search advertising program. In the present aura, search engine advertising can truly be an effective marketing tool for small businesses and should be incorporated in your digital marketing strategy.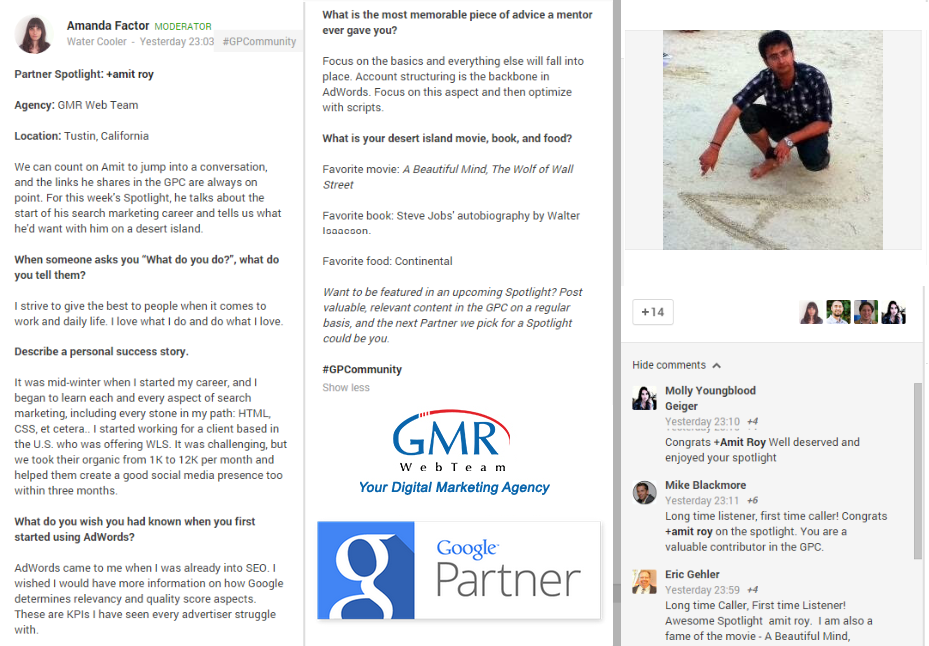 Google AdWords is a great marketing tool for small businesses especially if you are looking at the wider picture of search engine marketing as a whole and using it in conjunction with SEO activities. Focus your initial efforts on keyword research incorporating a perfect blend of long-tail keywords and phrases, optimizing your landing page and tracking your performance. Remember creating successful ROI with PPC takes lots of testing and tweaking – so keep at it.
Why We Own a Strengthen Campaign We keep at it, and sustain a result driven approach to pay-per-click management. We continuously monitor the latest developments in this segment and plan our advertising success in such a way so that our clients' business stays steadily up to date, and continually brings in new customers. Approaches like, location extensions and product extensions have highlighted the client's products directly in the search ads, giving them a better ROI. And not just this we are among the few Google partners, who are adopting latest feature additions (like – Website Call Tracking) in AdWords to deliver optimum benefits to our clients.
Kudos, We Grabbed the Spotlight GMR Web Team recently had a step forward in the digital marketing industry by getting an opportunity to be featured in the Google Partners' Community. With our active clientele management, free sample PPC audit and result oriented approach we have been able to win over our customer's heart and become a trustworthy Google Partner. Where, one of our team players Amit Roy, through his active participation in communities and fresh approaches superseded in adding a feather to the cap of GMR Web Team. Amanda Factor, Nicholas Kent, Molly Youngblood Geiger and Eric Gehler the veteran stars of Google Partners' Community congratulated us for grabbing the spotlight.
With our rigorous endeavors, we aspire to diversify more into various paid channel marketing avenues like Facebook, Linkedin, Double Click etc.