22 Creative Ways to Increase Patient Satisfaction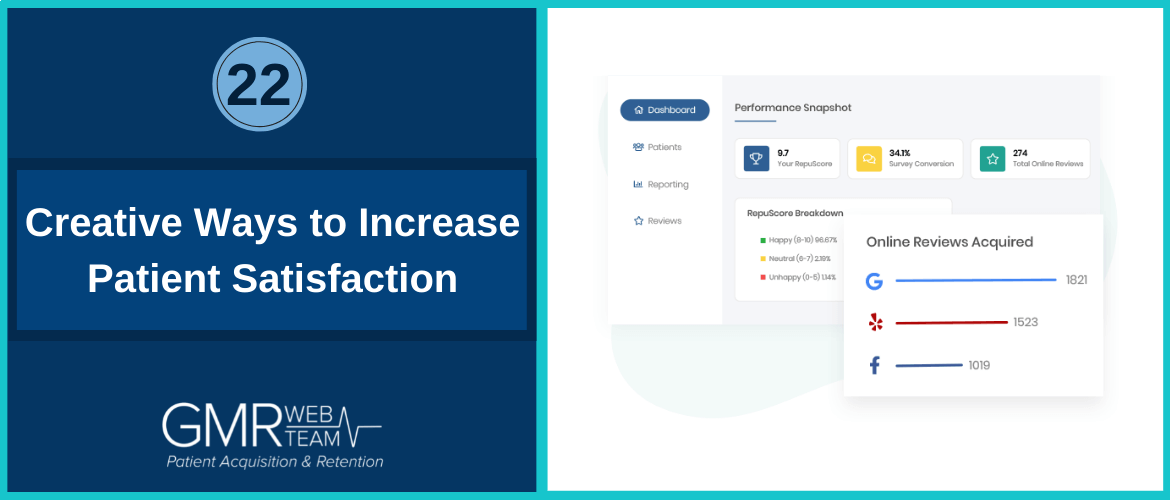 Patients expect their healthcare experiences to be more than simple checkups and diagnostics. Every touch point with a practice, from finding it online to receiving regular communication and appointment reminders for years to come, counts.
When a practice receives comments or feedback from dissatisfied patients, it's important to act on it so future patients are not dissatisfied for the same reasons. In fact, healthcare practices that fail to address patient dissatisfaction can lose up to 48% of their patient base in a year.
It's simple; satisfied patients bring in more satisfied patients.
What is Patient Satisfaction?
Patient satisfaction in a healthcare practice is a measure of the quality of care offered, determined by how positively or negatively patients perceive their care and overall experience.
Patient satisfaction can be measured in many ways, such as verbal feedback to staff or even a formal survey sent to patients.
Why is Patient Satisfaction Important in This Digital Age?
In this digital age, prospective patients are most likely looking at practice reviews before choosing a provider. So, the more satisfied patients leave reviews, the better your practice looks.
Satisfaction is a strong motivating factor in producing faithful, returning patients. Therefore, it is important to place an emphasis on your patient satisfaction levels in order to make any necessary adjustments that will benefit both your patients and your practice.
There are benefits to both the practice and the patient when satisfaction levels are high. For example, patients experience increased levels of trust, a greater sense of loyalty, and better health outcomes.
Healthcare practices with high patient satisfaction rates experience improved patient acquisition and retention, improved practice reputation, higher staff morale, increased productivity, and even reduced malpractice suits.
Let's go over 22 Ways to Increase Patient Satisfaction
#1. Establish Feedback Process
An established process for receiving patient feedback is vital. Some things you can try include; having staff ask patients how their visit went while checking out, asking patients to fill out a short survey, contacting patients after their visit via phone, email, or text.
#2. Monitor Satisfaction Rates
Just having feedback isn't enough to improve patient satisfaction. Having a clear picture of current satisfaction levels can greatly help staff in making any changes necessary to mitigate issues that patients have brought up. You can also set goals based on feedback to increase patient satisfaction.
#3. Improve Communication
Improving patient communication begins with staff enthusiasm and willingness to answer all of their questions. If a staff member doesn't know an answer, let them know you will figure it out and get back to them. When patients arrive for their appointments, front-office staff should be welcoming and offer all information needed, such as how the appointment will work, when and where payment is expected, parking validation, restroom location, approximate wait time, and more.
#4. Provide Respect
The healthcare field has been busier than ever in the past couple of years. It's understandable to feel rushed or short on time. However, patients still deserve your time and respect when they are under your care. You and your staff should do your best to provide every patient with respect and top-notch care.
#5. Work on Your Brand Image
Your healthcare practice is viewed as its own brand. Logo colors, website design and functionality, slogans, etc. are all taken into consideration by patients before choosing you as a new provider. Giving your brand image a tune-up can greatly improve patient expectations and the overall patient experience.
#6. Ask Your Staff
Patients aren't the only ones with valuable feedback to offer. Asking your staff what they think is going well (and what's not) can also help to improve the patient experience.
#7. Improve Patient Wait Times
One of the number one complaints from dissatisfied patients is long wait times. While it may seem impossible, get with your team to discuss ways to cut down patient wait times. Additionally, communicate wait times with patients and update them as often as you can.
#8. Don't Forget Office Aesthetics
The way your office looks matters to patients. A clean, organized, well-lit practice can go a long way in patient satisfaction. A dirty, dingy, outdated office does not provide any pleasant experiences to patients. Consider decorating with your branded colors and fonts for a stronger brand identity.
#9. Add Personal Touches
Make patients feel special and recognized by peppering personal touches throughout their experience. For example, consider automated emails that are personalized with their name, appointment dates, holiday cards and educational material specific to them.
#10. Make Payment Easy
Difficult or unclear payment processes can cause frustration with patients. To improve the payment experience, make pricing and payment options transparent. If possible, list pricing for services online, or discuss with your patients when they come in for their appointment. Make sure they know how much they owe, where to pay, when it's due, and what insurances are accepted.
#11. Improve Appointment Booking
With many healthcare practices offering online appointment booking, it's becoming expected for patients. Offering a way for patients to book an appointment at any time, 24/7, gives them flexibility and convenience.
#12. Don't Overbook
Along with keeping wait times as low as possible, do not overbook appointment times. Instead, have clear and agreed upon no-show and cancellation policies to deter open time slots. Some practices even charge a fee for no-shows or late cancellations
#13. Get Back to Patients Quickly
Do your best to return patient inquiries as soon as possible to greatly improve the patient experience. If patients are waiting several days or more to hear back, they will feel unimportant and like their business and time are not valued.
#14. Increase Quality Time
Healthcare appointments are a major source of anxiety in adults. The healthcare field is difficult for people to navigate and make sense of. To improve patient experience, make sure you are spending quality time with each patient, and not rushing through appointments. This also gives patients ample time to discuss everything they wanted to and mitigates doorknob disclosures.
#15. Follow Up With Patients
By simply following up after procedures and appointments, patients feel remembered and valued by your practice. This can also help improve health outcomes, as patients may let you know about important signs and symptoms they otherwise would not have called for.
#16. Be Accessible
Accessibility is an expected part of a positive patient experience. Consider implementing online chat, 2-way SMS, hiring more front office staff, or anything else that can improve your accessibility to patients. Remember, if you are inaccessible, patients might turn to another provider instead.
#17. Provide Quality Patient Education
One majorly overlooked piece of patient experience is educational materials. Providing patients with educational material relevant to their condition helps them stay informed and involved with their own care, rather than in the dark and confused about treatment. Consider posting educational content online and having some printed on-hand in the office.
#18. Take Care of Your Nurses
Nurses are most likely the ones with the most patient facetime at any practice, so it's important they feel happy and confident in their work. Ask your nurses how they feel about the practice, patients, and for any suggestions they may have. Make sure they know they are appreciated, heard, and cared for!
#19. Improve Confidentiality Practices
Having to speak about personal information in an open, quiet waiting room full of people is a bad patient experience. Consider improving confidentiality practices to make patients feel secure, and not like they are being heard by other patients and even other staff.
#20. Observe Patient Attitudes
A lot of intel can be gathered just from observing patients from afar. Set a schedule or cadence for observing patients in your practice. Do they seem stressed, annoyed, or angry? Or do they seem relaxed and smiling? Observation can clue you in to how patients are really feeling in your practice.
#21. Look at Your Competitors
Looking at competing healthcare practices in your area can help to provide you with ideas on improving patient satisfaction. Do they have better reviews? Or are they utilizing their website in a way that improves the patient experience?
#22. Offer Telehealth Appointments
Patients are coming to expect (and love) telehealth appointments. So much so, that patients reported a 95% higher satisfaction rate when using telehealth appointments over in-office visits. If you're looking for a quick way to greatly improve patient satisfaction, offering telehealth options is a great start.
How Patient Satisfaction Positively Strengthens the Pillars of Healthcare Marketing Success
Increasing patient satisfaction can tie directly in with one of the 3 pillars of a successful healthcare business: a growing, loyal patient base. Satisfied patients will keep coming back for appointments and are more likely to stay engaged with your practice and their healthcare. Satisfied patients also refer friends and family, continually growing your practice's patient base.