6 Reasons Why Your Healthcare Practice Isn't Growing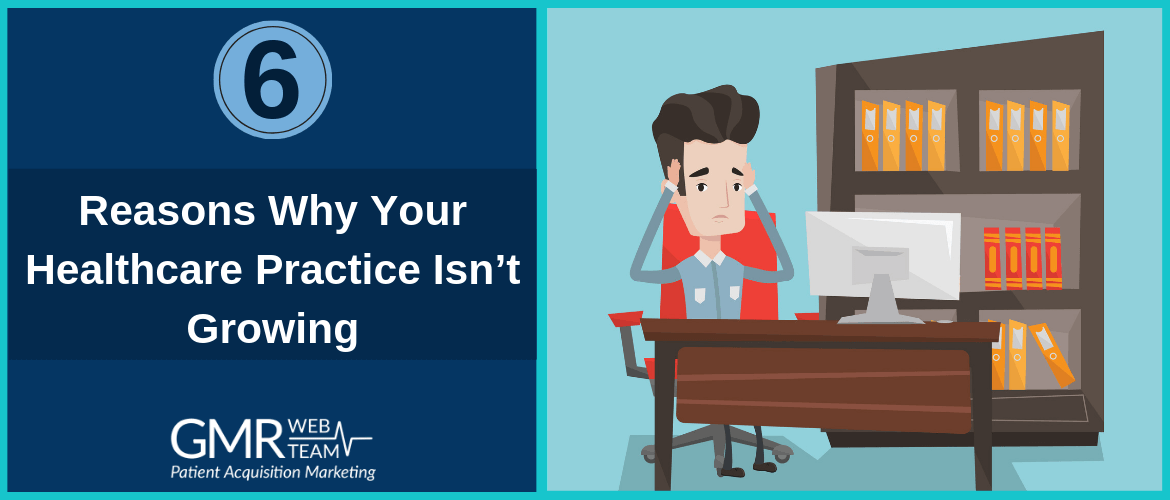 Growth is a major factor to ensuring your healthcare practice remains successful. If you're not growing your patient base, then your revenue will remain stagnant. However, growth doesn't happen easily. It requires hard work, diligence, and perseverance toward some defined focus areas – the drivers of growth – before your practice can actually achieve consistent growth. For your healthcare practice, those drivers of growth are your patients. That's why everything that you do should be centered on your patients – both current and potential. Though every healthcare practice knows that, still many fail at implementing strategies that are focused on building patient loyalty and growing their patient base. Why? In our 13 years of experience in marketing for healthcare clients (both small practices and large medical groups), we've learned about these 6 decisions that slow the growth of your healthcare practice:
1. Excluding your patients from the center of your care
Unsurprisingly you can lose many of your patients by causing them to go through so many troubles related to appointment scheduling, insurance disagreements, billing issues, long wait times, and rude or uncaring staff. While some of these issues will require a system-wide change for improvement, you can always make some process-related changes at the practice level to improve on your own. Check below a few ways you can do this:
Improving experience by training all your staff in customer service best practices
Involving patients and their family members in the decision making
Improving transparency by sharing knowledge and information with patients and among providers
Enforcing patient safety best practices, etc.
Investing in appointment scheduling and billing software that is focused on easing the process for patients
Implementing systems to reduce your wait time
Focusing on improvements in these areas will not only enhance your patient's overall experience, but also let them feel like their concerns are cared for and ensure they don't feel like just another number. A patient-centered approach ultimately helps by clearing confusion, improving trust, and increasing your patient retention.
2. Not investing in must-have technologies
Many healthcare practices still shy away from investing in technology, which conflicts with their efforts to become profitable. This is in spite of the fact that patients are increasingly embracing technology to learn about health, find treatment, and monitor their health. Technologies like electronic health record (EHR), electronic medical record (EMR), and practice management system (PMS) help in eliminating common front-desk clutter, freeing up more of your staff's time to interact and engage with your patients. On the other hand, technologies like patient feedback systems and
sentiment analysis
tools play a more direct role in implementing patient-centered care by allowing your patients the opportunity to let their voice be heard and show that your practice is listening to them. Here's how technology improves performance and growth of your healthcare practice (in the absence of which many healthcare practices are stalling their growth):
Increasing patient volume: By immediately accessing patient data from innovative EMRs and EHRs, you save enough time to see more patients a day. Try to group many types of software into one dashboard to save time and money.


Improving patient retention: By implementing software that improves the patient experience, you can ensure that you're building loyalty among your current patient base, as their satisfaction will be improved.


Increased revenue: By harnessing the benefits of healthcare technology to manage your care and improve your patient volume.
3. Having a bad patient referral process
A lethargic referral marketing strategy, or a no referral strategy at all could be another reason for the slow growth of your healthcare practice. According to some estimates, for long-term success, your healthcare practice needs to be acquiring 50% of its new patients through referral networks. Yet, 63% of physicians and 35% of specialists reported of being
dissatisfied with their current referral process
. Lack of timeliness of information and inadequate referral letter content were marked as the two major problems for that. Another prime reason for referral related losses could be the "referral leakage" (a process of patients being referred out-of-network by healthcare providers).
Referral leakage for a health system can average anywhere from 55-65%. Source: www.mass.gov
By having a solution that can monitor and manage referral transitions by improving physician-to-physician communication and establishing optimal communication, you can ensure that your referred patients stay in your network and that referring physicians remain confident of your care. You should also focus on improving referral numbers from your existing/visiting patients. A mix of direct and online referral marketing strategies can help here. Options like a "two-card strategies" system (where providers hand over two cards: one with a personal cell phone number, and another with a regular business card) can be great for a direct, face-to-face referral strategy. Getting referral traffic from social media could also be highly fruitful as an online strategy.
4. Facing employee retention issues
A higher employee turnover may be another reason why your practice isn't growing. A higher employee turnover doesn't just cause loss in terms of employee management costs, but also in terms of the impact on quality of patient care (caused by the increased physician burnout).
The average cost of replacing an employee amounts to 20% of the person's annual salary. – CBSNews
In times when the number of visiting patients are surging, administrative and regulative burdens are increasing, and a shift towards value-based reimbursement models is speeding, a higher employee turnover can become a catastrophe for your healthcare practice. By determining why your quality employees are leaving your organization, you can develop an effective employee retention strategy. One way to determine that could be obtaining information by conducting detailed exit interviews. According to NCBI National Library of Medicine, healthcare organizations should focus on issues such as communication, decision making, compensation, benefits, career development, appreciation and understanding in order to maintain their qualified workforce in the long term.
5. Having an ineffective online patient acquisition marketing strategy
An online marketing strategy that's not boosting your patient acquisition rate may be another cause for the decline in your practice's growth. There could be many problems with your healthcare digital marketing strategy that are not letting it yield positive results. Some of which can be:
Targeting the right audience with wrong keywords or vice versa
A not-so-user-friendly website, and/or a site that isn't mobile-optimized
Bad, duplicate, or irrelevant content
Not fully utilizing social media opportunities
Inconsistent business listing causing lower local visibility
Your online reputation (more on this in the next section)
These are just a few. Numerous other problems (almost 200 different factors) may cause a decline of your patient acquisition from the internet. An expert marketing agency that knows all the intricacies of online marketing can help you stay ahead of the curve.
6. Having a bad online reputation
With
82% of patients relying on online reviews
for evaluating and assessing doctors, bad reviews can be the biggest culprit in your practice's poor growth. Even a few negative reviews can harm your online reputation, turning away your prospective patients in their decision making. By implementing a few practice-based changes, and employing an online reputation management process, you can easily beef up your reputation and acquire more patients from the web. [Read:
What Steps Should Doctors Take to Improve Their Online Reputation
?]
Understanding what may be affecting your practice's growth will help you plan the most fitting strategy for the growth of your practice. Don't fret over the slow growth of your practice. Check which of these 6 reasons could be the culprit and take the proper steps to address them!