5 Ways Your Prospective Patients Learn About You [And What You Can Do To Acquire Them]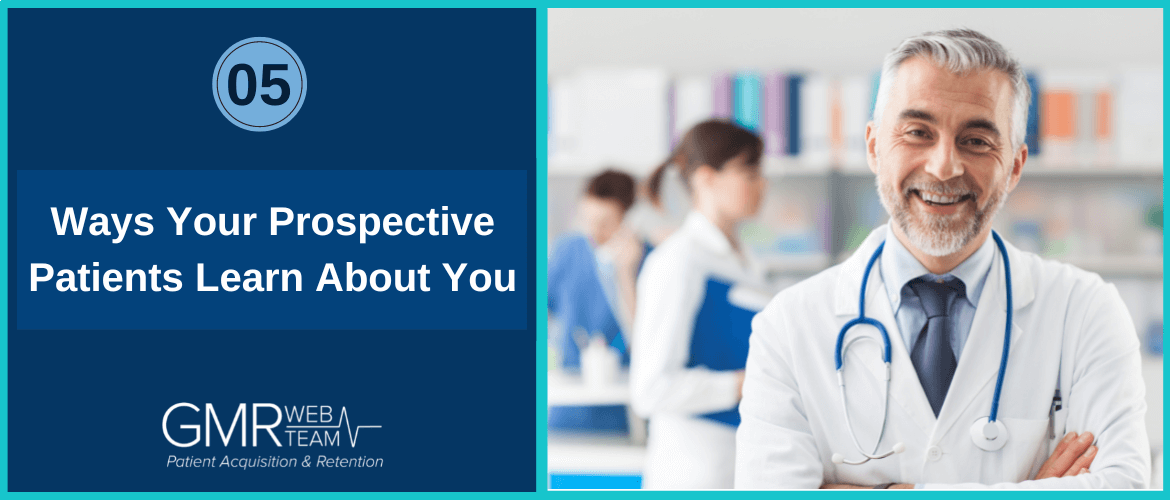 I am sure you already know how your prospective patients learn about you. Let me refresh the reason and share the specific strategies you need to implement to convert those prospects into patients.
How prospective patients learn about you:
They find you online. Many patients turn to Google when looking for a healthcare provider – Almost everyone now searches for services, including healthcare providers, on the internet. They will typically type keywords (example – primary care physician in "their town") and decide which provider to contact based on the list provided by Google (or other search engines like Bing).
Find your name on the list of approved providers by their health insurance company – No need to explain this process for providers who accept health insurance for their service. If you don't take health insurance, then this is irrelevant to you.
Recommendations from their friends/relatives – Healthcare providers already know that referrals from their happy patients are a constant source of new patients. They can optimize recommendations through ongoing communications with satisfied patients, including asking for referrals and making it easy for patients to refer.
Find you through rating apps - Patients are increasingly using rating apps to find healthcare providers. These apps allow patients to read reviews and ratings of different providers, which helps them finalize their healthcare visits. Patients can search for providers based on their location, specialty, and other factors and can also learn more about the provider's experience and qualifications.
Referrals from other healthcare providers (especially relevant for specialists) – Most specialists get new patients through referrals from other physicians. A well-planned outreach program will increase specialists' awareness among referring physicians resulting in a more significant number of new patients.
I am sure the information about how your prospective patients become aware of you and your services is nothing new, but let me share specific strategies that you can employ for these prospects to maximize their conversion to your patients.
1. Online Search
Who will typically Google for a healthcare provider? – Your prospects who are searching for you on Google are generally educated, belong to the middle-class or higher income bracket capable of paying for your services (have good health insurance or can pay cash), and are likely to do a lot of due diligence when looking for a provider. The only exception would be for prospects who are facing a major emergency, in which case they will search for the closest provider.
This group of patients is hardest to acquire, but once they are onboard, they will stay with you because they have selected you after doing thorough research.
What helps them decide who to contact? – These prospects would typically go through the following process to short-list providers they would consider:
See providers who show up as search results. (Search drives nearly 3x as many visitors to hospital sites compared to non-search visitors - Think With Google Study).
Quickly decide who they will exclude and make a list of potential providers that they would find acceptable. For example, they may promptly eliminate a provider with poor reviews.
Confirm that you accept their health insurance (if they have one) to further short-list the providers under consideration.
Visit the short-listed provider's website to learn more about the provider.
Check provider's reviews on the review site they trust. Typical review sites for healthcare providers include Google, HealthGrades, Vitals, RateMD, Facebook, and Yelp.
Check the internet for any other information about the provider, like articles written by them, mentions on other websites, etc.
Compare information of each short-listed provider and then decide who to contact.
How can you maximize your chances of converting prospects searching on Google?
Make sure that your website is ranked high when someone searches for your specific service. For example, if you are an ophthalmologist in the city of Irvine in California, the most relevant keyword that you need to optimize your website would be "ophthalmologist in Irvine, ca." If you don't appear for this search, the prospect will never know that you exist, thus can only consider ophthalmologists that show up on that search. Your online marketing company will show you the list of key phrases used on Google to search for the services you offer.
The prospect will next check your reviews, so make sure your reviews reflect the real patient satisfaction of your practice. Why? Because, almost three-quarters (72 percent) of patients use online reviews as their first step in finding a new doctor, so your online reputation is often the first impression for many patients – Software Advice. You may need a review monitoring and reputation management company (Google healthcare reputation management company to find one) to make sure online reviews are consistent with your patient satisfaction reality. Our in-depth analysis of 100s of providers shows that the online reputation of providers who do not manage their reviews proactively understates the actual patient satisfaction.
Make sure your website has detailed information about you and your practice, and that it is well-designed; especially it is optimized for conversion from a mobile phone. Most of the web browsing now happens on a mobile phone. (44% of patients who research hospitals on a mobile device scheduled an appointment. Think With Google Study).
Have a verified testimonial page on the website. The easiest thing would be the compilation of all your online reviews on one page so that prospects can see the complete picture. See an example of a compiled and verified testimonial page.
There should be more information about you on the internet other than your website and review profiles. Your online marketing company should be able to generate mentions about you on the internet.
Our experience suggests that you need a healthcare marketing agency to acquire these patients.
Read for More Details: How Do Patients Find Doctors [Part – 1]: Online Searches
2. Health Insurance Provider Listings
These are people with health insurance that you accept. Once they see the list of providers on their insurance list, they will compare you with the other competing doctors on their insurance provider list. Since most of their research will happen on the internet, you need to have a presence. It does not require it to be as extensive as needed to acquire new patients through Google, but it needs to be better than your competitors.
Your marketing challenge for acquiring these patients is much easier compared to acquiring patients through a Google search because all you need to do is stand out among the provider options. You do not need to have a dominant presence on the internet in your local areas.
To win, make sure that:
Your online reputation is better than the competing doctors.
Your website is current, mobile-friendly, loads quickly on both desktop and smartphones, and includes verified testimonial page.
Have more mentions than your competitors on the internet.
Your marketing agency should be able to check the website, reputation and internet presence of all competing providers, and create/execute a specific strategy to make sure that you are the winner among the competing providers.
3. Recommendations from Friends/Relatives
You should have a referral program that requests your happy patients to recommend you to their friends and relatives. Prospects who find out about you from their friends and relatives will have even a smaller set of healthcare providers to choose from. The reason is that they will be looking at more providers and are likely to ask several people for a recommendation, and several of them could be patients of another provider. Because they could be looking at any of your competitors, your task of converting them to patients is more difficult than converting the ones deciding from their health insurance list.
One thing that they use to eliminate providers from consideration providers' online review. Consumer research suggests that people trust online reviews more than the recommendations of their friends and relatives when selecting a healthcare provider. Given this fact, here are the must-haves in order to acquire more patients recommended by your patients:
Stellar online reputation. It should be better or at par with competing providers in your geography. Reviews should be regular with several current ones. Your prospects will typically ignore reviews over three months old.
3rd-party verified testimonial page that consolidates all reviews, and your patient testimonials will make it easier for prospective patients to learn about you in one place.
Current and mobile-friendly website. The internet is where they will be looking for information about you, with over 60% probability that they will be searching on their smartphone. Over 60% of all web browsing happens on smartphones.
It always helps to have a robust online presence because you could be getting compared to any competitor in your geographic area.
The first thing you need to do is get your and competitors reputation audit. If you are ahead of them, keep on doing what you are doing and never let up. If you lag behind or at par, consult a reputation management company to make sure your online reputation reflects real patient satisfaction, and a few unhappy patients do not sully that.
A good website is always a must-have because that is the first place your prospects will go. Get your site audited for key metrics (loading speed, mobile friendliness, optimization for conversion) vs. your competitors to help you move and stay ahead of your competitors.
4. Rating Apps
Some of the most popular rating apps for healthcare providers include Healthgrades, ScoreDoc, ZocDoc, and Yelp. These apps allow patients to read reviews and ratings from other patients and leave their own reviews and ratings after receiving care from a particular provider.
So along with searching for you online, your prospects are using these rating apps to find about providers with a good reputation and highly recommended by other patients. They can also understand the provider's communication style, bedside manner, and overall quality of care. This helps your prospective patients feel more confident and comfortable when choosing you as their healthcare provider.
Here is what you can do to acquire more patients through these rating apps:
Make sure that your ratings and reviews are better than your competitors on major review platforms. As then only rating apps like ScoreDoc will show your average ratings to be better than the others across all the major platforms.
Also, ensure that you or your practice are listed on at least 5 review sites, the primary being Google Business Profile, as 66% of your prospects prefer Google reviews to select their healthcare provider.
It always helps to have recent reviews, so make sure that you and your practice are getting frequent reviews to establish your trustworthiness, as more than 50% of patients will not trust a review older than a year.
A stellar online reputation will help you achieve all the points mentioned above. So make sure you use a reputation management tool to ensure you are ahead of your competitors.
5. Referrals from Physicians/Hospitals
There are many healthcare specialties where most of the new patients come through referrals from physicians. If your practice falls in this category, then your (referral) marketing strategy should be optimized to convert most of these referrals to patients and also keep referrals coming.
It may seem like you don't need to do much marketing, but the reality is very different. You still have competitors in your area of specialization and referring physicians are always evaluating where they should be sending their patients. Patients who are informed and have options to go to other providers (with the ability to pay or with good insurance) will do their due diligence and reject their physician's recommendation if they found the specialist lacking in attributes important in their selection criteria. Several primary care physician clients of GMR Web Team have shared that they recommend the best specialists to their patients and quite often a patient will come back and ask for a specific specialist that they have found online.
Patients will check your website and online reputation, and reject you if what they see does not meet their expectations. The biggest reason seems to be poor online reviews. Imagine how embarrassing it could be for a referring physician to have their patient come back and suggest another specialist because the online reputation of the specialist they recommended was poor. We know of physicians who stopped sending any new patients to specialists with a poor online reputation.
You also need to keep on adding new referring physicians to your practice to prevent significant revenue decline if one of the referring physicians decided to retire or start sending their patients to your competitor. A thoracic surgeon recently contacted us because his revenue dropped over 50% in the last six months. He was getting a bulk of new patients from a hospital. This particular hospital was sold, and the new owner decided to refer their heart bypass surgery patients to another surgeon. I am sure no specialist wants to face this situation.
Here is what specialists can do to generate a consistent flow of patients from referring physicians:
Have a stellar online reputation.
A good website with contents about the specialization for patients to read.
A process for reaching out to all referring physicians in the geographical area and keep constant contact by sending them the latest information about the specialization and your practice.
A thriving practice for specialists needs a good in-house marketing team or a digital marketing agency to manage online reputation and execute outreach program to referring physicians for generating more recommendations.
Summary:
There is no one-size-fits-all when it comes to marketing for healthcare providers. Patients with good insurance or the ability to pay cash are typically well-informed. Most of them will research before they select a doctor, urgent care center, or hospital for their needs. Your strategy would depend on what source you want to use for acquiring new patients. A good website and a stellar online presence are must-have for every provider. Other marketing activities should depend on your decision about your patient acquisition strategy. Unless you are a professional marketer, get a healthcare marketing agency to guide you in the right direction.
Related Blog: 7 Ways to Get More Patient Referrals for Your Medical Practice