1st Pillar (Part 2): Role of Digital Marketing in Improving Patient Satisfaction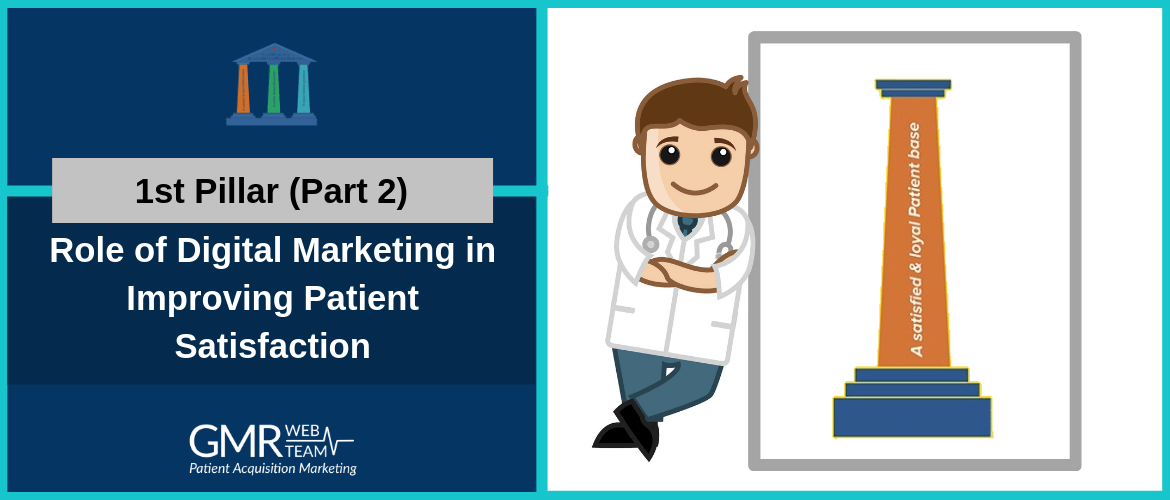 You know your hospital's reimbursement heavily depends on the kind of patient satisfaction you're able to provide. You also know that the internet is making patients increasingly aware of their rights to realize that satisfaction. However, what you may have missed is the fact that the internet, combined with increased proliferation of digital technology, is also playing a major role in defining how your patients are going to feel about you, your service, and your hospital. And its role starts even before your patients have found you, and stays in play post treatment or surgery.
[This blog continues the series of blogs on the 3 pillars of healthcare marketing success. This is the third blog in that series, and deals with another aspect of the very 1st pillar – a satisfied and loyal patient base. Read the previous blogs in this series here.] The internet, combined with digital technology, broadens the scope of digital marketing for healthcare businesses enabling providers to:
Find prospective patients
Educate patients about their health condition and/ or treatment
Facilitate easy appointment scheduling
Provide patients with a platform to raise their voice when they have concerns
Connect with patients forming long-lasting relationships, turning many into promoters
Your patients experience while going through these stages decides how satisfied they will feel about you, which will be reflected in patient satisfaction survey scores. Digital marketing for healthcare businesses attempts to ease a patient's entire care finding journey. Additionally, through online reputation management, which is one of its core functions, digital marketing procures reviews, ratings, comments, and social shares from your patients. Online reputation management benefits you by:
Building a robust online reputation
Increasing word-of-mouth referrals on social media
Letting you know the areas where your service is lacking, allowing you to improve on those fronts
This kind of approach helps you provide a superior quality of care, thus improving the kind of patient experience you are able to provide. And will ultimately start reflecting in your patient satisfaction survey scores.
Digital Marketing and Patient Satisfaction
Patient satisfaction refers to the level of contentment patients have for one or more aspects of care. But where are these feelings of contentment derived from? It's the patient experience. Patient experience begins with the very first touch point between a patient and caregivers. Traditionally, this might be a phone call, your front desk, or accompanying a family member on a visit. Now it includes access to your website, its ease of navigation, speed of scheduling an appointment through it, reading online reviews and testimonials, and many more factors. The sum of all these things and how they fit together, that is patient experience. Digital marketing has no direct role in improving patient satisfaction. However, it plays a major role in improving your patients' experience with you. It provides you tools and platforms that enable you to understand what your patients want and need; allowing you to take action, which leaves a major impact on patient satisfaction levels.
Reasons Why Your Healthcare Business Depends on Digital Marketing
In a Google Partners presentation video, the company shared some valuable information regarding healthcare online marketing:
Out of billions of searches happening on Google every day, 1 in 20 searches are related to healthcare
77% healthcare inquiries begin on search engines
13% healthcare inquiries are on healthcare related sites like WebMD, 2% on Wikipedia, and 1% on social networks
88% of the patients use search engines to find treatment centers
Users checked, on an average, 12 different sources before selecting a provider
Healthcare related searches are mainly performed on mobile devices
Online videos are the fastest growing gateways for healthcare information
Every single month, 3,000,000,000 (3 billion) health related searches are taking place on YouTube
Patients prefer to watch video testimonials before reaching out to any provider
The HCAHPS survey that decides your hospital's reimbursement asks 32 different questions from discharged patients. Questions are reported in many different domains, or areas of importance. Let's check out some of the more important domains and how digital marketing can play a major role in improving patients' responses in those areas:
Communication with doctors, nurses, and staff. It's not only about the face-to-face communication patients have when they're in your hospital or clinic. Digital marketing cares more about bridging any gap in communication between patients and providers that often leave the patients' questions unanswered and unresolved. It's done through patient portals, social media profiles, online chat bots, review websites, and the like. At many levels, the processes are automated and running (from the users' end) so that you don't have to dedicate valuable time and compromise your work.


Responsiveness of hospital staff. An FAQ page on your website is a great way to answer many of the questions and concerns that your patients will have. This reduces the number of phone calls at your customer service desk, which reduces your staffs' workload, and allows them to be more responsive with the patients who need it. Here, an online appointment scheduling system on your website makes the whole process more automated and more stress-free.


Overall hospital rating. This is an overall star rating (on a scale of 0 to 5) given to hospitals and care providers. We've explained earlier how digital marketing can indirectly and positively affect these ratings. However, there's another type of performance rating for hospitals and providers that are given directly by patients – their ratings on review websites. Online reputation management is a practice under digital marketing which helps you improve those ratings as well. Patients care the most about these ratings as they consider these as direct testimonials from fellow patients.


Likelihood to recommend. Word-of-mouth referrals were never out of date for healthcare businesses, and they never will be. Rather, use of the internet and social media has only increased their importance. It has empowered patients to connect with fellow patients online to talk and share information about their health conditions, physicians, and quality of care. With digital marketing, you can build a robust online presence and reputation that can influence what your patients and other patients are talking about you.


Discharge information. Your patients may forget about discharge information such as medication doses, instructions about food safety, lifestyle changes, etc., or they may skip them from time to time. But with an informational or a utility app provided by you, your patients can easily keep a track of all these important items. Also, a patient portal may provide a more interactive experience by letting them exchange secure emails with their healthcare teams, request prescription refills, etc. It also gives access to information like discharge summaries, medications, and study materials, among others. All these add to your patient's overall experience with you.



The kind of care and attention you provide to your patients decides how satisfied they are with you. However, with the assistance of digital marketing, you can actually assist your patients at every stage of their care journey: when they are just becoming aware of their health conditions, when they select your facility and enter your care, and after they've had proper treatment or surgery.
Benefits of Improved Patient Satisfaction
As mentioned earlier, the first and foremost benefit of an improved level of patient satisfaction is a great overall hospital rating and thus, increased revenue reimbursement by insurance companies. However, it's not just about the revenues. A higher level of patient satisfaction instills a trust factor among your patients who keep referring you to their friends and family.
Patient satisfaction affects clinical outcomes, patient retention, and medical malpractice claims. It affects the timely, efficient, and patient-centered delivery of quality health care. - NCBI
Here are some other ways improved patient satisfaction can benefit your healthcare business:
Improved Patient Outcomes: It's a proven fact that patients who are more satisfied with their healthcare experience are more likely to adhere to the treatment plan and maintain their relationships with providers over the long haul.


More Patient Referrals: Satisfied patients are more likely to come back every time they need care. They will also recommend you to their friends, family, neighbors, and colleagues. This will have a far positive impact on your hospital's or clinic's revenue.


Less Malpractice Claim Risks: Practices with lower satisfaction scores are shown to have higher risk of being named in lawsuits. By improving patient communication and engagement through digital marketing, you can lower the risk of any malpractice claim.



Final Thoughts
It's simple logic that you'll have to market your healthcare business on the internet because most of your patients (prospective or existing) are spending time online looking for healthcare information or finding a doctor. In fact, they are becoming more and more dependent on it for their healthcare needs (88% of the patients use search engine/s to find treatment centers, data from Google partners presentation video). Digital marketing helps you, as well as your patients by making this whole process a lot more targeted and easier. This helps in improving your patients' experience during every stage of their care-finding and after-care journey. And as we've discussed, an improved patient experience is the key to an increased patient satisfaction. Share what you think about digital marketing's role in improving patient satisfaction for your hospital or clinic. Leave your views in the comment box below!