Why Online Reputation Is Critical for a Successful Patient Acquisition Marketing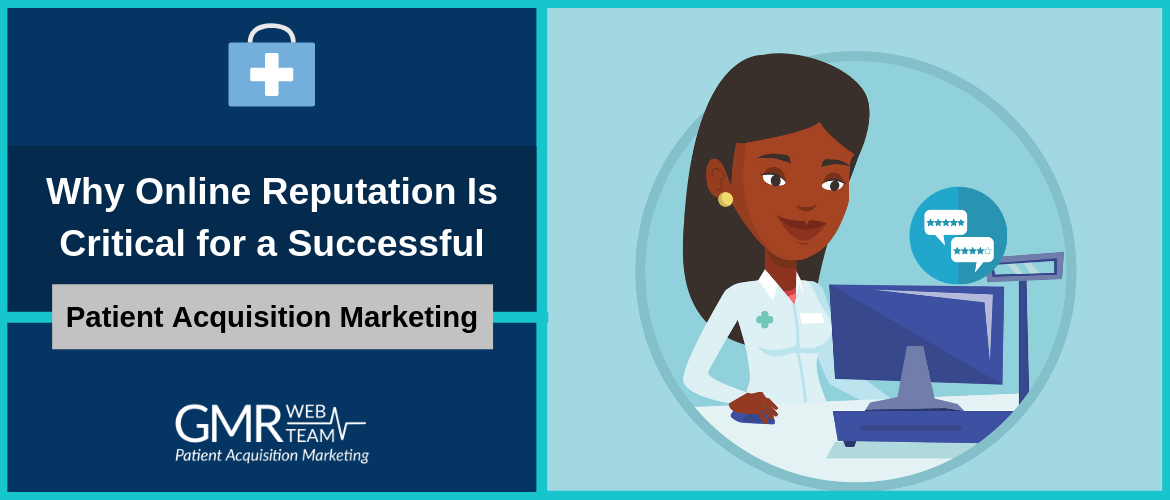 In today's digital world, the internet has enabled patients to seek out information, compare all options, and make decisions regarding their health. Whether you are a dentist, physician, gynecologist, or gastroenterologist, it has become crucial for all the healthcare providers to adapt to a marketing strategy that focuses on building the three pillars for their healthcare business – i.e., a satisfied and loyal patient base, a stellar online reputation, and a robust internet presence. Adopting these 3 pillars into your healthcare marketing strategy is important because it not only improves the overall performance of your healthcare practice, but also helps you focus on acquiring new patients through tracking their needs online. Going further, we'll discuss how these three pillars of healthcare marketing strategy as a whole facilitate successful patient acquisition marketing, while focusing primarily on a stellar online reputation.
A Satisfied & Loyal Patient Base
Patient satisfaction, which is the most important pillar of healthcare marketing success, is about whether a patient's expectations are met or not. It can vary individually, which makes it important for your healthcare business to take care of the expectations of each patient who is visiting your facility. To make it more simple, patient satisfaction is a result of good patient experience and patient care, where patient experience includes several aspects of healthcare delivery that patients value highly when they seek and receive care, such as getting timely appointments, easy access to information, and good communication with healthcare providers.
It's not easy to build a base of satisfied and loyal patients, but our experience says that by contacting your patients' post-treatment and listening to their issues and concerns, you already win half of the battle. Also, you give yourself a chance to rectify the error, if any. Furthermore, the benefits of higher patient satisfaction include improved clinical outcomes and patient retention. As when you provide a great experience to your patients and are able to meet their expectations, they go on talking about it to everybody they meet, thus helping you acquire new patients.
A Stellar Online Reputation
We all know that having a good reputation is important for any business growth. The same goes for your digital/online reputation, as most people in today's digital lifestyle go online when they have a problem or require information regarding a specific healthcare service. If your reputation is negative online, will these people looking for answers or services turn to you? With this being said, it is imperative to manage your online reputation as it does have a significant impact on your ability to acquire new patients. Almost 73 percent of patients use online reviews as their first step in finding a new doctor, so your online reputation is often the first impression for many patients. Also, this is a reason why you want the majority of reviews to be positive because a person reads an average of 7 reviews before trusting a business.
Asking the patients loyal to your office to share some positive reviews online is absolutely essential. The more positive reviews you receive, the more visible your presence will become, allowing you to dominate the searches made in your area. Even Google in a recent event for their partners shared that 88% of patients use a Google search to find a physician or treatment center and 30% just search directly on a review site. It is really important for healthcare providers to ensure that their online reviews on all major review platforms are a true reflection of the service they provide. We are saying so because after conducting a patient satisfaction survey, we came to realize that the number of unhappy patients for the healthcare providers was actually very few, but they were more vocal on review sites when compared to happier patients. The reason behind this was that happy and satisfied patients were mostly less mindful of writing reviews.
To learn more about the data representing a major disconnect between actual patient satisfaction and reviews posted online, click here.
A Robust Internet Presence
Having a robust internet presence is vital because it not only helps your healthcare practice ranking on various related keywords on search engines, but also makes it easier for you to have an influencer's position on the web; especially on social media. Apart from that, a robust internet presence is also about integrating some of your services with the online media so that your patients can:
Have access to educative content
Fill in the appointment form online
Monitor their lifestyle and health changes through some kind of a mobile app
Talk with other patients and the doctors for information sharing and awareness, and
Have access to their complete medical history and records anytime at their finger touch
With all of these, your brand will require all-round visibility on different important web platforms such as search engines, social media, review sites (by getting great reviews and ratings from your patients), etc. This is the kind of visibility that influences your prospective patients to choose your practice, hence targeting successful patient acquisition marketing.
Google too Uses Reviews in Its Ranking Algorithm
As per Moz, Google uses as much as 7% and 13% of review signals, i.e., review quantity, review velocity, review diversity, etc. as one of the most important ranking factors for local organic and local pack respectively. It also displays review information in its listing, when someone searches for a specific provider (as seen in the image below).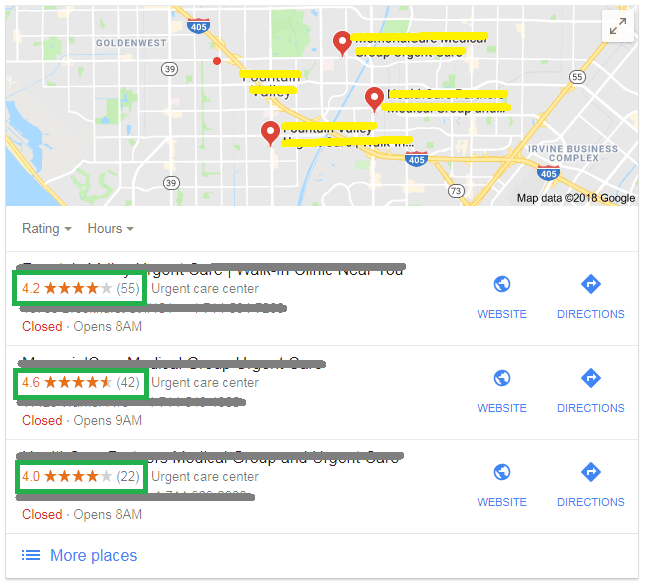 It's vital to interact with your patients by responding to online reviews that they leave about your healthcare practice. Responding to reviews shows that you value your patients and the feedback they leave about your practice. Not just that, you can also use ORM tools like – RepuGen and BirdEye to integrate most of the important review sites such as Google, Facebook, HealthGrades, Vitals, RateMDs, etc., to spread your online reputation's reach on the web.
As high-quality, positive reviews from your patients will not just improve your healthcare practice's visibility, but will also increase the likelihood of a potential patient to visit your location. However, note that every healthcare practice is different, which means all patient acquisition marketing strategies will not be the same. Be sure to ask yourself, or your healthcare marketing agency, what marketing tools will work best for you and your team before moving forward.