Understanding the Importance of Sentiment Analysis in Healthcare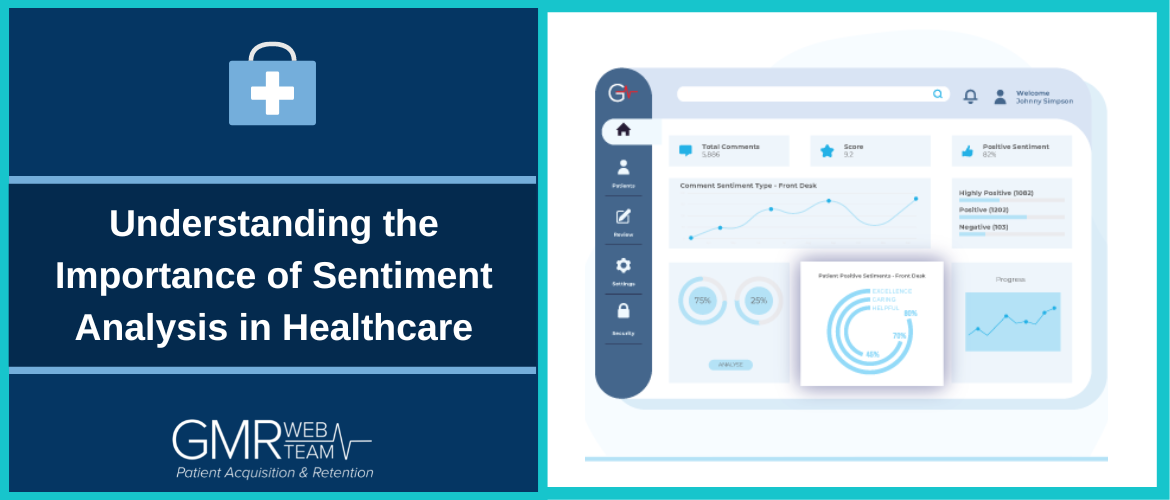 With the increased internet usage in society, it has become easier to access information. In the case of healthcare, 71% of prospective patients select healthcare facilities, like hospitals and care centers based on past patient reviews.
Due to this, patient sentiment analysis in healthcare has become very popular. It is a research method used to gauge patient satisfaction with the health services they have received, with the purpose of improving and optimizing the quality of healthcare services being provided by clinics, hospitals, and other healthcare facilities.
Use of Sentiment Analysis in Healthcare
With the changing healthcare landscape regarding patient experience and patient satisfaction, healthcare providers are always looking out for ways to increase revenue. They are eager to gain a competitive edge over others in the market and, more importantly, want to build positive relationships with their patients.
Sentiment analysis in healthcare is used to measure patients' perceptions about the care and treatment experience and the kind of services they want to receive. It's data mining that helps uncover opinions, attitudes, and emotions based on what patients feel and say about certain things. It uses artificial intelligence and natural language processing to identify the overall patient feedback data based on:
polarity (neutral, negative, positive)
emotions and feelings (sad, happy, angry, etc.)
intentions (interested or not interested)
It is all about examining feelings, emotions, attitudes, and dispositions that patient experiences for the healthcare services they receive, which ultimately helps healthcare practices efficiently analyze patient feedback to understand where their practice could improve and where they are effective.
Why Sentiment Analysis Is Important in Healthcare
Healthcare providers can use a sentiment analysis tool to quickly assess the strengths and weaknesses of their practice, which can be turned into actionable insights to improve patient experience and patient satisfaction rates for their practice.
There are two most important aspects of sentiment analysis in healthcare. The first is that it helps healthcare providers identify the areas where they excel or need improvement, which can be sorted based on departments, doctors, professionals, or other criteria.
The second is that it gives a clearer insight into the emotions a patient experiences in terms of various aspects of the healthcare facility. Comments like "we waited for a long time," "the doctor arrived late," "there was a delay in sending medical reports," etc., will give an understanding that there is room for improvement in operations and experience. Moreover, your employees can be rated based on the feedback received, and it will motivate them to perform more efficiently.
How Sentiment Analysis Helps Improve Healthcare Services
#1 Enhanced Patient Experience:
Sentiment analysis can help healthcare providers to determine the areas where their practice is performing excellently or missing the mark. The analysis of the gathered comments and feedback as mentioned above will let you know what patients feel about different aspects of your practice and will give you a clear picture of how you can improve the overall patient experience for those aspects.
#2 Measure Patient Satisfaction:
Despite several patients going to the same healthcare facility, the satisfaction levels may differ among different patients. But with the reviews, feedback, and analysis, you can get an overview of how much your patients are satisfied.
#3 Higher Patient Retention:
As already mentioned, sentiment analysis helps you understand your patients' compliments and complains better and enables you to handle the issues that require urgent attention. Following this, patients will definitely return if they see an improvement in the areas where they have faced problems or issues earlier resulting in higher retention rates.
#4 Improved Patient Care:
Sentiment analysis helps healthcare facilities improve overall care. Data gathered by sentiment analysis can help to understand what treatments patients are looking for and if they were happy with the quality of services provided by the healthcare facility they visited. This can further help the healthcare facilities in improving their clinical quality and overall care.
#5 More Patient Referrals:
Happier and highly satisfied patients will be more likely to refer you out to family and friends. This helps increase patient acquisition at a very low cost.
#6 Motivates employees to perform better:
The reviews and feedback for the employees that are gauged through patient sentiment analysis give a brief performance overview of the employees. If the feedback received is positive, it helps boost the confidence of your employees and motivates them to continue with patient-centric care.
Sentiment analysis also helps providers in determining patient needs and improving their marketing efforts. Healthcare professionals and practices can use the data to find out what patients have to say about your hospital or clinic and then accordingly modify your processes and marketing strategies with the help of your healthcare marketing agency to meet the patients' demands. This will help you attract more patients and increase revenue for your practice.