The 20 Video Ads That Went Viral in 2015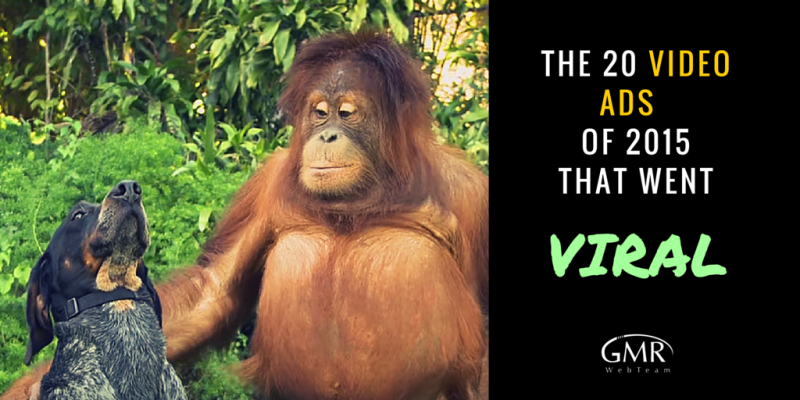 The year 2015 is about to end and Unruly came up with its annual list of the 20 most viral videos of 2015. This list is topped by Droga Google's Android spot, "Friends Furever" for showing unlikely animal friendships. The ad has garnered more than 6.4 million shares collectively through Facebook, Twitter, and blogs since it was launched in February. It has claimed the record of the most shared ad in history, surpassing the record of 6.1 million shares of the World Cup 2014 ad "La, La, La" by Activia.
The unique feature of the record-breaking ad lies in its depiction of inter-species friendships conveying the message of android, "Be together. Not the same". The adorable and funny footage of different animals playing together have been successful in striking a chord with viewers across the globe.
The second most viral video of 2015 is "Disney Characters Surprise Shoppers" by Disney Parks. This ad has gained over 5 million views on YouTube. This is a live footage of unsuspecting New York Shoppers at Long Island Mall, who are pleasantly surprised by the sudden appearance of Disney characters' shadows as they walk past a wall inside the mall. The ad manages to attract the attention of people worldwide to find out their "Disney Side" at Disney Parks.
The third spot is gained by "Puppyhood" by Buzzfeed & Purina. This adorable video features the journey of a puppy since its adoption and the man trying to take care of it. It was aimed to drive puppy lovers to the Puppyhood website with the message, "for all things Puppy". This video has the common element of featuring footage of animals, which has apparently ruled social media.
In addition to "Friends Furever" and "Puppyhood," other ad spots in the top 10 that feature animals are: "Lost Dog" Super Bowl by Budweiser at No. 5, and "Unlikely Best Friends" by Kleenex at No. 10.
Apart from animals, eight of the most viral video ads in the list highlight good causes by brands. Among these eight, 3 spots are in the top 10 list: "Love Has No Labels" by The Ad council at No. 6, "Maya" by Zorba at No. 7, and "Slap her" by Fanpage.it at No. 8. Four spots in the list are based on soccer ads, three of which are commercials from Adidas.
This year's ads share is reported at 40.2 million which is a jump of 40% from last year's figure of 29 million shares.
Sarah Wood, Unruly co-founder and co-CEO, shares what she observed about this trend: "Data analysis of 1,300 ads proves that 2015 was a highly emotional year for video ads. On the one hand, warmth and happiness shone through, with brands using fluffy pets and simple storylines to melt our hearts and amplify sharing. At the same time, other advertisers aligned themselves with social causes, evoking strong feelings of sadness and inspiration. It's not that adland has lost its sense of humor this year; it's just that it's found a sense of higher purpose."
Check out the top 20 list of viral videos of 2015 and let us know which one is your favorite among these spots.
1. "Friends Furever" by Android
2. "Disney Characters Surprise Shoppers" from Disney
3. "Puppyhood" from Buzzfeed and Purina
4. "Christiano Ronaldo in Disguise" | ROC Live Life Loud
5. "Lost Dog" from Budweiser USA
6. "Love has no Labels" from Ad Council
7. "Can love change this world?"
8. "Slap her" from Fanpage.it
9. "Robert Downy Jr. Delivers a Real Bionic Arm" from Microsoft
10. "Unlikely Best Friends" from Kleenex
11. "My dad's story" from MetLife
12. "The Unique Connection" from Pandora
13. "Pipe Dream" by DC Shoes
14. "Clash of Clans: Revenge" Official Super Bowl TV Commercial
15. "Coldplay's Game of Thrones: The Musical" , Red Nose
16. "Create Your Own Game" from adidas
17. "#ManOnTheMoon", John Lewis
18. "Unfollow" from adidas
19. "Mog's Christmas Calamity" by Sainsbury's
20. "Take it" from adidas
Is your business using social media to reach potential customers? Don't know which social platform is right for your business? Let's meet then! We will help you devise the right social marketing strategy that fits your individual business needs.