Online Reputation Monitoring for Healthcare Marketing Success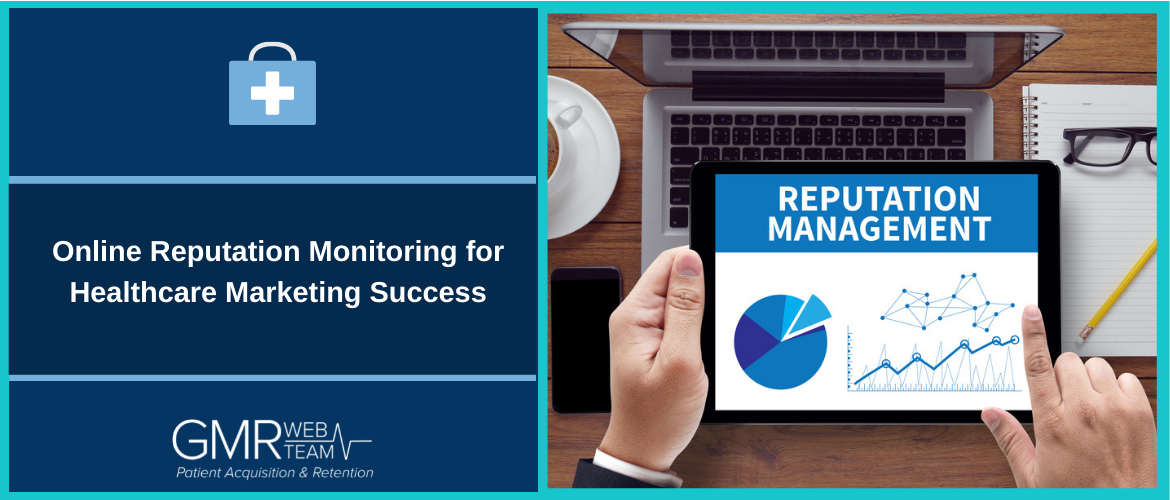 In today's world, consumers use online reviews as a decision-making tool for just about anything, especially their new healthcare providers. A whopping 81% of prospective patients seek out and consider a healthcare practice's reviews in order to inform their decisions.
With so many patients relying on reviews to make an informed decision about their healthcare, it's more important than ever to have a plan in place to monitor your online reputation. It helps to keep an eye out for any issues or potential pitfalls happening online that can negatively affect the business.
Online reputation monitoring is also vital to the 3 Pillars of Healthcare Marketing Success:
A satisfied and loyal patient base
A stellar online reputation
A robust internet presence
All 3 pillars have a strong emphasis on your online presence, including monitoring reviews and mentions about your practice across the internet.
This article will focus on effectively monitoring your healthcare practice's reputation.
How Unnoticed Reviews Affect the Business
With patients seeking out testimonials as one of the first steps in making an informed decision about their healthcare journey, monitoring your online reputation is vital.
Additionally, the second pillar of healthcare marketing success is, "a stellar online reputation," which begins with monitoring what is said about your practice across the internet.
If a healthcare practice's online reputation goes unmonitored (and unmanaged), potential patients will be unable to make an informed decision in selecting their new provider. They may also be basing their decision off of false or spam reviews.
Unmonitored patient reviews can lead to misinformation, slander, spam, or other negative postings about your healthcare practice.
Potential patients will then read and consider these unmonitored, negative, or spammed and think it accurately reflects your practice.
Additionally, unmonitored patient reviews are a missed opportunity to make improvements to the patient experience based on current patient feedback.
It also shows current and prospective patients that you are not listening and are not focusing on improving patient reviews.
Without monitoring your online reputation, your healthcare practice will be left in the dark as to why patients, new or existing, are not choosing your practice.
How to Monitor Online Reviews
It may seem like a massive task to consistently monitor anything that is said about your practice online on multiple review sites.
Luckily, with today's technology, there are tools and tricks to help automate and simplify reputation monitoring for healthcare practices. These tools include:
#1. Google Alerts
Setting up Google alerts about your healthcare practice is an easy and free way to monitor your online reputation.
This tool lets you choose keywords, such as your practice name, unique services, location, etc., and will deliver any mentions from across the web straight to your inbox.
It may be wise to create a Google alert for your competitors, too, to stay on top of what patients are saying about them. Additionally, consider setting up keywords that you see patients already using in reviews, including any common misspellings of your practice and provider names.
Google alerts ensure you are never missing a mention, review, complaint, or praise posted anywhere on the internet.
#2. Review Sites
One of the easiest ways to monitor reviews is to meet them directly at the source. Some top review sites for healthcare practices include Google, Yelp, HealthGrades, WebMD, and Facebook. Some of these sites have the ability to send you notifications of any new reviews.
When soliciting reviews from patients, choosing one or two sites to direct them to will help cut down on how to spread out your reviews get. However, patients can (and will) still leave reviews across multiple sites, so it's important to check them all.
It is also important to mention that many review sites allow users to add a business on their own, so even if you have not established a presence on a specific review site, keep in mind that you may already be on there!
#3. Social Media Accounts
Some patients may turn to your social media pages to leave their thoughts about your practice. It is just as important to monitor and manage these reviews, too.
Start with monitoring just your pages, then expand your search to keywords, location tags, hashtags, and even competitors to see if there is any buzz about your practice.
You can also set up email notifications that let you know when there are any posts or mentions of your practice on your social media pages.
#4. Blogs
Blogs are a great place to engage with patients about relevant topics to your practice and the services offered.
However, comment sections on blogs tend to be magnets for all kinds of spam. Monitoring your blog comments is extremely important to keeping up with a robust online presence and stellar online reputation.
An unkempt blog shows patients that you are not engaged or involved in your own content, which may deter them from seeking out care.
#5. Verify Partners
If your practice is working with any other practices, businesses, or partners, your reputation monitoring strategy should also include checking up on their reputation.
If any of your partners have substantial negative reviews, an unmonitored or unmanaged review presence, or just an overall bad reputation, it may be best not to associate with them.
#6. Review Monitoring Tools
The final and most powerful tool for review monitoring is software that automates the process. Our proprietary, HIPAA compliant software prompts patients to leave a review immediately after their visit when the chance of success for service recovery is the highest in the case of a negative experience.
If a negative review is left, the software notifies the practice immediately, giving them a chance to immediately address the review and recover the patient.
#7. Let GMR Help!
Easily boost your practice's 3 Pillars of Healthcare Marketing Success with GMR Web Team's proprietary software for healthcare reputation monitoring.
Managing your online reputation will give prospective patients a better understanding of how your patients truly feel about your practice, which will help them make a more informed decision. A strong, positive online reputation will help you stand out against other practices.