Top 25 Doctor Review Sites to Improve the Online Presence of Your Practice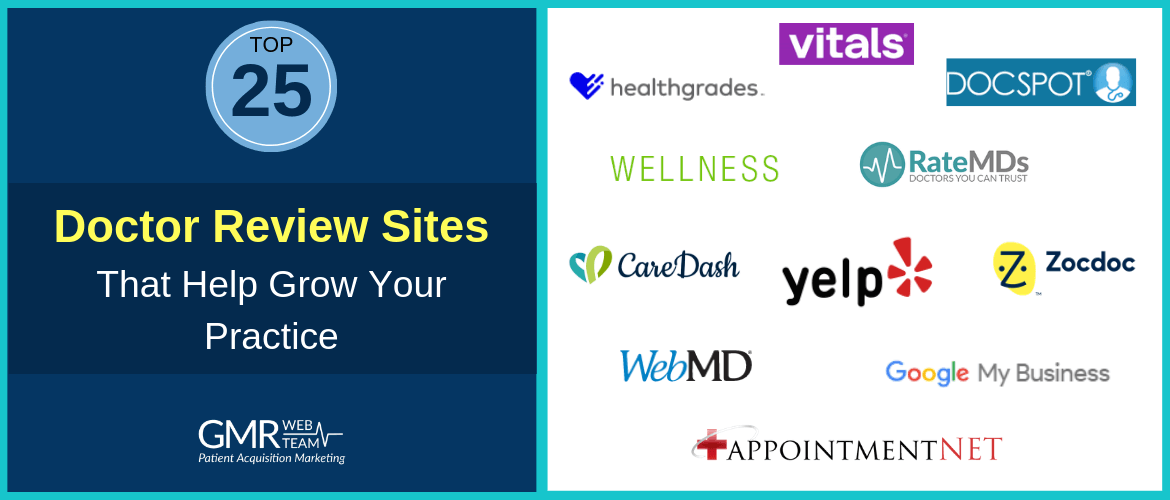 Healthcare practices can establish a strong online presence and get found online if they are listed on review sites. These sites provide handy and useful information about healthcare practices and physicians to help patients evaluate their options and find the healthcare providers that are right for them.
According to a survey, 81% of patients say that they will still conduct online research on providers even after they are referred to a primary care doctor. And, 90% of patients said that they will choose another provider if there are no online reviews about a physician or practice they have been referred to.
The Top Doctor Review Sites
Here are the top 25 doctor review sites for healthcare providers, listed in no particular order, which can help improve their online presence, build trust, and get new patient leads.
Healthgrades receives more than 30 million visits a month. It provides information about healthcare practices and physicians in a user-friendly manner. Patients can narrow their search by name, specialty, condition, procedure, gender, availability, and review/rating.
Vitals has 7.8 million reviews of doctors, hospitals, urgent care facilities, specialists, and treatment and recovery facilities. Patients can find healthcare practices by location, name, and insurance.
RateMDs has more than one million doctor profiles and 2 million reviews. It allows patients to search for doctors by name, state, specialty, and ZIP code. This site also offers information about patients' ratings on staff, helpfulness, and punctuality.
Yelp is a trusted online review site that provides the most reliable and helpful reviews. It allows patients to rate their experiences and share reviews. Patients can rate doctors and hospitals for care, cost, comfort, cleanliness, and a lot more.
Zocdoc has a mobile app and online service to let patients browse reviews and book appointments. Patients can explore doctors by office location, specialty, name, and insurance accepted. Zocdoc requires doctors to pay a fee in order to be listed on their site.
Google My Business receives more than 155 million visits per month. By listing your healthcare practice on Google My Business, you can manage your online presence across Google search, and Google maps.
With more than 1.31 billion active users, your healthcare practice needs to have a presence on this social media network to stay connected with your audience. Patients can read and post reviews about providers.
U.S. News Doctor Finder allows physicians to create a profile with complete details about their contact information, insurance policy, experience, and affiliation. Patients can explore doctors by specialty, name, and location.
CareDash is the fastest-growing review site. It provides information about healthcare practices and physicians in a transparent, accessible, and comprehensive manner.
WebMD provides valuable health information and management tools to subscribers. It has a doctor's directory to help patients explore a provider by name, location, condition, and procedure. This is a paid listing site and you need to pay a fee to be listed.
ShareCare is a health and wellness engagement platform, it provides patients with personalized resources, programs, and information to evaluate their options. This site has a section called " Health Guides&rdquo, where you can find health information and tips.
Real Patient Ratings has the largest and verified database for plastic surgery patient reviews. It has more than 189,000 verified reviews from patients. Patients can browse reviews by a specific treatment or provider.
RealSelf is a specialized review site for dermatology, minimally-invasive treatments, and plastic surgery. It has more than 20,000 physician listings and gets 9.9 million visits a month. Patients can find providers through the Treatment Finder tool.
Wellness has healthcare listings and multiple resources for medical and health information in the form of interactive visitor surveys and blogs. Patients can explore providers by state, city, or Zipcode. However, they charge a fee.
DocSpot has a comprehensive online provider directory, which can help patients explore providers that suit their unique needs. Patients can search for providers by a specific condition and location.
EZ Doctor helps patients to make well-informed healthcare decisions in a fast and easy way. Patients can conduct a background check on providers before choosing and find providers by location, name, and specialty.
In this directory, you can search for doctors, health and wellness providers, and dentists. You can ask questions to providers and explore providers by name, specialty, and city or state.
Doctor.com gets 30 million visits every month. Listings include certification, business hours, training, and payment options. Patients can find providers by name, specialty, and health insurance.
HealthProfs helps patients to search for nearby health professionals and practitioners by name or city and Zip code. This is a paid service to list your practice to gain an online presence and get new prospects.
Labdraw has laboratory service and healthcare provider directories to help patients find the best service or provider. Patients can find labs & pharmacies and healthcare providers by state.
Appointment Net is a free service that allows consumers to schedule and automate their appointment process. They can schedule their appointments with healthcare providers by choosing an available time slot.
Doctor Base is a mobile health platform for doctors' hospitals and offices. It helps providers to attract new patients, manage their online presence, and engage with existing patients to grow patient satisfaction.
Best Doctors aims to help patients get the right diagnosis and treatment. Patients can use Best Doctors when they need help deciding a treatment option, finding an expert who specializes in their condition, and getting answers to their medical questions.
Where to Find Care provides precise and valuable information to help patients make informed decisions. Patients can explore providers by facility name or provider's last name, Zip code, and provider type.
With more than 1 million US visits each month, MD.com is a leading doctor search tool, where patients can find a doctor, request an appointment, and see a doctor through online video. It also lets doctors link their official site and social media profiles by paying a one-time fee.
The Bonus Two
Dr. Oogle is a specialized dentist listing and review site. Each listing includes office hours, the most used keywords from reviewers, coupons, photos, and videos. Reviewers can post feedback and rate their experience based on cost, results, and hygiene.
Vision Directory helps patients search for eye doctors and optometrists by state or city. List your practice, build your professional network, and get more patients.
Online reviews play a vital role in building relationships with patients. Healthcare practices definitely need a review management strategy in place to dominate the local competition, build an online presence, and earn prospective patients' trust and loyalty.