COVID-19: Is Healthcare Marketing Still Relevant in a National Crisis?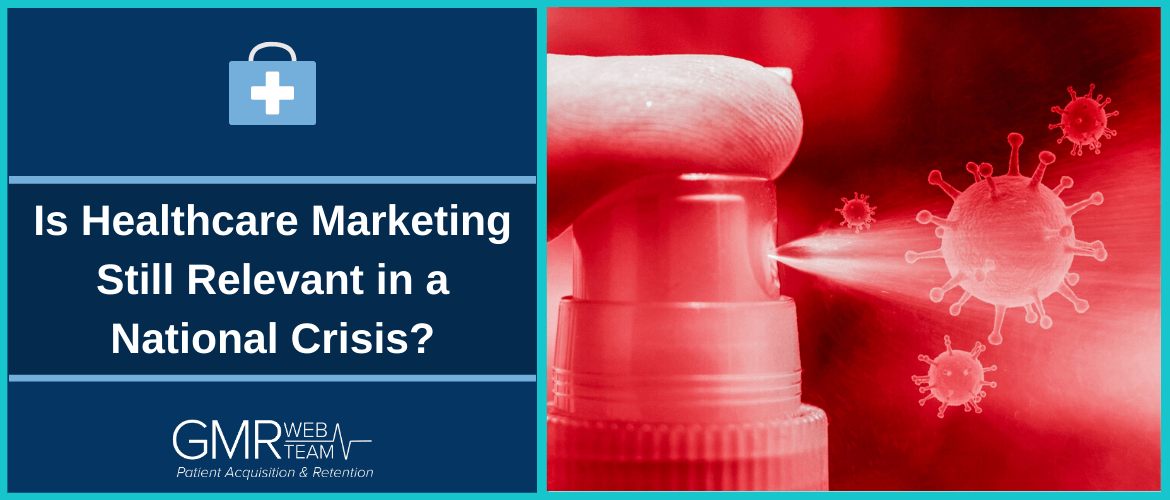 Yes, focusing on patient retention and smart patient acquisition will help you navigate through the current COVID-19 and any future national crisis without any permanent damage to your business. - Ajay Prasad
With closed offices and patients' reluctance to visit healthcare providers for anything but medical-emergencies, thanks to the spread of CoronavirusCOVID-19, healthcare businesses are facing a tough decision about whether to keep on investing in their marketing activities, or stop it and conserve their resources. This article focuses on helping doctors, dentists, urgent care centers, surgical centers, and other similar entities take steps so that their business is not hurt after the crisis passes, which it will sooner or later.
Given our combined 50+ years of marketing experience through several past downturns, let me share insights on patient behavior during similar declines. Then I will list my recommendations for your marketing investment.
Patient Behavior:
You can expect a significant portion of your patients to:
Be confused and stressed out about specific actions to take about the situation, given the conflicting news from the media.
Postpone any non-emergency or preventative visits to healthcare providers, especially patients with high-deductibles or no health insurance.
Cancel appointments for routine visits.
Have fewer of them with employer-sponsored health insurance because of the massive job losses and an increase in unemployment, which we expect, at least for a short period.
Not have any health insurance -- this might be a substantial portion of patients.
Increase in their medical issues because of the high level of stress, given the required behavior changes and doom and gloom predictions by news media 24/7.
Every downturn comes with its unique reasons. Many of our 1,300+ healthcare provider clients have made adjustments in their marketing investments, with or without our advice. Below are our marketing activities guidelines for patient retention and acquisition:
Patient Retention Guidelines:
Since patient retention is the lifeblood of any successful healthcare business, you have to proactively develop a process to make sure you retain your patients during this period of severe disruption and high level of stress. Below are some necessary activities you can do to preserve most of your patients:
Communicate regularly with your patients about the current situation and what they should or should not do. Use any media that is available to you for communicating with all your patients regularly, like emails, voice mails, and text messages. Patients trust their doctors more than anyone else about health advice; thus, your patients will appreciate your timely information.
Review the policies of the insurance companies you accept for the COVID-19 coverage and communicate it with your patients through channels above, and also post it on your website.
Develop a compassionate policy for patients whose insurance doesn't cover the procedure and communicate it with everyone. Even patients with full-coverage will appreciate and value your compassion.
Be available over the phone to answer any questions that they may have. If possible, offer telemedicine options to patients who may be scared about visiting your office.
Add a discussion board on your website where patients can ask questions publicly or privately. Schedule and announce the time when you will answer queries daily, and make sure that you answer them on time. As little as 30 minutes a day of your time will assure your patients that you are there for them.
Add a FAQ page on your website about the specific crisis (in the current situation, about Coronavirus (COVID-19) and update it regularly with the answers of relevant general questions raised on the discussion board. Please make sure that the information that you add based on specific patients' questions delinks the patient ID to be HIPPA compliant.
Create an action plan to address the expected patient behavior listed above and train your team on how to manage specific situations.
Monitor your online reputation closely for the situation-specific comments.
Do regular satisfaction surveys to make sure your crisis management program (like postponing appointments, changing priorities, etc.), is not affecting your patients' level of trust in you.
Patient Acquisition Guidelines:
Healthcare providers tend to cut marketing budgets disproportionately during the time of downturn because it is easy to do vs. difficult decisions like laying off their workforce temporarily. While cutting some marketing investments during the business downturn is prudent, you should not indiscriminately cut all or a portion of the marketing investment across the board. Below are our suggestions for the marketing activities to reduce and the ones to keep on doing, or even ramp up during the crisis period:
Reduce

You should carefully analyze at all marketing activities designed to bring new non-emergency patients, like sending coupons, paid advertising on print, social media or internet, TV/Radio advertisements, etc. The reason for this recommendation is the fact that fewer prospective patients' pool is available during this period, resulting in a higher cost of getting a new patient. Monitor the ROI on these investments carefully to make sure that your returns are positive.
Avoid long-term media commitment, given the uncertainty of the future ROI until the situation normalizes. However, if you have cash reserves, then you may be able to lock lower rates for media advertisements at a deep discount for future use.
Postpone campaigns planned for a new product or service launch until the condition improves. Fewer patients would consider trying anything new during this period.

Keep

You should continue with all low-cost brand-building campaigns like social media and influencer marketing. You need consistent long-term effort to build momentum for a better result from these marketing methods, thus cutting it back would hurt your future business disproportionately compared to the saved cost.
It is important to continue all online reputation management investments. We consider stellar online reputation as the most important of the three pillars for thriving healthcare businesses. The other two are patient satisfaction improvement and a robust online presence. Stellar reputation is the essential pillar because over 72% of patients use online reviews during their selection process of a new provider, and 40%+ chose a new healthcare provider solely on their online reputation.
Digital marketing like SEO, blogging, social media, etc. designed to help you get found on Google when someone is searching for your healthcare services. Digital marketing, done right, will always generate the highest return on your marketing dollars in the long run. Moreover, patients with the ability to pay through PPO insurance or cash disproportionately go to the internet in their search for a new provider. Check my previous blog on how patients find their doctors
Any discount focused marketing designed to help patients pay for preventative services like a physical checkup, dental cleaning, etc., during the time of financial uncertainties of your prospective patients.
There is a general thinking that the healthcare business is recession-proof, which you know is a "myth." Your market gets adversely affected during a downturn, just like most of the small businesses. However, instead of incriminatory cutting marketing investment across the board, your focus on patient retention, improving your online reputation, and efforts to strengthen patient-satisfaction would help you hit the ground running when the crisis inevitably ends.
Meanwhile, ask your marketing agency or department to generate more business through the higher conversion of marketing dollars to patients during the lean periods, and closely track ROI of your marketing activities.