12 Effective Ways to Improve Website Credibility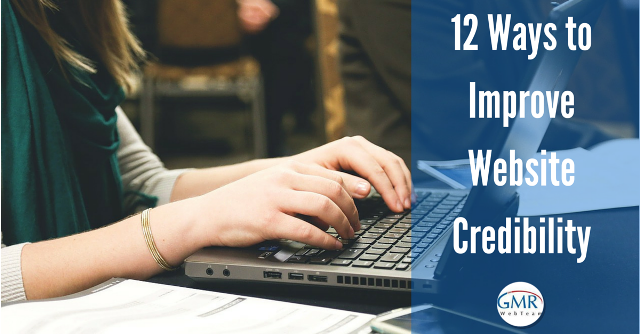 The web is a bizarre mix of helpful, innovative, outdated and useless websites. Perhaps in the beginning of the internet boom every website seemed amazing, but these days even the least savvy internet users know a worthless site when they see one. That's why a website credibility check is crucial if you are to be competitive online.
Why Web Credibility Matters
There are simply millions of websites and no one person has enough time to explore even a fraction of them. Most users make up their mind in a matter of seconds whether they want to invest additional precious time in navigating a site.
Certain established businesses don't need to worry about a website credibility check because their business reputation attracts a loyal market. Startups, however, do not have the luxury of familiarity and need to build brand awareness through trust. One of the strongest ways to quickly gain credibility is to publish case studies that provide plenty of product information.
1. Design Your Site Professionally
The first step to passing a website credibility check is to implement a professional design. The design can be simple and doesn't need fancy animation, but it does need to communicate that your business is serious. No one wants to risk buying something from a website that looks careless or suspicious.
Even more important than appearance, the site needs to function properly. That means you cannot afford to have broken links, mixed up navigation or slow loading web pages. The site needs to be thoroughly tested to make sure everything works properly.
2. Use Your Own Domain
Sites that use custom domains will usually score higher on a website credibility check than sites that are hosted on an aggregate shared server. So if you design your site on WordPress, you should still use your own domain instead of your name after WordPress.com/. Long domains are harder to remember anyway, plus custom domains can cost $10 or less.
3. Make a Strong "About Us" Page
Treat your "about" page as monumental. If the page only consists of a few generic sentences it's easy for people to regard your business as meaningless. It's best to include your mission statement and goals along with a clear explanation of why you're the best in your niche.
Recommended Read: 12 Crucial Elements Your About Us Page Is Missing
4. Contact Information
One of the most important pages on your website is for contact information. Your contact page lets people know your geographic location and how to communicate with you. Some people only want to deal with businesses in their own town, state or country. If you avoid presenting your brick and mortar location some people might assume it's not a legitimate business or possibly an overseas website. Certain online businesses that don't rely on regional customers do not need to be as concerned about publishing a physical location.
5. Offer Guarantees
Online consumers tend to be skeptical of websites that don't offer customer guarantees. They've come to expect money back guarantees if the product does not meet their expectations. You will help reassure potential customers and build trust that communicates confidence in your product if you offer a guarantee. Additionally, warranties and refund policies need to be clearly defined.
6. Showcase Your Portfolio
If you offer a service, make sure you offer your prospects samples of your work so that they can evaluate it and know what to expect. Develop a portfolio that you are proud of that highlights your best talent and you will likely gain more trust on a website credibility check than a site that has nothing to show for their experience.
7. Publish Reviews and Testimonials
Product reviews and customer testimonials are very important for conversions because they help speed up purchasing decisions. People want to know from fellow consumers if the product lives up to its claims and if it creates satisfaction. Whether reviews or testimonials are positive or negative, they can help clarify the functions of your products, as what doesn't work for some people might work for others. Consumers might be skeptical if your site is flooded with all positive comments, so remember to present a variety of opinions.
While just testimonial quotes can be effective, you can also gain trust by including names and photos with corresponding quotes. Video testimonials can also make strong impressions.
8. List Your References
Devoting a web page to satisfied clients you have served in the past provides instant credibility for many consumers. It immediately answers questions as to the quality of your clientele and can eliminate doubt about your reputation.
9. Present Your Credentials
If your business has won any awards make sure you list them, especially if you were recognized by an industry association or notable media outlet. You should also provide links to any interviews or news stories from any press coverage you've gotten. It's also helpful to have a page that gives the backgrounds of your site's top personnel. Be sure to list any degrees or certifications they have received from universities. Biographies should sound impressive and highlight career achievements.
10. Be Careful About Pricing
Many websites avoid listing prices on their sites but provide rate cards and quotes through email. Some sites with logins only provide pricing information to members. These strategies help prevent competitors from beating prices. Sometimes publishing prices to the public can backfire in the sense that if the price is too low, it can make prospects wonder if the quality is weak.
At the same time, remember that many consumers who are not concerned about quality specifically shop around online for the lowest prices, while others are more conscious of quality than price. You have to decide the type of clientele you are targeting and market accordingly. Offering multiple payment methods is also critical to passing a website credibility check.
11. Offer Customer Support
The more customer service you provide, the better your business will likely do. Consumers like to know they can deal with a live operator who can answer their questions. Phone support is the most personalized connection your business can make with customers besides face-to-face interaction.
12. Don't ignore Social Media
Social Media sites like Facebook and Twitter also help establish your website's online credibility. It is very much possible that your customers may lose trust if they cannot find your business on social media. Make sure to properly optimize your social channels with important details that include your contact info, details about your team. Don't forget to engage with your consumers and maintain your social media presence.