How to Open an Urgent Care Clinic and Center?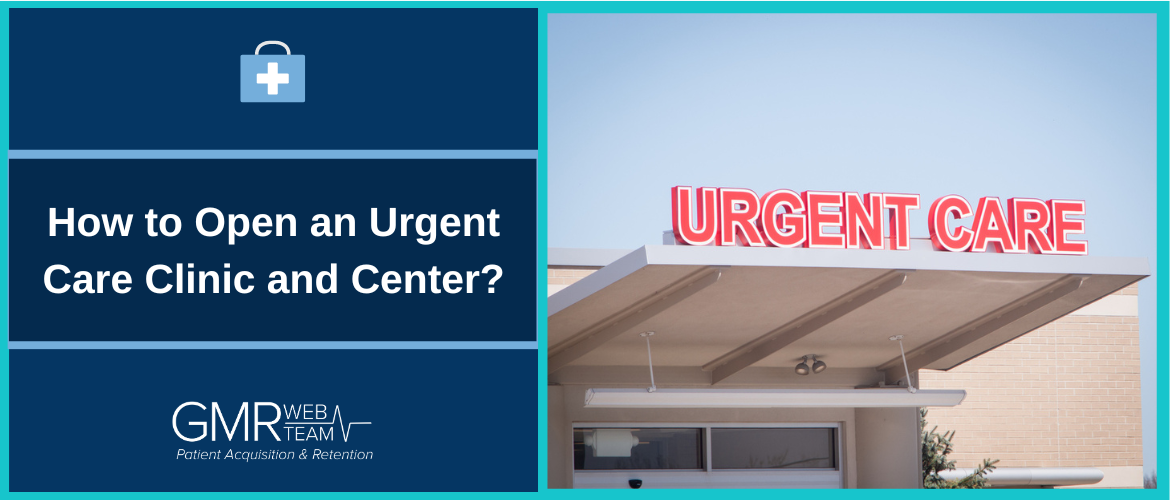 If you drive down a busy suburban strip mall or walk down a street in a major city, chances are you will only go along with spotting a Concentra, MedExpress, CityMD, or another urgent care center. Demand at urgent care sites surged during the Covid-19 pandemic as people searched for tests and treatments.
Patient volume has jumped 60% since 2019, according to the Urgent Care Association, an industry trade group. Following the steps outlined in this blog, you can lay a solid foundation for how to open an urgent care clinic and center, ensuring high-quality healthcare services to your community.
Accelerated Growth of Urgent Care Centers in the U.S.
As we can see below, the urgent care centers market in the United States had a market size of USD 56.7 billion in 2022. It is projected to experience a compound annual growth rate (CAGR) of 10.99% from 2023 to 2030. This significant growth can be attributed to the quick service delivery and reduced waiting times offered by urgent care centers in comparison to primary care physicians (PCPs).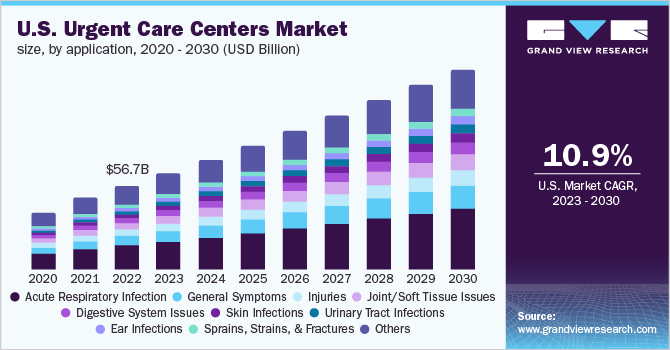 Image Source: Grand View Research
Tips on How to Open an Urgent Care
#1 Conduct Market Research
Before diving into the process of opening an urgent care clinic, it's essential to conduct thorough market research. Identify the demand for critical care services in your area, analyze the competition, and understand the demographics of your target audience. This research will help you determine your clinic's viability and potential success.
#2 Develop a Business Plan
A well-structured business plan is crucial for opening an urgent care. Define your mission and vision for the clinic, outline your services, identify your target market, and create a comprehensive financial strategy. Your business plan should include marketing strategies, staffing requirements, and potential partnerships with local healthcare providers.
#3 Secure Financing
Once you have a solid business plan, you must secure financing for your urgent care clinic. Explore various funding options such as personal savings, bank loans, investors, or partnerships. Prepare a detailed financial projection that outlines your anticipated expenses, including facility costs, equipment, supplies, staffing, marketing, and insurance.
#4 Choose a Location and Obtain Licenses
Selecting the right location is the first step and is essential for the success of your urgent care clinic. Look for areas with high foot traffic, easy accessibility, and proximity to residential areas. Additionally, ensure compliance with local zoning regulations and obtain the licenses and permits required to operate a medical facility.
#5 Establish Relationships with Healthcare Providers
Building strong relationships with healthcare providers in your community is essential. Collaborate with local hospitals, primary care physicians, and specialists to establish referral networks. It will help ensure a steady stream of patients and enhance the credibility of your urgent care clinic.
#6 Set Up Your Urgent Care Clinic
Designing the layout of your clinic involves creating separate treatment rooms, waiting areas, and administrative spaces. To streamline operations, consider incorporating digital health technologies, such as electronic medical records (EMR) systems and telemedicine capabilities. Purchase medical equipment, supplies, and furnishings to deliver urgent care services efficiently.
#7 Hire Qualified Staff
Recruiting a competent and compassionate healthcare team is vital. Hire board-certified physicians, nurse practitioners, physician assistants, nurses, and administrative staff. Ensure your staff members possess the qualifications, experience, and skills to provide high-quality urgent care services.
#8 Develop Effective Digital Marketing Strategies
Develop a robust urgent care marketing plan to promote your urgent care clinic. Utilize digital marketing techniques like website optimization, search engine marketing, and social media campaigns. Establish a solid online presence and engage with your target audience through educational content, community events, and partnerships with local businesses.
#9 Provide Exceptional Patient Care
Delivering exceptional patient care is the cornerstone of a successful urgent care clinic. Implement efficient workflows, minimize wait times, and prioritize patient satisfaction. Maintain a welcoming environment, emphasize clear communication, and ensure your staff handles various urgent medical conditions.
#10 Tracking and Analyzing Key Segments
Effectively monitoring and analyzing various segments of your urgent care, including patient experience, satisfaction, and return on investment (ROI), is crucial for success. Stay informed, make data-driven decisions, and optimize your operations for improved outcomes.
Final Thoughts
So now that you know how to open an urgent care clinic and center, it requires careful planning, market research, and diligent execution. By following the steps outlined in this guide, you can establish a successful urgent care facility that meets the healthcare needs of your community. Choose the GMR Web Team for an expert and well strategized digital marketing approach after you have set up your urgent care clinic. Contact us today to enhance your online presence, captivate your audience, and accomplish your marketing objectives.