Top 10 Healthcare Marketing Tips for 2020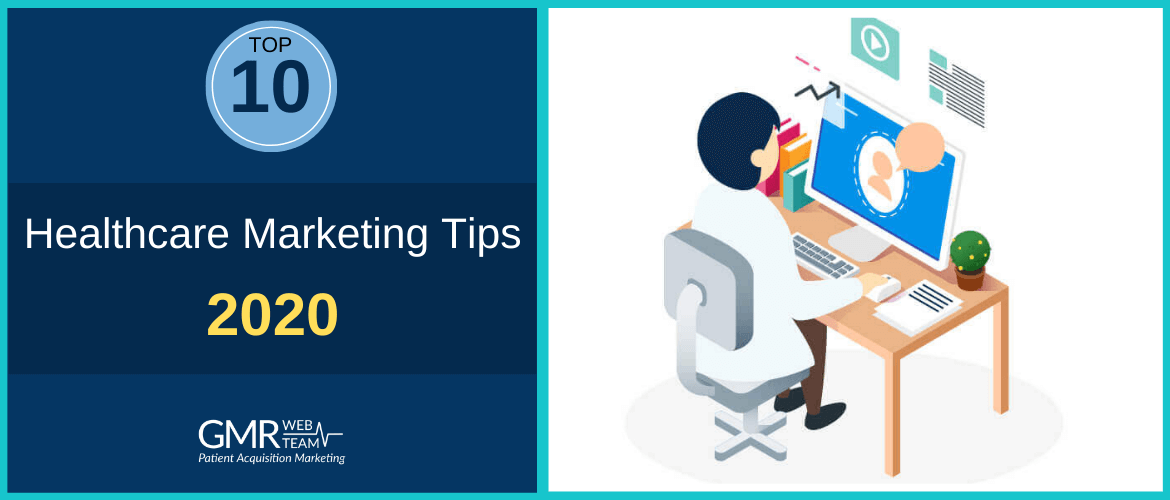 The past few years have seen a monumental shift in marketing. The internet has led to an easier access of information as well as the growth of online businesses. Today, most people use the internet for everything, including researching their health. Your future patients will find your practice by searching online or through other online channels.
With more patients using the internet, it is not a surprise that the majority of the emerging healthcare marketing trends are in the digital space. Healthcare providers should take advantage of online platforms for client acquisition and outreach.
Below are the top ten marketing tips every healthcare provider should adopt in 2020.
1. Content Marketing
If you already have a website for your healthcare business, you should make it work for your practice. Long gone are the days when websites were just made to list your contact information. Today's websites need to provide more than just the basics to market your practice effectively. This can be done through content marketing. Use all forms of immersive content, such as visual, video, and audio content.
Your prospective patients are searching online for information about you, their health, and so much more. Google states that patients who book healthcare appointments run 3 times more searches than those who didn't. They evaluate numerous providers before taking action.
Therefore, you must provide patients with the information they struggle to find. Survey your patient population on questions they have and create a most frequently asked questions section with answers. Content marketing can elevate the lead generation capability of your website, position your practice as a credible source of health information, and an authority in your field.
2. Online Videos
Much like 2019, video marketing will continue to be the best channel to promote your healthcare business by providing valuable information to your prospective patients. Make informative video content about healthcare topics that your clients are looking for. This may involve setting up a YouTube channel.
With the rising popularity of video content, YouTube has actually turned out to be the second largest search engine. YouTube is bigger than Bing, Yahoo, and AOL combined as its search volume has already crossed 4 billion searches per month. In addition, distributing videos through other channels that your audience loves, like Facebook, can also be extremely valuable for marketing your practice.
3. Blogging
Yes, blogging will continue being a thing in 2020 and beyond. Having SEO optimized posts on your website is critical to improving your Google rankings, thereby sending more organic traffic your way. Through blogging, you can also help clients to know more about you, thus building loyalty for your practice.
In addition to blogging on your website, your content creation efforts should expand beyond your website's limits. You can even post original content on social platforms and as guest posts on other authoritative digital platforms like LinkedIn, Facebook or Instagram and Twitter.
4. Podcasting
Podcasting can be a powerful marketing tool for health specialists. When done right, the marketing channels will not only help to build brand awareness but can also be a great source of referral leads.
You can present yourself as a leader in your area of specialization by hosting your own podcast. In the podcasts, make sure you provide content that resonates well with your target patients or audience.
5. Social Media Marketing
Social media has taken over the direct marketing industry. Leading social media platforms like Facebook, Twitter, and YouTube present advertisers with great opportunities for reaching new audiences at a fraction of the cost of direct marketing.
According to Pew Research Center, 80% of internet users are looking for health information on social media, and nearly half of those are searching for information about a specific doctor or health professional. So, you must take advantage of social media networking sites to generate leads for your practice. The platforms have powerful targeting and retargeting algorithms that will see your healthcare marketing campaigns reach the right people.
6. Local SEO and Google Maps Listings
According to Google, over 56% of on-the-go searches have local intent. These are the types of searches every local healthcare provider should go after.
Having your facility prominently listed on Google Maps is a sure way of getting new clients. This is especially true today as more people use their devices for navigation. Both Android Auto and Apple CarPlay use these listings to recommend businesses to people who could end up on your front door. You can also use Facebook area-specific ads and geotagging locations on Instagram to get valuable local traffic at your healthcare practice.
7. Online Appointment Booking
Traditionally, a patient would have to make a call to book an appointment at a practice. However, to stay ahead of the pack, you have to be different. Save your patients the pain of long manual booking procedures by providing an intuitive online booking platform.
Online appointment booking, also known as self-scheduling, can draw new clients to your practice that prefer the convenience and transparency of the booking process.
8. Big Data Analytics
Big data analytics is one of the key pillars of the 4th industrial revolution. How does it affect healthcare marketing?
Businesses using data analytics can understand their target markets better. Healthcare providers are custodians of enormous amounts of customer data. This data can be used within ethical boundaries to understand patients and inform how you should package your services in 2020 and beyond.
9. Affiliate Marketing and Referrals
Referrals are not a new healthcare client acquisition strategy. However, there are new ways of getting referrals, such as affiliate marketing and patient referrals, that you should use. Focus on your relationship and outreach with the primary care doctors in your area as they are the biggest referral sources for specialty practices.
Moreover, depending on the healthcare service or product you offer, you can devise an incentive-based patient referral program as part of your marketing plan.
10. Trend-Based Marketing
Healthcare marketing is constantly changing, and it's upon you to find new sales opportunities using various emerging platforms. The key to effective marketing is the ability to read trends and take advantage of them for your success.
New health trends, such as wellness and diet-based therapy, present amazing marketing opportunities for healthcare providers in these areas. Conducting wellness webinars and workplace wellness programs will help your healthcare practice gain public visibility and will be profitable for your business as well.
2020 holds a lot of promise for healthcare marketers that have mastered the art and science of digital marketing. Following the above healthcare marketing tips will prepare your practice for success in 2020 and beyond.