Healthcare Marketing Strategy: A Guide for Getting More Patients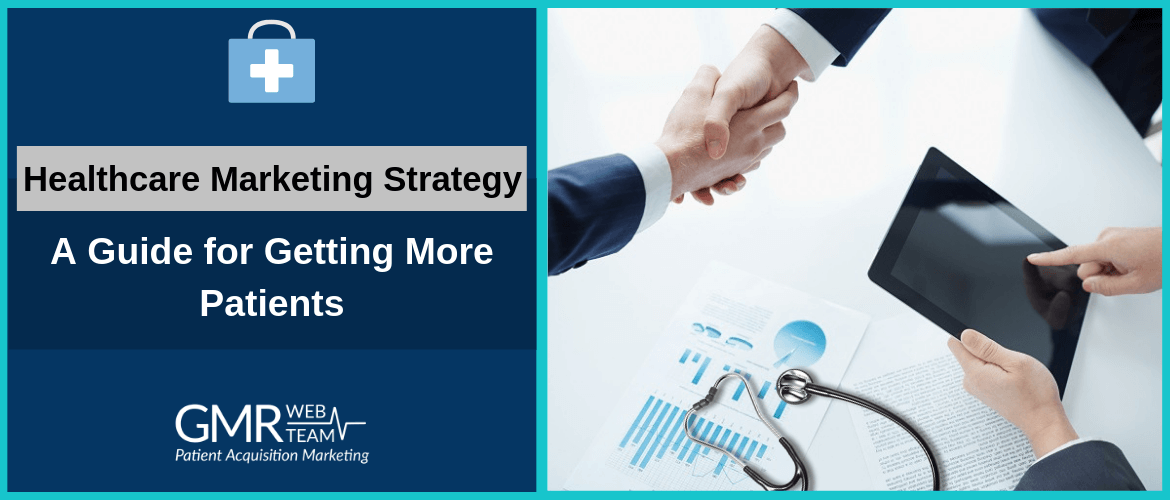 Healthcare marketing strategy is an inbound marketing process where we bring forth all the resources that could bear against various opportunities and threats of a highly competitive healthcare business. The resources could be any original content, including blog posts, articles, podcasts, informational videos, and interviews on medical topics, while the opportunities and threats are concerned with persuading your patients to come to you.
It's a vision document that lays down a detailed healthcare marketing plan over a specific period of time with a clear objective of exceeding the present performance of your healthcare business. It talks in detail about target marketing, competition analysis, SWOT analysis, and marketing tactics, budgets and system which are the most important elements of a healthcare marketing strategy. Having the right healthcare marketing strategy in place can help your practice by increasing your patient inflow and lowering your marketing budget which increases your ROI (return on investment).
Why Do You Need a Healthcare Marketing Strategy?
Nowadays, the criteria of patient satisfaction have changed dramatically! In your patient's mind, you can't excel as a healthcare service provider just by providing the right treatment (even though that certainly should be your priority). You'll also need to offer and provide a great customer service experience to your patients. People in this digital age are already occupied with a lot of information about all their life and work related issues, requirements and solutions, which includes their healthcare needs and wants. This has turned them into customers (rather than just being patients) wanting more. A McKinsey study found that patients have the same expectations from healthcare companies as they do from non-healthcare companies. Your patients now want:
great customer service
your deliverance on their expectations
to make their life easier with the service they buy from you
great value
So, how do they get to know whether your healthcare service offers these qualities or not? The answer is – the online resources. According to a Kantar Health Report, about three-fifth (60%) of millennials view online resources and word-of-mouth referrals (including the social media referrals and recommendations) as the best source for healthcare information. This makes it essential for your healthcare service as well to have a right marketing strategy at place so that whenever your prospective patient searches for a medical care on the internet, it's you where their search should stop, and not to your competitors.
How Do We Develop a Healthcare Marketing Strategy?
Creation of a marketing strategy starts with creating goals, objectives and the benefits that you intend to achieve from it. After that, we assess all the available resources as well as the resources that would be required, and devise a final strategy about what, when, and how to achieve those goals. Healthcare digital marketing is unique in a way that it provides you the most cost-effective way to reach the most relevant customer or prospective patient at the most relevant time so that you never lose on reaching to your prospective patients in the time of their need. For that, we focus at creating a healthcare marketing strategy that keeps all aspects of your business including your prospective patients and competitors in mind:
If you want to know how exactly we do it, fill in your details below. OR, read on to explore the various elements that go into the creation of a marketing strategy!
1. Establish your target customers
We conduct a comprehensive online and offline research based on the geographic, demographic, psychographic, and behavioral information to identify the most relevant target market for you. Then in our marketing strategy, we concentrate all our marketing resources towards grabbing the attention of those relevant customers. Establishing your target audience ensures that we're creating the right content for the right people. It also helps in achieving efficiency and effectiveness of the marketing strategy.
2. Study your competition
Your target audience is also targeted by your competitors. That's why we give greater consideration on identifying competitive issues and influences to have a proactive plan and strategy in our healthcare marketing strategy to stay ahead of your competition. We make use of internet, local media such as TV and Radio commercials, billboards or other media, referrals, and data analysis to compile good research on your competition.
3. Internal and external evaluation
We do a SWOT (Strength, Weakness, Opportunity, and Threats) analysis of your business to evaluate your internal and external environment. By knowing your strong as well as weak areas, and also about the opportunities and threats of the outside business environment, you are better able to determine the best use of all your resources for the best result.
4. Decide your long-term and short-term goals
Most marketing plans or strategies are conceived for around a year, but the best marketing plans are the ones that keep a long-term interest always aligned with the short-term goals of the brand. We evaluate, prioritize, and organize the combination of specific marketing strategies and tactics that will be best suited for you in pursuing your goals.
5. Plan your marketing budget
Marketing is generally concerned with generating and protecting sources of revenue. We make a clear objective and task budget for you that specifies exactly what goals and outcomes are expected. For that, we specify quantifiable and measurable goals, define marketing strategies and tactics (such as brand development or enhancement, advertising, public relations, networking, etc.), evaluate profitability and marketing plan, and launch plan, monitoring and tracking closely to adjust strategies and tactics as necessary to achieve, maintain, or exceed the expected profit level.
Benefits of Having a Healthcare Marketing Strategy in Place
A right website marketing strategy for healthcare industry is the one that focuses on reaching to and bringing in more and more patients to your clinic or urgent care, and on how to maximize your ROI by minimizing the unnecessary expenses on both offline as well as online marketing practices. We call it an ROI-based marketing strategy or plan. The major benefit of having a healthcare marketing strategy in place for your medical practice is that it allows you to anticipate and assess the opportunities and threats, and prepare and build a road map to counter them and find new ways to improve the outcome. Here are some other important benefits of having a healthcare marketing strategy with you:
Goals and objectives

As discussed earlier, having a sound marketing strategy helps you know what exactly you're going to achieve and in what time frame. This saves you from getting diverted from your goals, and also provides you a clear picture of the pace of your business' growth, and shows how expansive your reach is in the target market.

Operating budgeting

It helps you with creating a clear and detailed operating budget for your business in advance. By knowing your expenses, and expected future costs, and forecasted income over the year, you can plan better for all your future business challenges.

Service line decisions

When you'll compare the expected results of your marketing strategies with what you were actually able to achieve, it will give you a complete idea about where it worked and where you need to improve. By knowing where you lack, you can work on improving your line of services in a manner that it certainly yields results in the next run.

Risk management

Risk management in business is the forecasting and evaluation of financial risks together with the identification of procedures to avoid or minimize their impact. With a clear marketing strategy in place, you can better manage those aspects of your business.

Capital planning

Be it a short-term or long-term plan, a marketing strategy of any duration gives you a clear idea about how to process budgeting resources for the future of an organization's long-term goals and plans.
The best thing about having a sound healthcare marketing strategy in place is that you can focus more of your time and energy on improving your healthcare practice and leave the rest on the digital marketing team that will work according to the strategy to help realize your short-term and long-term business goals.