Healthcare Local SEO: A Guide to Acquire More Patients Near You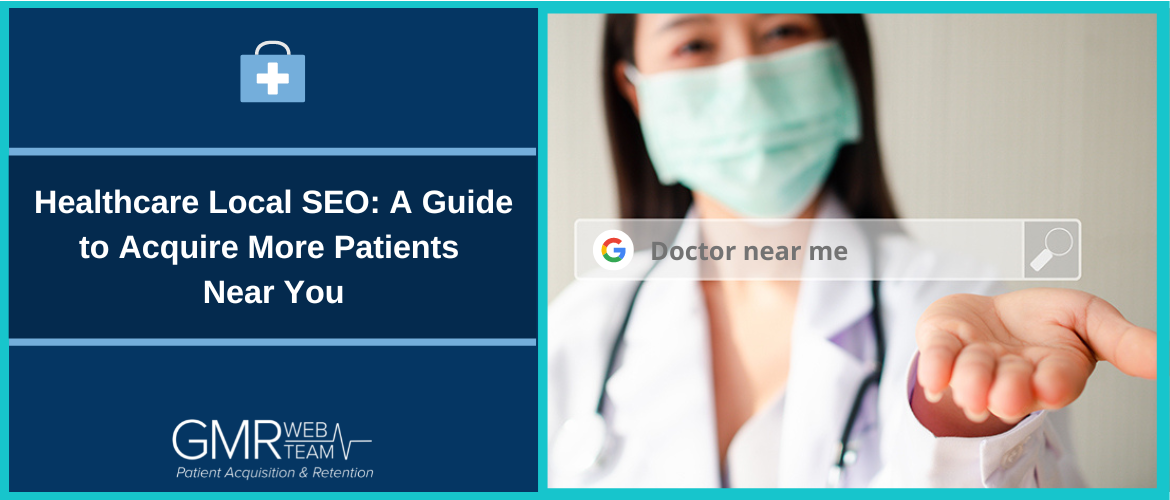 Local SEO for healthcare providers is the key to driving more patients to your practice by improving your medical website's visibility and ranking higher in local search results.
About 72% of people use the web for healthcare research and 50% to search for a new doctor. Those searching for a new practice on the internet aren't usually looking to travel far to get medical help, which is why you should aim for their attention with proper local SEO strategies.
By optimizing your healthcare website for local SEO, you can:
Reach out to more patients by allowing search engines like Google and Bing to crawl your website, thus boosting your site's rankings in local searches
Leave a positive first impression on prospects through a well-designed website, encouraging them to engage with your practice online
Enhance user experience for visitors to your website by adding call buttons and improving page loading speed (less than 3 seconds
Learn 6 tips to improve local SEO for healthcare and medical practices:
#1. Manage Local Listing of Your Healthcare Practice
Searching for the right doctor isn't always a walk in the park for most patients. Therefore, don't make it more difficult with inaccurate local listings or poorly structured local citations. Directories like Yelp, HealthGrades, Vitals, rateMDs, Google Business Profile (GBP), etc., will have published an online profile for your practice–it's up to you to claim it and comprehensively audit it for accuracy and consistency.
Make sure your practice's information is up-to-date and consistent across all listings. With accurate local listings, more patients will easily find your location. Here are some of the details to get right all the time:
Practice's name
Physical location
Business hours
Services provided
Contact information (phone number, email address, etc.)
#2. Optimize Your Google Business Profile
You must have an optimized and complete Google Business Profile to maximize your online presence
In case you're wondering why this is important, recall that the significance of GBP in local pack rankings was only 25% in 2018. Today, it's about 36%, which isn't surprising considering the numerous updates Google Search and Maps have undergone to provide relevant and more useful local search results. - BrightLocal
Optimizing your GBP to reach more patients through local pack and organic search includes adding a primary category (that describes your practice) and appropriate secondary categories. You should also incorporate geo-tagged (with geographic coordinates) photos, post on your profile regularly, and set your service areas. Equally important, use relevant keywords in the following GBP elements to boost your healthcare local SEO rankings:
Practice's name
Description
Products/services
Google posts
#3. Protect Your Practice's Reputation with Patient Review Management
Generating and responding to patient reviews is a crucial strategy in local SEO for healthcare providers. Why? Because most patients (84%) check online reviews to assess and choose physicians. Nonetheless, you have to be proactive for this strategy to work, and that often means requesting patients to leave reviews after every new encounter. Many satisfied patients would be happy to provide feedback if you encouraged them and explained the process involved.
Be sure to respond to all online feedback, including negative reviews. To those happy with their experience at your practice, be grateful for the nice words. Handle disgruntled patients with care–first by apologizing and then inviting them to an offline discussion to resolve the matter privately. A proprietary review management tool can be a lifesaver when handling data from multiple listings, including Yelp, Healthgrades, and Google Business Profile.
#4. Optimize Your Website for Better Conversions
With local SEO, you're looking to bring people to your practice's website before inviting them to your location. However, 88% of consumers visiting a website may never return if they have a terrible experience. Fortunately, you can boost your website's conversion rate by 200% with a better User Interface design.
Here are tips to optimize your website for healthcare local SEO:
Ensure your NAP details and hours of operation are consistent and visible on the site
Incorporate branding into your website design
Add CTA buttons in multiple locations
Simplify navigation for users to find services, practice information, and other details quickly
Incorporate responsive design to maximize your practice's mobile exposure
Add engaging visuals like images and videos
#5. Produce Educational SEO Content for Local Patients
You should publish accurate health-related information that local patients are looking for online to stamp your authority as a healthcare provider. For the sake of medical local SEO, ensure the content you provide is original, relevant, and keyword-optimized. Healthcare content suggestions include:
Blog article about coping with a condition that's prevalent in your area
Announcement about an event you're hosting or participating in, such as flu shot events
Feature an article about a new member of your caregiving team
Videos to explain new treatment or technology being used by your practice
Website content on a new medical service
Video on healthy lifestyle choices for summer or winter
Practice-sponsored medical events like health fairs
#6. Optimize Inbound Links & Interlinking Across the Website
When it comes to healthcare local SEO, high-quality link-building across your practice's website is a critical investment that can drive long-term value.
A proper internal and backlink structure has 13% influence on your local pack rankings and 31% on local organic rankings. It can also help boost the domain authority of your healthcare website. - BrightLocal
Keep these factors in mind when developing your link-building strategy for optimal local visibility:
Incorporate high-authority inbound links to boost your local pack and organic rankings
Incorporate high-authority backlinks to the landing page added to your practice's GBP profile
Include plenty of relevant internal links across your website
Make sure the anchor text of inbound links incorporates relevant keywords
Optimize the number of inbound links from locally-relevant sources
Grow Your Healthcare Practice with Local SEO!
Healthcare local SEO is a multi-faceted approach to boosting your practice's Google local pack and organic search rankings. To get the most out of your local SEO strategy, you must manage your local listings, build high-quality links, optimize your site's user experience, provide helpful health-related information, and more. This way, you can put your healthcare practice in front of more local patients researching healthcare providers online. Consult our experts at GMR Web Team to make the most out of your medical local SEO strategy and grow and retain your patient base.