Google AdWords to Roll Out an All New Report Editor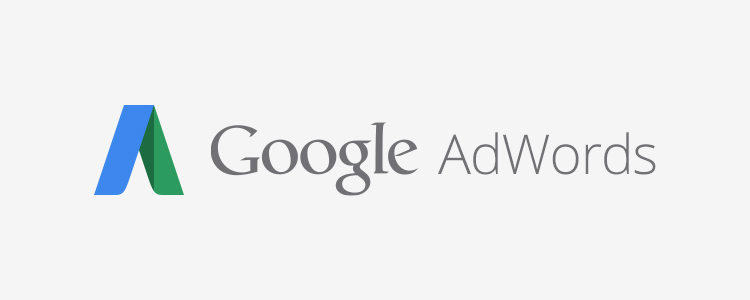 Image credit: Flickr.com
Struggling with spreadsheets to put up the performance reports in one shot is the story of every PPC Juggernaut. However, AdWords experts at Google have finally decided to simplify this task for advertisers. And, AdWords Report Editor is here to save your time and to help you make changes in bulk. It also eliminates the need to download your data in order to thoroughly explore it.
AdWords Report Editor: Let's Get Acquainted
AdWords Report Editor is a tool that will allow you to prepare multi-dimensional performance reports for an account. Now, advertisers won't have to download data from AdWords interface in order to create reports. Rather, they will have the ability to create multi-dimensional tables and charts directly within the AdWords account.
Report Editor Functionality Defined
This new feature is more robustious in many ways, and you need to know the attributes in order to create all new awesome reports. Here are a few of the most exciting aspects of this reporting revamp.
Tiles: the store house of dimensions and metrics that you may drag on to the canvas area to build your report.

Dimensions- The qualitative characteristics such as ad groups, locations etc.
Metrics- Quantitative measurement of the data such as clicks, impressions and conversions etc.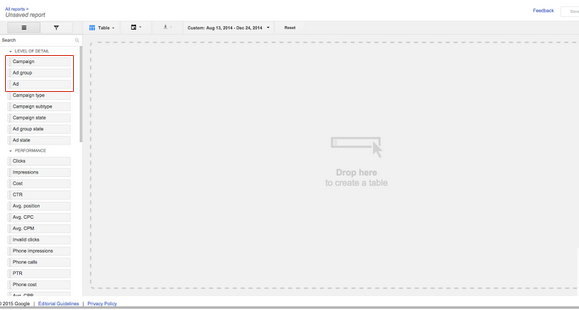 Sidebar: It contains Tiles and Filters. Filters can be applied to refine the data as per your needs.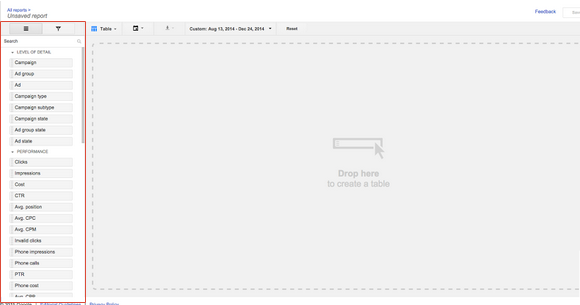 Canvas: The area where you need to drag your dimension and metrics data from the tiles menu.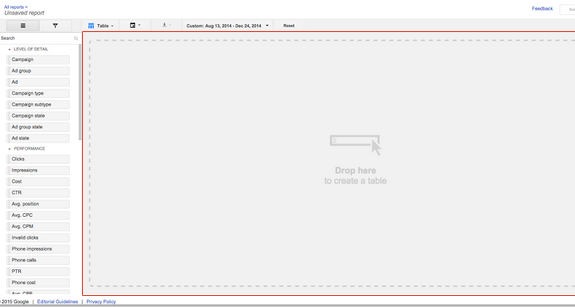 Shelf: The Ribbon above the canvas area which will show the selected dimension and metrics dragged over the canvas from tiles. It provides you the most effective way to visualize and present your account's statistics.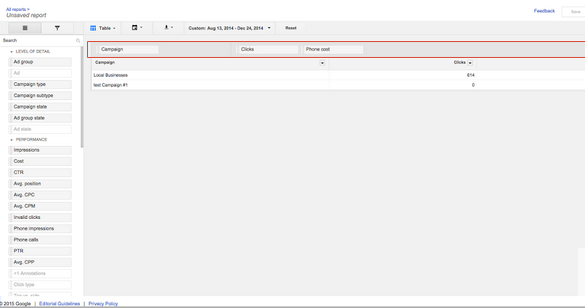 What are the benefits for Advertisers?
Multi-segment analysis allows data extraction with more granularity in your tables and charts
Simple drag-and-drop interface helps you create and handle multi-dimensional tables & charts. This means you don't have to download data for analysing deeply.
Advanced filtering and sorting will allow advertisers to easily sort by multiple columns and filter on segmented metrics.
Custom Charts can help visualization of patters and trends in your data is much more easier.
Report Scheduling
Advertisers would also have an option to schedule reports in the desired format (Excel or pdf files) and at a desired frequency for getting it over mail as per their preferences.
Plus, the most notable characteristic of this multidimensional reporting tool is that you can have an access to the real time data while you are still building the report.
Know more how to create, sort, save, schedule and share a report and much more about the all new Report Editor here at the Google AdWords Support Center.
Image Sources: Google AdWords Support Center
---
Related Posts from the Blog