10 Effective Patient Retention Strategies to Build a Strong Patient Base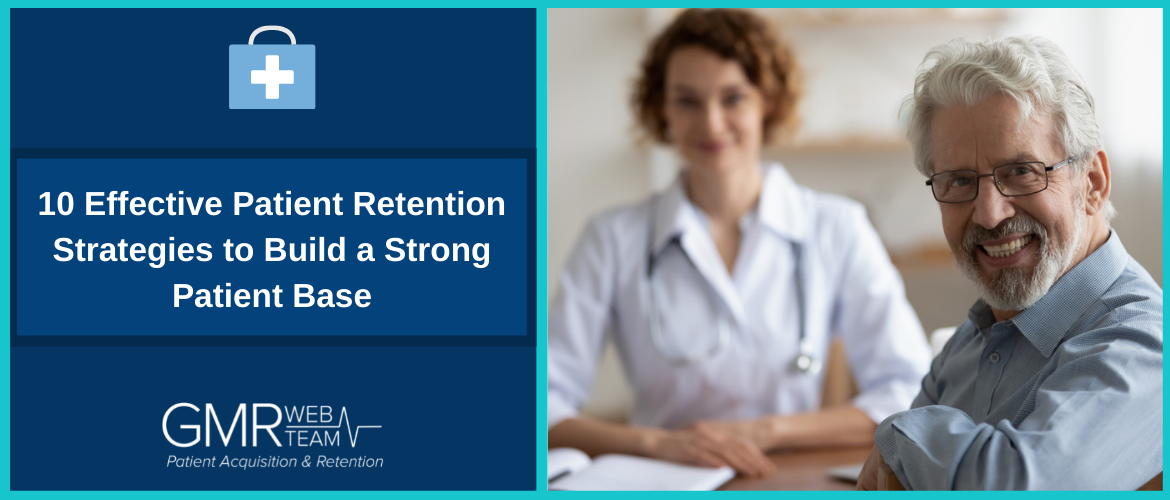 Loyal patients create more loyal patients. It's really that simple: Keep them happy and they will keep coming back. Lose their trust or provide them with a negative experience, and don't expect them to be back or recommend you to others.
Every successful medical practice has something in common: a bulletproof patient retention plan. The bottom line is that your patients need to know that you care in order for them to stick around. Show them that you truly value their business, and you'll see the return tenfold when they continually choose you for services-- and refer their friends and family.
What Exactly are Patient Retention Strategies?
Patient retention boils down to patient outreach and engagement. Especially in the case of a poor experience with your practice, it's important to have a plan in place to reach out to patients. This gives them time to explain any issues they had, and time for your staff to listen to and address these concerns. Retention strategies can include any touchpoint that you and your staff have with a patient either before or after their visit(s); postcards, automated services, emails, surveys, reviews, phone calls, text reminders, etc.
While any touchpoint can be considered a patient retention strategy, consider these top 10 for your practice.
1. Collect, Address, and Promote Reviews
About 80% of patients rely on online reviews when choosing a new provider. However, it's not enough to simply have great reviews. Patients need to see responses from your staff on ALL reviews, both positive and negative. Thanking patients for their positive reviews and showing excitement and gratitude to see them again shows an above and beyond approach to caring about their business. This also makes them feel appreciated, which means they are likely to continue care with you as well as send referrals.
Be sure to also follow best practices for replying to negative reviews. Never act combative or try to place blame on the patient. This can paint your practice in a bad light, and show both current and prospective patients that you are already not on their side. Thank them for their review, apologize for their negative experience, and offer a solution while showing a strong desire to make it right.
2. Automated Retention Tools
Patient retention strategies don't have to take up a ton of time or be tedious for your staff with the incorporation of automated retention tools. Retain and address unhappy patients, improve overall patient experience, keep in touch, and get more referrals - all with an automated service. We suggest a service where you can identify your happiest patients, so you can send them automated emails to thank them for their visit and if they can refer your practice to friends and family.
3. Modern Conveniences
In this new digital age, people have strong desires for simplicity and convenience through technology. Whether it's ordering food through an app, renting a car online, or booking a healthcare appointment, people appreciate modern conveniences. With many medical practices offering automated scheduling, telehealth appointments, SMS messaging, and more, it's more important than ever to provide your patients with these options. If patients are frustrated with difficult scheduling options and have a hard time getting in contact with your staff, they are far more likely to leave for another practice. Consider a digital patient engagement platform to offer these modern conveniences to all patients- and keep them retained!
4. Personalized Service
Handwritten postcards sent to patients after their visit can turn an apathetic or even upset patient into a loyal one. Skip the typewritten, impersonal letters and have your staff spend some time getting creative. They can be birthday cards, congratulatory cards (if you know they are graduating, landed a promotion, etc.), holiday cards, and even cards that thank them for leaving a review. Personalized attention is a great and simple way to keep your patients coming back.
5. Deliver Top Tier Patient Experiences & Care
As simple as it sounds, delivering a top tier experience and great care to your patients is the best way to keep them coming back and sets you apart from competitors. To start, consider mapping out a patient's journey that they take from beginning to end. This can include their initial issues or need for a new provider, researching practices in their area, making initial contact with your staff, scheduling an appointment, receiving directions and appointment reminders, parking on site, checking in, waiting to be seen, and so on. Once you know the general steps your patients are taking to see you, you and your staff can work to ensure every step is streamlined, practical, and satisfying.
Also be sure to listen to patient complaints, concerns, and general feedback. Administer surveys to incorporate suggestions and changes to your practice when and where you can for the sake of your patients.
6. Educate and Inform
The world of healthcare is daunting for many patients. Insurance, copays, medical terminology, strange or painful procedures, and unfamiliar territory can lead to unhappy and confused patients. Do your best to educate and inform patients about everything they should know when engaging with your practice. This can include anything from your practice's accepted insurances to where the restrooms are located closest to the waiting room.
In-office posters, informative email campaigns, social media presence, a responsive and user-friendly website, and communicative staff can all help your patients feel educated, informed, and comfortable with their visit.
7. Survey Patients
The best way to find out how patients really feel about your practice? Ask them! Send out a quick survey to every patient to see how you are doing. Patient satisfaction surveys can give you the insight needed to improve your practice overall, as well as figure out what patients need in order to stay loyal. It's best to survey patients right after their appointment to get the most accurate data and identify any negative experiences, so you can retain the patient. GMR offers patient satisfaction monitoring and delivers all insights right to you and your staff.
8. Surprises
Everybody loves surprises! Integrate some fun and creativity into your practice by offering random surprises to patients. This can be anything from raffle tickets for monthly drawings, gift cards or movie tickets at the end of their first visit, coupons or discounts on services, or whatever makes sense for your practice. Planting surprises throughout patient visits makes you memorable and shows your true care for the patient to have a great experience with you.
9. Reminders
Patients have busy lives and may be juggling more than you know. Scheduling simple reminders about their care will set you apart from the competition and show the patient that you are invested in their health. Try reminders for upcoming appointments, appointments that need to be scheduled, and overdue care appointments.
You may be surprised at how many patients simply forget to schedule their next appointment with you and eventually forget. Simple reminders sent to patients keeps their care and appointment scheduling front of mind.
10. Leverage Social Media
Social media presence is vital for any business these days. Frequent and fresh posts show people that you are around, reachable, and relevant with the times. Following and interacting with your patients can also give your practice a more human feel and show that you are more than just a medical building with services.
Social media is a fantastic place to inform and educate both current and prospective patients, run local ads, show off your practice, and engage with your community. You can even run contests where patients tag your practice in positive review-type posts. Social media for your practice can also help you generate User-Generated Content (UCG); Free marketing content for your practice. For example, if a patient posts a photo relating to your practice (think back to those surprises!) and posts on social media, you then have that photo and caption as a marketing asset to show off to other patients.
Patient retention strategies do not have to be difficult or tedious, and it is a vital component to any healthcare practice. With a healthy mix of personalized engagement and automation, you can ensure patients are satisfied.
Keep your practice growing and retain more patients with GMR Web Team's comprehensive and custom patient retention solutions.