A Checklist for Healthcare Providers to Build a Loyal Patient Base in 2022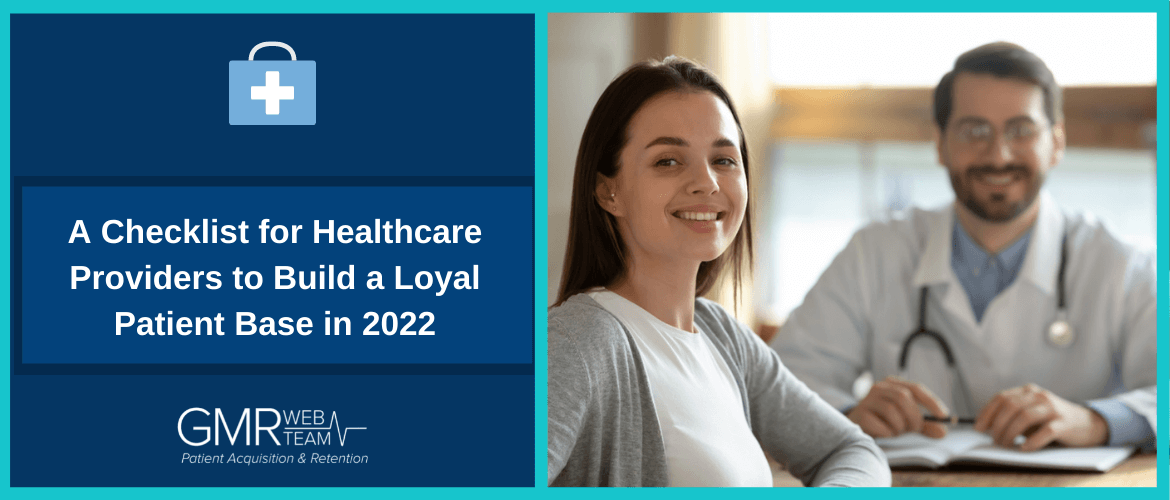 With every new year comes a new opportunity for healthcare practices to review and readjust their complete growth strategies to further drive success through patient acquisition, retention, and satisfaction.
Considering the new and ever-growing demand for digital tools brought on by the pandemic, healthcare providers must deliver top-tier care while also satisfying patients' desires for digital tools.
Satisfied patients stick around, and building and a loyal patient base is imperative to long-term success for any healthcare practice. Therefore, overall patient satisfaction should be kept front of mind when strategizing for 2022.
Healthcare practices must also consider what patients are now expecting during their care journey with the pandemic in mind. This includes convenient, health and safety-based offerings (such as virtual visits), and a seamless experience between digital and in-person care.
There are several different tools and strategies available to improve your patient base, specifically in the digital age. As you scroll through the list, see where your practice may be missing the mark.
#1: Online Presence
A healthcare practice's online presence includes its website, business listings, and patient reviews. To avoid miscommunication and unhappy, misinformed patients, it's important to keep your online presence current and consistent across the board.
Build a modern website
Chances are, a patient's first impression of your practice comes from your website. It is also the hub where current patients can go to learn more and get general questions answered.
All patients should be able to navigate your modern, user-friendly website with ease to find out all vital information; Name, address, phone number, operating hours, services offered, patient portals, etc.
Once your website is set up and running smoothly, search engines will start to crawl, index, and rank your website- an important step to be noticed on search engine results pages.
Update Your Google My Business (GMB) account
For a robust and effective online presence, an updated and verified Google My Business (GMB) listing is key. This listing instantly shows your name, address, phone number, hours, location, and reviews, all in a convenient sidebar on Google's search results page.
A proper GMB listing also ensures a consistent presence across Google, including searches and maps. This can eliminate headaches and confusion surrounding important information about your practice that can otherwise appear inconsistent on Google.
(If you do not have this feature set up, it is free and simple to set up your GMB page here.)
There are other websites and listings to monitor and update such as Facebook, Yelp, HealthGrades, WebMD, and Vitals. A robust online presence for your healthcare practice can keep patients satisfied by providing them with simple access to important information.
#2: Online Reputation Management
Your healthcare practice's online reputation matters greatly when it comes to building a loyal and satisfied patient base. With 81% of patients evaluating reviews before choosing a new healthcare practice, your online reputation can be a make-or-break type of deal for getting new patients in your door- and keeping them coming back.
Online reputation management is one of the best ways to ensure that your healthcare organization stands strong against competitors while keeping the needs of the patient front and center.
While your online reputation management strategies should go in-depth with specific goals and targets in mind, here are some general ideas to continue building a loyal patient base by seeking and managing reviews.
Display your online reviews
Leverage all of your positive reviews by creating a testimonial page on your website that lists all of the latest patient reviews. We also suggest adding a review widget on the homepage that highlights some of the more detailed reviews.
Make it easy for patients to leave reviews
Some patients may not be too tech-savvy, in which case, try handing out printed instructions and use QR codes so they can leave a positive review.
Send Automated emails
Setting up a post-visit email campaign can help remind patients of their experience as well as encourage them to spread the word by leaving a review.
Make sure to send out a thank you email that asks them to share their positive experience on your chosen review platform.
Automated reputation management software
Manually managing your online reputation can be time-consuming and tedious depending on your patient load. Implementing reputation management software is an easy way to automate your entire review process, from asking patients to leave a review all the way to gathering insights across all review platforms.
Any healthcare practice looking to build a loyal patient base must show time, care, and dedication to seeking and responding to reviews.
#3: Patient Engagement, Experience, and Satisfaction
Engaged, satisfied patients are likely to keep coming back to the same practice. Therefore, it is important to place emphasis on patient engagement, experience, and satisfaction for any new strategy.
To improve these key areas and keep patients coming in, you'll need to:
Offer 2-way SMS messaging
This simple and automated offering can be used to keep patients engaged by reminding them of upcoming appointments or scheduling another, sending out updated office hours, prompting them to leave a review, or even wishing them a happy birthday.
Patients can also reply directly via text, which will then be sent to the front desk.
This communication tool shows patients that you care about being easy to get a hold of, as well as care about communicating important information.
Have a mobile-friendly website
With most people using their mobile devices to browse websites, a sleek and mobile-friendly site can help patients find the information they need.
Make sure your name, address, and phone number are easily read on the mobile version of your website, and that your phone number is clickable to dial and address connects to maps.
Offer online appointment scheduling
If you do not offer online appointment scheduling, chances are that your competitor does. In this day and age, patients are looking for convenience and simplicity.
Online appointment scheduling can also eliminate overlaps that result from human error while giving patients the freedom to book an appointment any time of day without having to call during business hours, leave voicemails, or wait on hold.
#4: Set Goals
For any new strategy, there must be goals in place in order to track progress and adjust the strategies as necessary for peak performance.
Set new goals according to the checklist
Consider any strategies or suggestions from the above checklist to drive success at your healthcare practice.
Next, make a list of new strategies or ideas to implement at your practice, and begin to establish attainable goals and timelines for achieving said goals.
Track and make and adjustments
Make sure at least one person is responsible for checking in on the progress according to the set goals and timelines. It is easy to let new goals and new strategies slip through the cracks as practice goes back to operating as usual.
Based on results, adjust your new strategies in order to achieve your goals.
Conclusion
Building a loyal patient base is a multifaceted process that involves different strategies. Through this checklist, we have covered your online presence, online reputation management, patient engagement, and goal-setting.
Through these general strategies, you can continue to build a satisfied and loyal patient base by offering top-tier care combined with a robust, trustworthy, and interactive digital presence.
To build and manage a loyal patient base, and expand your business, get in touch with us today.