Hiring a Web Designer Agency: Weeding Out a Bad One [Part 2]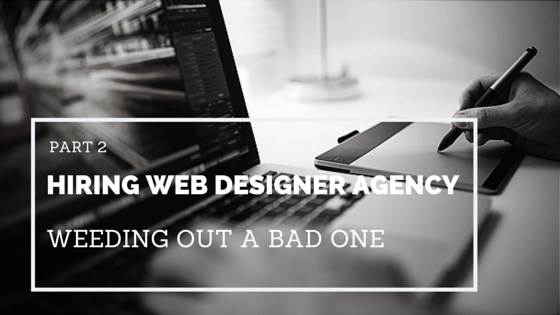 In the first part of this article, we looked at 6 things to avoid when hiring a web designer agency. By now, you should have figured the crucial role agencies play in projecting your brand identity to the market. If you make a rush decision when hiring web development Company, your business will be pivoted on a failing branding strategy.
In this article, we highlight five more pointers that can help you know you are about to make a mistake with the agency you want to hire. If any of the following points apply to the agency you wish to hire, run.
7. They Have Bad Reviews
Every business blows its own trumpet with regards to the work it does. This also applies to web design agencies. It's normal to come across "testimonials" pages on the websites of design agencies. On the pages, you may see the familiar grinning man stock photo with a generic "Good work fellas!" testimonial. Don't trust such testimonials.
Most agencies write their own testimonials on their websites. Here's an easy way to spot a company that's probably written its own testimonials:
The images used for the clients are generic logos or stock photos
The testimonials do not articulate why the client loved the work
The testimonials do not indicate the client's website URL or company
The best way to find unbiased testimonials of a web design agency is to check trusted sites like Yelp and Google Places. Go through the reviews and look out for negative ones. If a company has recent negative reviews, don't risk your money with them.
8. They Don't Follow Web Standards
Following proper web standards is crucial to having a functional and user friendly website. Look for an agency that is adept at the web standards your site will be designed with. This also applies to content management systems (CMS) like WordPress, Ghost and Drupal.
The company should be adept at today's web technologies like HTML 5 and CSS that allow content to be developed for both mobile and web. Choose a local agency that follows the latest web standards, is in touch with your target customers and knows what makes them tick when they are online.
9. Located Outside the Country
No offense to overseas developers, but local web design agencies better understand the needs of local clients. Proper web design is more than simply making beautiful templates. Instead, it includes ensuring a good user experience, providing accessible content and aiding conversions.
Some overseas developers may design intuitive websites for cheap. However, cheap doesn't mean conversions. It makes no business sense to hire a cheapo developer only to have a beautiful site that does not generate leads or make sales.
Moreover, you are bound to encounter other challenges when working with some overseas web design agencies. For instance, there may be things to deal with language barrier, time zone difference, and inability to understand local customers, and so on.
10. Don't Keep Up With Latest Web Standards
Web standards are evolving to make content accessible on different devices. Check the web technologies that the company employs when designing its websites. Every web language has a set of standard rules and best practices that provide for a good user experience.
You can know whether a company follows the latest web standards by checking their recent portfolio. For example, the era of responsive web is upon us and agencies that still make static sites may be way out of touch with the current technologies. Other fundamentals of design such as image optimization, design layout and search engine optimization should also be employed by the agency.
Related Post: The ABC's of Converting Your Static Website Responsive
11. Don't Design Mobile-Friendly Websites
Today, nearly two-thirds of U.S. adults own a smartphone and 7% heavily relies on it. Your prospects are using smartphones and tabs when searching for your services. Thus, it's critical that your website should be mobile responsive. A responsive website helps to improve your lead generation efforts and sales. Moreover, Google rolled out the mobile friendly algorithm in April, 2015 and if your website is not responsive, getting found on search results will be harder.
Today is not 2002 when you needed two websites for your business; a PC and mobile version. Find out whether the company has experience in building mobile optimized websites. The websites should be light in weight and focused on conversions.
There we go, the five things that should raise a red flag when hiring web design agency. Have you come across any of them? Let us know in the comments below.
Read the first part of Hiring a Web Designer Agency: Weeding Out a Bad One
Have more questions in mind regarding hiring a web design agency that understand your needs? Go on then, shoot your questions or call us at 714-731-9000.