3rd Pillar (Part 1): The Importance of a Robust Online Presence for Healthcare Practices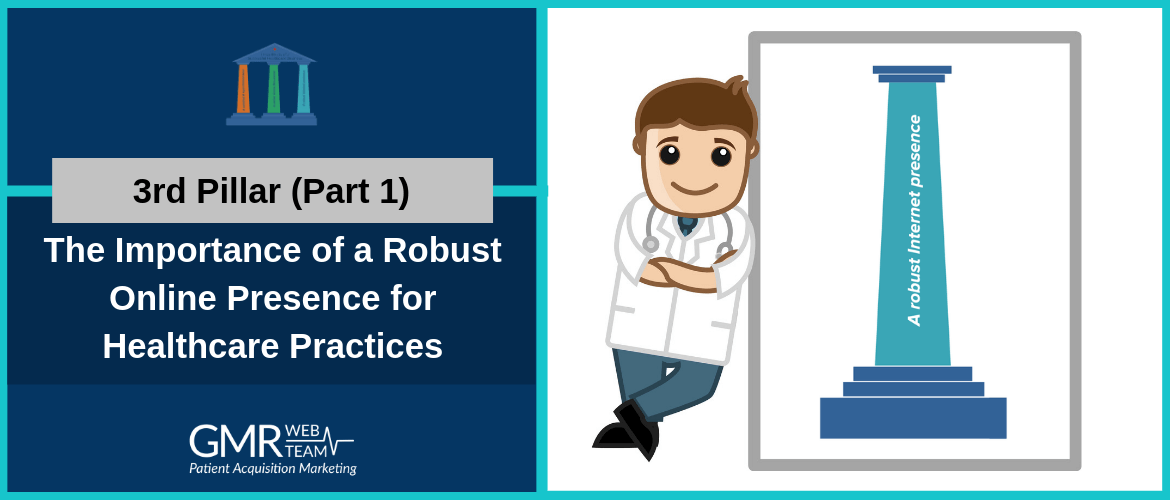 A robust online presence means an all-round visibility of your practice on all important platforms on the web, such as search engines, social media, and reviews websites. It's the kind of visibility that can encourage your patients for taking some converting actions which is the ultimate goal of any healthcare marketing plan. A strong online presence is characterized by your practice showing up on top of the search results every time a patient searches on Google, or any other search engine. It's also about frequently appearing on the news feeds of your targeted audience on Facebook, having influencer-like recognition on Twitter, and exhibiting mostly the positive reviews on HealthGrades, RateMDs, and Yelp. But more than everything else, a robust online presence for a healthcare practice is primarily about the trust and love it has among its patients that reflect in the brand's visibility on the internet. Trust and recognition adds credibility to your online presence. Important credibility factors to create a robust online presence:
The solution that you present to your patients shows your knowledge and subject expertise
Your website and social media pages should be able to communicate the quality of message that you want to communicate
Review websites should show strong patient advocacy for your brand
Your brand can create a consistent impression in the minds of the patients no matter on which platform they get to interact with it
The Need of a Strong Online Presence
The fact that patients are increasingly moving online for inquiring about their health condition, looking for treatment options, and finding & evaluating physicians for the best care possible says all about the importance of having a robust online presence. Patients are becoming increasingly dependent on various internet channels for their decision making. Look at these statistics:
88% of patients use search engines to find treatment centers [Google]
Out of the billions of searches happening on Google everyday, 1 in 20 searches are related to healthcare
82% of patients use online reviews to evaluate physicians and their quality of care [Software Advice]
48% patients say that they would go out of their insurance network for a doctor with favorable reviews [Software Advice]
72% of all users are active social media users [CDW]
Information on social media can have a direct influence on patients' decisions to seek a second opinion or choose a specific provider [PWC
These facts are enough to let you understand the importance of a robust online presence for your healthcare practice.
Essential Components of a Robust Online Presence
There are some essential components of a strong online presence which are also required by different online marketing platforms to identify and recognize your business and then show to those who look for your service. The major ones are:
Targeting with keywords – A website with poor design but with quality content that targets its users with right set of keywords will draw more traffic than websites with great design but nonsensical targeting of keywords. So, conduct a thorough research for identifying the right set of keywords for your website, and allocate them properly on your website pages by placing them in the particular page on-site and off-site content, such as blogs, articles, service descriptions, and the meta tags.

While researching for keywords, keep in mind that Google has shifted its focus from just keywords towards user intent. The search engines now make use of keywords to understand why a user is searching a particular keyword, and they show the results based on that analysis.

Online listing – Online business directories have a big database of registered local users. Submitting your business information on them helps you find your relevant users more easily on the web. Most of them are free and takes 5-15 minutes to get your business registered on them. Some of the highly recommended doctor-specific business directories are:

There are some other general directories where also you should get your business registered:



Listing with Google My Business – Most of the patients search for physicians in their local area. Now, if you're registered with Google Map, it can help your prospective patients by showing your practice location on the map. Not just that, it can also help your patient in escorting them right to your practice door through GPS navigation. That's why Google should be the first place where you should get your business registered. To get your Google Maps listing, sign up with Google My Business. You'll be able to edit your listing's details, track where patients are coming from, and see reviews patients post about you.
Positive online reviews – A Software Advice research suggests that online reviews play a major role in patients' decision making. The report found out that as about as half of all the patients, on whom the study was conducted, were even ready to go out of their insurance network to select a doctor with favorable reviews. For doctors, their online presence is incomplete without a stellar online reputation. Some of the directories listed above, such as Yelp, AocDoc, and Angie'sList, have review components as well, however, there are some doctor-specific reviews websites out there where most of the patients go for quality verification. They are:

You can even encourage your happy patients to leave positive reviews to boost your overall ratings on review websites. This is not illegal, unethical, and in any way interfering with the regulations.

Facebook page – Facebook is the mammoth among all social media channels in terms of total number of active users on it. It already has a more than 2 billion active monthly users and 1 billion active daily users. With a Facebook page, you can promote your practice among a highly targeted group of audience, and improve your overall online presence with it.

Set up a Facebook page in your practice's name, and fill it up with your practice's details – don't forget to fill in your location, your website, and a few pictures of your staff and office. Try to keep updating with posts (with practice news or interesting content) as frequently as possible.

Mobile optimization – Of all the healthcare related searches happening on Google, 60% come from mobile devices, as confirmed by the search engine giant itself. This means your website and the contents on it should be optimized for the best view on any mobile device, including smartphones, and tablets.

A slow page loading speed, a non-optimized page (troubles in proper viewing), extremely small and bad looking font styles, etc. can divert your users attention, which means a diversion of a major traffic from your website.

Most of the "near me" searches which are highly converting often happens on mobile devices. This calls for a separate strategy that takes care of optimizing your site and its content for easy access on mobile devices.

Quality content – Patients inquiring about their health conditions want answers that can provide a solution for their issues. Or at least, let them know about the precise situation and how it can be managed.

Content marketing, which is an integral part of digital marketing, not only lets you provide solutions to your patients, but also help in increasing brand visibility and brand recall. Individual quality content that can solve patients' problems in any way, keeps contributing to your site's overall visibility.

Note: Not only the quality of the content matters, but their formats too. With video content going to drive 70-80% of the total online traffic by the mid of this year, you need to focus on shifting your content strategy to video-centric.
This was just an overview to the third pillar of healthcare marketing success, i.e., a robust online presence. In the upcoming parts of the blogs, we'll have a more detailed discussion on various aspects of this third pillar of healthcare marketing success. Till then, read the previous blogs on "3 pillars of healthcare marketing success" here.