2nd Pillar (Part 2): How Exactly a Stellar Online Reputation Benefits Your Practice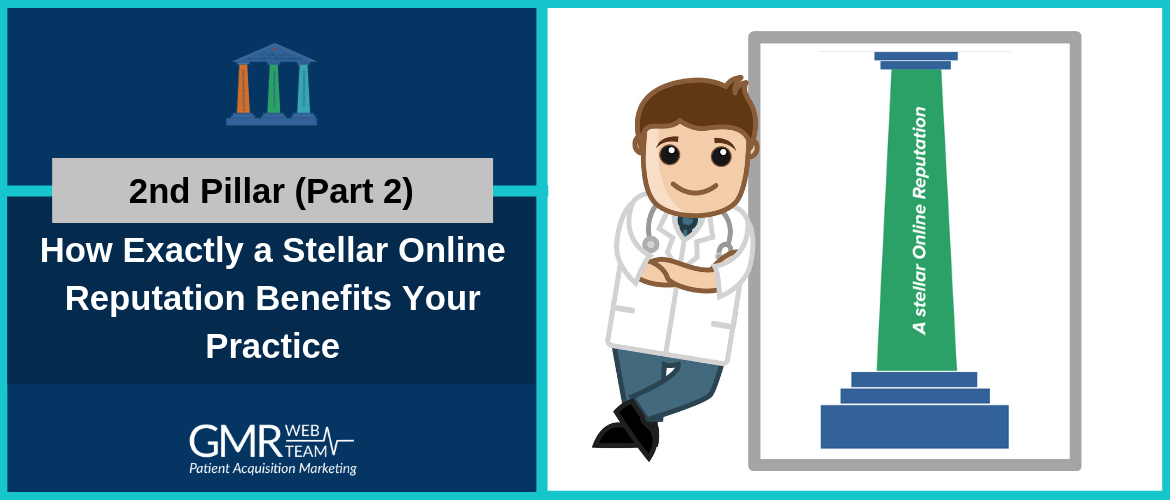 A high reputation is the single biggest factor in driving the growth of a healthcare business. Which means that it is also the biggest decision making factor for your prospective patients in selecting a care, as they go on looking for one. In addition, it means that your prospective patients are interacting with your brand at almost every stage and steps of their care finding journey (on the web), which is absolutely what your healthcare business needs to achieve. The ultimate goal of healthcare digital marketing is to build a stellar online reputation. And today, in this technologically modern world, where care finding journey for most patients initiates and stops on the internet, there's no wonder how immense and ever-lasting benefits it can yield for your healthcare business. Online reputation management (ORM) is that process which helps doctors build and maintain a positive online reputation on an ongoing basis. If you want a greater insight about ORM and why it's becoming critically important for healthcare businesses, read the first part of the blogs on the 2nd pillar of healthcare marketing success. This blog is a part of the continued series of blogs on 3 pillars of healthcare marketing success. We've already published three blogs on the 1st pillar, i.e., a satisfied and loyal patient base which you'll find here, here, and here.
What Makes a Positive Reputation for Doctors on the Web
A doctor's reputation is the beliefs and opinions of his/her patients about their healthcare practice; its quality of care, and customer service. A highly positive opinion about your practice among your existing patients is indeed very important as it can attract, influence, and convince other patients to select your practice for their healthcare. But what are the things or factors that can make and maintain a positive reputation for you on the web.
A robust online presence. It simply means having a wide-scale presence on the web along with a highly authoritative reputation. The single biggest factor that contributes to your reputation on the web is your patients' views about your service, that are reflected through ratings and reviews, comments, and testimonials. The importance of patient comments and reviews can be understood by the fact that 82% of patients use reviews from different online sources to evaluate physicians and their quality of care.

Updated and active social media profiles. In healthcare business, a positive relationship with your customers (patients) is a winning factor. But because of their busy schedule, most providers fail to interact with their patients to a degree that can foster a relationship with their patients. Social media doesn't just allow you to start a two-way communication with your patients, where you can receive their valuable feedback, and understand them better, but it also lets you showcase your clinical expertise by sharing relevant health information with them that contributes greatly to your reputation online.

Wide scale social mentions of your practice. Social mentions are when your patients mention your or your brand's name during ongoing conversations happening across many social media platforms at a time. Providers use social mentions for big listening (taking all the conversations that are going on online to find and understand different sentiment metrics regarding your brand) to understand the volume and overall feelings, emotions, and opinions regarding themselves. Socially active providers rank higher on these metrics which helps them maintain a higher reputation on and off the web.

Proactive response to reviews. Negative reviews do happen sometimes. But by responding to them in a proactive manner – tracing it before it gets posted online for allowing yourself the opportunity to solve the patient's issues – you can eliminate risks of any damage they may have caused after publishing. A proactive response also builds trust among your patients that they'll be heard during a bad time with your service, or any post-treatment symptoms. A proactive response resonates very deeply among your existing and prospective patients, building a higher reputation for you.

A right marketing strategy. A marketing strategy that gives great emphasis to your reputation is crucial for the success of your healthcare business. You'll need a hand of the seasoned healthcare marketing expert or agency in it. They have the required knowledge to devise the perfect marketing strategy for you, and the required tools to process and perform each and every required reputation marketing actions.
Benefits of a Stellar Online Reputation
The benefits of a higher online reputation are many for a healthcare business. After analyzing each of them deeply, we've concluded all of them into these major fours.
Maintains brand perception. Your brand's reputation is what drives your patients' perception. With a high reputation, you will keep influencing your prospective patients' perception about you, which is also the whole purpose of a healthcare marketing strategy. A positively higher perception is where your prospective patient's search for a provider ends.

One thing to take care of is the possible degradation of the already established good perception because of aberrations caused by excessive intake of information. Sometimes, patients go extra mile to further evaluate your service quality even after having been through many good sources already. During this journey, they may witness some negative content that can potentially destroy the already built good perception, all at once. Nothing to worry about, that's exactly where online reputation management changes the game.

Increases patient base. The role of a stellar online reputation isn't limited to influencing patient's perception and acquiring them. It also plays its part in retaining them. How? Not every existing patients may recall your phone number, or even your brand's name. In that situation, if not for your high online reputation, their attention may be diverted towards your competitors, as they turn to Google for answers. But with a high online reputation, you can stay assured that they'll easily reach you. This is all true in case of obtaining new patients.

With a stellar reputation, your brand's visibility increases across the web. Higher star-ratings and praising reviews on different review platforms, including social media channels like Facebook and Google, starts contributing to an increase in your brand's search rankings. As a result, your visibility expands on the web and you become easy to get found by your existing and prospective patients on the web.

Reduces fabricated or false problems. A provider with higher reputation faces very less chances of getting their business affected by patients' fabricated or false claims. Online reputation management, the process which keeps your reputation top notch, also reduces undue scrutiny (by proactively eliminating those false claims) that physicians may face when prospective patients begin looking for previously reported issues.

Patients with chronic conditions sometimes get so infuriated that they start finding errors out of nothing. This prompts them to share their negative reality even if that's not true. Now, a prospective patient looking for care may read that negative review about you and develop hypersensitivity and over analyze aspects of their office visit. However, if they find a whole bunch of positive reviews already, then that singular – or even a few – negative comment couldn't dissuade your prospective patient from selecting you as their provider.

Increases revenue. Every direct or indirect benefit from a positive online reputation ultimately leads your practice towards having a higher patient base. A higher patient base is what keeps your healthcare business always up and running. This keeps adding the increase in your practice's revenue.

Another thing to understand here is the real impact of your prospective patient choosing your competitor because of a negative reputation. Every time you lose a patient, you actually lose their multiple visits over many years of service. Imagine the impact of the aggregate revenue loss from that patient for all those years of service.
That's all for now! Hopefully, you must have understood by now about what makes up a positive reputation and how exactly it helps your healthcare business. Next time we'll come up with the 3rd installment of the blogs on the 2nd pillar of healthcare marketing success. Stay tuned till then!