Telehealth Services: What You Need to Know to Grow Your Practice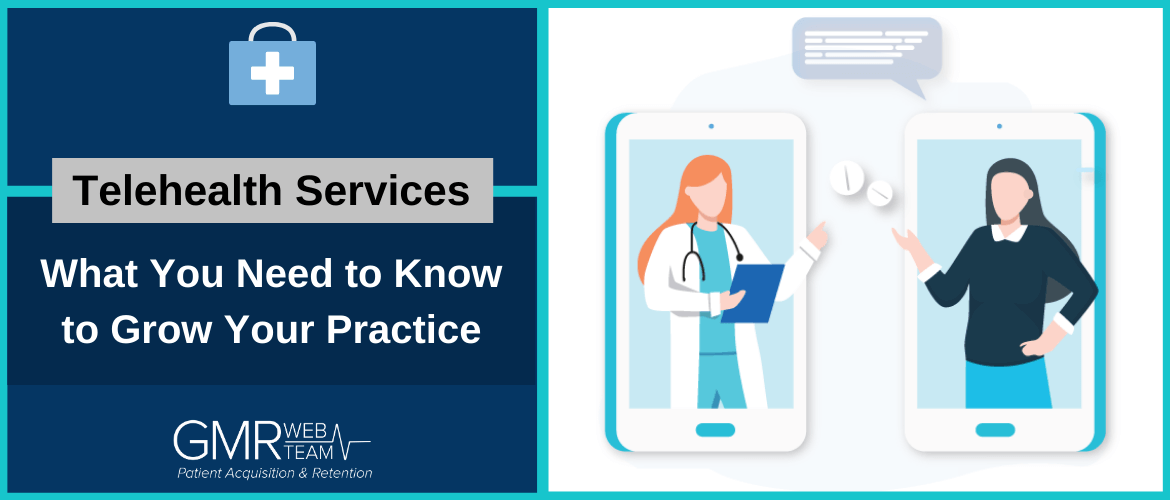 In the current COVID-19 crisis, telemedicine and telehealth services have emerged as a practical way of delivering quality care and improving practice operations. Although both telemedicine and telehealth services are used interchangeably, they are actually not the same.
Telemedicine is focused on remote clinical services, so providers can provide care to their patients through video visits and can serve as an alternative to in-person visits. To access telemedicine services, a mobile, computer, or tablet with a microphone, camera, and internet connection is required.
Telehealth refers to broader remote healthcare services such as administrative meetings, continuing medical education, and provider training. This would also include clinical services.
The US Telemedicine Market Revenue to Exceed $64 Billion by 2025
In 2018, the American Hospital Association revealed that 76% of hospitals in the US had employed telehealth services, and their usage rates more than doubled since 2010 when only 35% of hospitals offered these services. According to a MedCity report, 90% of healthcare executives revealed that their organizations have been developing or have developed a telehealth service program.
A US telemedicine market report reveals that mobile or web-based telemedicine segments earned a significant revenue share of $11.8 billion in 2018, which is expected to exceed $64 billion by 2025. It's no question that telehealth and telemedicine will grow in usage and providers need to be well informed about telehealth in order to grow their practice.
Benefits of Telehealth Services for Patients
1. Better Care for Rural Patients
Nearly 20% of US people live in rural areas without easy access to medical services or primary care benefit from telehealth services. Telehealth services make it possible for patients living in rural areas to receive immediate and easily accessible care without traveling a far distance. A typical hour-long drive to see their primary care physician can turn into a simple 20-minute appointment.
2. Quality Care at Home
Telehealth services are not just convenient, but they are also necessary during public health emergencies (for example, COVID-19). It allows patients to receive diagnosis and treatment from their home. Telehealth services can be great alternatives for patients who have difficulties seeing their providers in-person. This can be patients with chronic medical conditions like diabetes, blood pressure, heart problems, and asthma.
3. Affordable
Kaiser Family Foundation report reveals that 12.9% of Americans have avoided visiting a doctor because of the cost. Telehealth services can address this issue as it is a new way to provide affordably and quality care to patients. Amid the COVID-19 crisis, accessing a telehealth video visit with your healthcare provider is safe and cost-effective.
4. Less Wait Times
Telehealth services save both providers' and patients' time by eliminating long wait times. The 9th Annual Vitals Wait Time report reveals that, on average, a patient waits for more than 18 minutes to see a doctor once they are in the office. Telehealth visits are easy to schedule and eliminates in-office wait times. The typical length of a telehealth visit is 20 minutes or less depending on the medical condition of the patient.
5. Convenient
The Centers for Disease Control and Prevention (CDC) reveals that about 45.5% of people did not visit their healthcare provider for at least a year either due to a lack of quality care, high costs, or a busy schedule. Telehealth will be an ideal alternative for those who live busy lifestyles and find it difficult to make time to see their provider.
Benefits of Offering Telehealth Services
1. Increased Patient Engagement and Satisfaction
A survey conducted by RepuGen found that telemedicine patient satisfaction is on-par with in-office visits and shows broad acceptance of the technology. Telehealth services can help patients create more meaningful relationships with their providers and remove the physical barriers that prevent them from getting the care they need. With increased access to providers, patients will no doubt be more satisfied with their level of care.
2. Staying Connected with Patients During Difficult Times
When patients are unable to reach out to your care center during a public health emergency, like the COVID-19 outbreak, telehealth services ensure you are staying connected with your patient base and providing safe, quality care.
3. Receive More Reimbursements
The need for telehealth services is increased now due to the COVID-19 outbreak, so most private insurance providers expanded their coverage of telehealth services to all beneficiaries and refund providers for telehealth services provided.
4. Connecting with New Patients
Telehealth services can help you attract more patients outside your geographic location. This could mean targeting rural patients who live hours away from your office. It can also attract patients who live busy lifestyles and struggle to make their routine appointments.
5. Easier to Coordinate Care
Telehealth helps increase collaboration among providers. Patient details, notes, diagnosis results, and other information are virtually available for secure and quick distribution. The stored patient information can be quickly passed on to other members of the care team for second opinions and further consultations.
While patients say that they would prefer to schedule a telehealth appointment, most are unsure of whether or not their healthcare providers offer this service. This is where a proper marketing campaign can help.
If your practice offers telehealth and telemedicine services, contact us for an effective telehealth marketing strategy. Our results-driven strategies will not only help you promote your telemedicine or telehealth services, but educate existing and prospective patients on how telemedicine can benefit them.