How Successful Product Launching Helps You Achieve Maximum ROI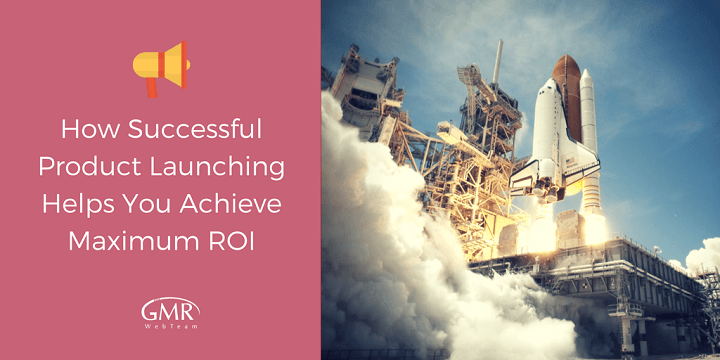 Launching a new product? Do you have a well-planned strategy to promote and sell that product? This post will discuss the basics you need to successfully launch a product in front of your target audience.
"Preparation", a word that has been instilled in us since childhood. We were told to prepare before an examination, match, or competition. The word "preparation" was synonymous with being our best. Entering the professional world, another word was added to our lexicon: "STRATEGY". Now both strategy and preparation work in tandem.
These two words hold power for any business owner launching a new web-based product or a new website. It is imperative to prepare both the launching and marketing strategies and work accordingly. Ultimately, the strategy preparation work should be done properly and before all else, so that everything gets done correctly.
Market research
Before the launching of any product, it is essential to conduct market research. The following questions should be asked:
What type of audience issuing such a product?
What is the total market share?
What kind of audience is going to show their interest in your product?
What will be the location from where I can get maximum ROI?
What are the best platforms where I need to market my product?
What will be the best time of launching any new product?
Product Survey
If your product is completely new on the market, then it is recommended you take an opinion from the relevant influencers. On the other hand, if you are launching a product which already has several established competitors, ask the following questions:
Did you check your competitors' product?
Did you realize where your competitors are lacking?
Did you compare your product price with your competitors' product price?
Did you check your competitors' product review on Google & Yelp?
From where are your competitors are getting the maximum ROI?
What extra value are you adding in comparison with your competitors' product?
It is imperative to focus on the user's requests and requirements, not merely on the product, itself.Every company should follow this checklist before launching a product:
Why are people going to use your product?
What extra benefits are you willing to offering to make your product more competitive?
How will your product save your customers' time?
Is your product more user-friendly than your competitors'?
How is your product going to make their life easier/better?
Organize a Product Launch Event
Organizing a product launch event is a great way to promote your product in front of the relevant audience. It clarifies your purpose for making the product, and helps deliver the mission and vision of your product. Hosting product events allows you to collect feedback, and most importantly, it holds the potential of getting media coverage from your influencers and audience via social media platforms.
Marketing
The heart of every new product or new business is dependent upon its marketing strategy. Whether your business or product is an established brand or is an up-and-coming brand, without any marketing, you will lose to your competitors in the marketplace. Marketing is a broad term, and a relevant set of tactics needs to be adopted for each product. Here are 5 tips to help bring customers to your product:
1. Ideal Customers: It is always necessary to categorize your customers' demographic. Note the age group, profession and location of your customers before launching any new product. By doing so, you can reduce your marketing budget and easily promote your product in front of the relevant market.
2. Competitors: Make a list of those businesses who offer similar products. Analyze their product as well as their marketing campaign strategy and find out what unique things they are doing. The number one weakness of many new companies is failure to perform SWOT (Strengths, Weakness, Opportunities and Threats) analysis. You have to start by examining each step of SWOT analysis very carefully. Evaluate your product against your competitors. Find out the unique aspects of your product that your competition isn't offering. The next step would be to market that aspect aggressively.
3. Marketing Channels: Did you determine the channels by which you are going to market your product? The internet is not only expansive, but cost-effective when it comes to marketing. To be the most productive in your marketing strategies, pay attention to these areas:
Social Media Campaign
Email Marketing
Send free samples to influencers
Market through event
PR campaign
SO AdWords advertising campaign
Market your products locally
So what are you waiting for? Start marketing your product with the right approach. You just need a fruitful strategy with a little bit of market effort. If you need any assistance, drop an email to us at info@gmrwebteam.com or call us @714-731-9000