Private Practice Marketing: How to Market Your Practice Online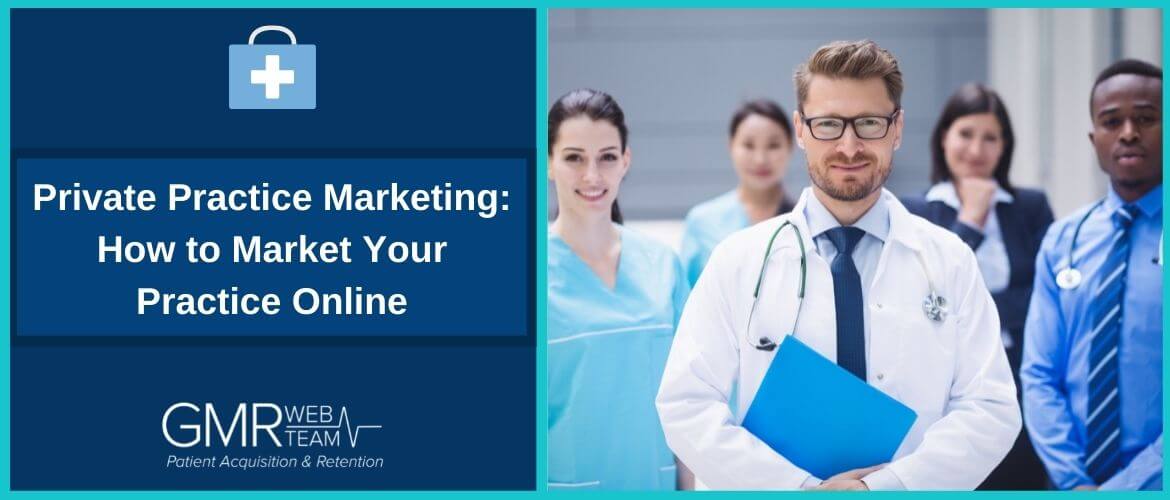 With the rise of the internet, it is essential for all private practices to have an effective digital marketing plan. Digital marketing in healthcare is important because a growing number of patients are using social media and mobile internet searches to conduct preliminary research on private practices before making their final decision.
The Importance of Digital Marketing for Private Practices
In today's digital age, promoting your private practice has gone beyond simply placing ads in local newspapers. Because with 7% of all Google searches being health-related, when new patients look for a specialized healthcare professional like you, they turn to the internet. However, this challenge for you is not impossible, as we share the top 10 ways to market your private practice online.
#1: Maintain a consistent brand identity for your private practice
It is difficult to overstate the importance of having an informative, interesting, and modern web presentation. At the same time, when people believe in your health services, there is no substitute for "in-person" interaction and personal recommendations. What you want is a common approach that combines your online presence with your "real world" practice, which together creates a cohesive brand voice.
What impact do you want to have on potential patients when they first encounter your practice, virtually and in person? You must choose your basic message and then make it a common thread that runs through all your communication, digital and not digital. Keep this in mind as you design logos and brochures, select photos, write website copy, and even post to social media.
#2: Use high-quality images on your website to achieve a professional look
High-quality images are key if you want your content noticed in the increasingly crowded web space. There are a lot of professional designers and social network designers. With a little knowledge and a few business tricks, you can provide high quality and effective visual presence online. But most importantly: make sure you know the image licensing laws. Copyright infringement can result in large fines of up to six digits amount.
#3: Invest in cost-effective advertising as a private practice owner
Paid advertising is a very cost-effective way to get more patients and leads. You can consider investing in multiple ads on Google AdWords because you will soon notice the results if you do it right. In addition, platforms like AdWords allow you to track results and how your target patients respond to your ads.
#4: Use social media to expand the reach of your private practice
The marketing potential on social media is substantial. As of 2021, the number of people using social media is over 3.96 billion worldwide. Posting regularly and relevantly on social media is essential to any private practice. Your social media presence is the key to brand recognition among potential patients and also a great tool for patient education. Find out the most effective social media platform to reach out to your target patients and stick to that platform.
#5: Your private practice website should be mobile-friendly
Most web browsing today is done on smartphones - it is absolutely essential that your website is fully mobile-friendly. A mobile-friendly website will help your practice to stand out among competitors. Also, it not just provides a streamlined experience across devices but also creates a better user experience. So, make sure your website works well—on the phone and has all the essential information that can be easily found by your potential patients.
#6: Create a continuous flow of informative content
Your website rankings on Google can increase if you consistently post quality content. Therefore, the more relevant the content you post, the more likely people are to link to you, and the more likely Google is to see that your website has what people are looking for. Informative content can also position you and your practice as the thought leaders in your healthcare vertical.
#7: Capitalize on digital resources like email marketing
Did you know that email is 40 times more effective than social media? That's right. It is proven that more people have email accounts than social media accounts. Consider adding an email newsletter or "Note from the Doc" to your marketing strategy.
#8: Analyze your results, re-evaluate and re-analyze
Effective marketing should be a dynamic process and never more so than today. You need to repeatedly return to your goals and track clicks and conversions to see what works and what doesn't. Both conversion and general brand awareness are essential to your long-term success, so your goals should include both. New platforms, applications, communication methods, and search habits are constantly evolving - which is why you want to hire experts if you want to stay ahead.
#9: Find a great practice manager
Never underestimate the value of a caring and dedicated practice manager and front desk staff who can convert your online inquiries and calls into actual appointments and new patients. Your practice manager can fuel your growth or drive away patients. Make sure you find a great practice manager who is tech-savvy and is passionate about providing a great patient experience.
#10: Make the most of your best marketing tool: Yourself!
When you are active online through regular blogs or social media posts, and keep all of your prospective patients and followers engaged so your practice stays top of mind. Write about the common problems that your potential patients may face, and tell them how you can help. Remember, you are the best marketing tool for your private practice.
Through these 10 steps of private practice marketing, you can easily increase your online presence and start getting new patients. Whether you decide to engage your patients via email or post more on social media, there are quite a few simple ways to highlight your private practice online. Online marketing cannot be ignored. The internet is a powerful channel to build your private practice.
Thumbnail image designed by freepik.com