Plastic Surgery SEO: A Guide for Getting New Plastic Surgery Patients Online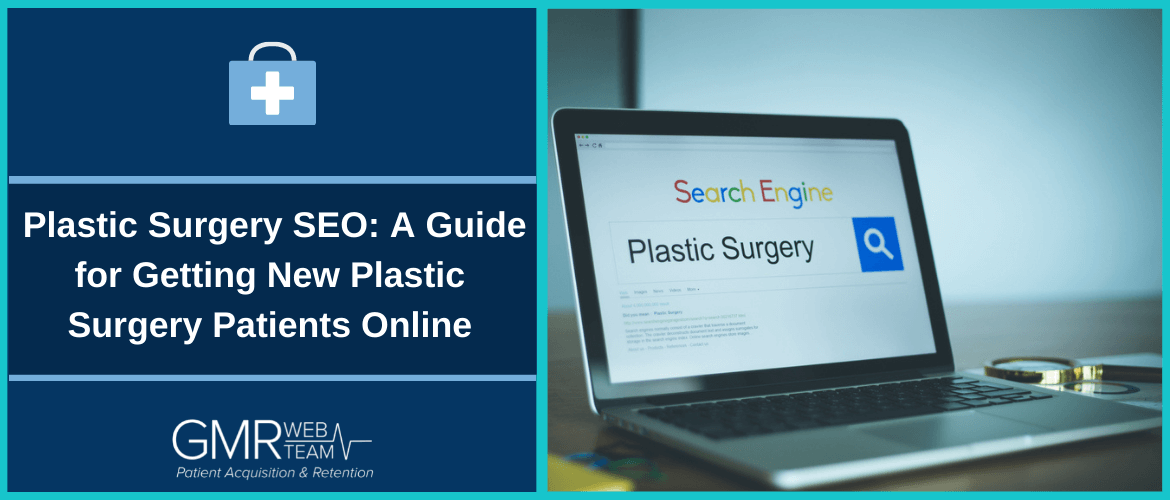 When a patient decides to seek out the best plastic surgeon in their area, they are most likely starting their journey online via Google or another search engine.
The results page shows relevant results so patients can cut down on their search time and easily find well-established plastic surgery practices in their area.
Search engines, like Google, use advanced algorithms to assess and sort websites so that only the most relevant results show up to the person searching.
The algorithm in this case considers a plastic surgery office's location, keywords, organic website traffic, reviews, paid advertisements, and more when determining what websites to show on the search engine results page.
It is important to have a strong web presence so that your site ranks at the top of the results page for the search terms that prospective patients are commonly using when looking for your plastic surgery practice.
Plastic Surgery SEO is the important practice of optimizing your website so that it ranks highly for relevant search terms. This gets your website front and center for local patients seeking your plastic surgery services.
Why Is SEO for Plastic Surgeons Important?
In today's digital world, the first action that a prospective patient will take in their plastic surgery journey is most likely a Google search.
Google is the most popular search engine, in the world with 91.42% market share as compared to Bing, which comes in second place, but with just 3.14% market share. Thus, it is safe to assume most of your patients and prospective patients run a Google search for your plastic surgery services.
Below is a table showing some of the most common search terms used on Google for plastic surgery services in 2021.

source: Google Keyword Planner
By using effective plastic surgery SEO, practices can tailor their web pages to rank for these search terms, showing Google that your website is relevant to those who are searching.
Primary Elements of Plastic Surgery SEO
Making a plan for your plastic surgery practice's SEO can get tedious, granular, and may seem like an impossible task with no clear start or end point. So, let's focus on some key elements that will get your plastic surgery website ranking.
#1. Mobile-Friendly Plastic Surgery Website
Nearly 60% of online searches are conducted on a mobile device. An intuitive and mobile-friendly plastic surgery website is vital for patients seeking information about your practice. A mobile-friendly website is easy to navigate, easy to see and will have buttons to contact your practice with just one tap. In addition, well-designed mobile sites rank better on Google.
#2. Online Reputation Management for Plastic Surgeons
Effective online reputation management can greatly boost your plastic surgery practice's SEO. Online reviews are consistently growing in importance for consumers making a decision, so managing your practice's online reputation is vital to your success.
Reviews have grown slightly in importance for Local Pack/Finder rankings over the last few years, moving from 12% in 2018 to 17% in 2021. Although this increase is small, it reflects the ongoing value of reviews among consumers. Reviews have consistently been the second most important Local Pack/Finder ranking factor since 2018, when links were knocked out of this spot.
Source: BrightLocal
#3. Google Business Profile Optimization
Google Business Profiles (GBPs) are essentially directory listings for businesses that are shown in search engine results. Setting up your plastic surgery's GBP is quick, simple, free, and vital to your SEO strategy. By filling out your profile in full, uploading photos of your practice/staff/services/etc., your practice will stand out among other listings that have not taken the extra effort to do so.
#4. Name, Address, Phone Number (NAP) Consistency
In order for prospective patients to contact your practice, they have to view your correct business name, address, and phone number (NAP) online. Consistent NAP listings across different websites, directory listings, articles, etc. ensure that any patient viewing your information sees it correctly. Google will also read and rank consistent NAP listings higher than a practice that has varying NAP's online.
#5. Link Building from High Authoritative Healthcare Websites
Part of Google's algorithm involves reading the behavior of your website visitors. This includes where they come from and how they interact with your content. By placing links to your web pages on other highly respected and trafficked websites in the plastic surgery field, your SEO improves. Consider reaching out to other businesses with strong web presences to see if they will collaborate on a content piece that drives traffic to your website.
#6. Quality Plastic Surgery Content
A large part of plastic surgery SEO is producing quality content. Google wants to see that your plastic surgery website is trustworthy and knowledgeable and that patients stick around to view your content online. Creating and posting consistent high-quality content, such as educational blogs, videos, and landing pages can help your website rank for those topics.
#7. Relevant Internal Linking for Plastic Surgery Website
Once a prospective patient visits your website, it's important to keep them there. This shows Google's algorithm that patients are finding your website relevant and useful. A good SEO practice is to include internal links wherever you can, so patients can jump around for information without leaving your website.
#8. Plastic Surgery Keyword Placement
One of the most important practices in plastic surgery SEO is keyword placement. Earlier, we mentioned that the most searched term for plastic surgeons in 2021 was "plastic surgeons near me" with a search volume of 60,500. Strategically placing highly-searched keywords throughout your website will help Google decide to rank it higher on the search results page.
#9. Plastic Surgery Content Volume
Along with quality content comes content volume. The more quality pieces your plastic surgery practice produces, the more content patients have to view. Consider implementing a consistent blog and other content strategies that create relevant content for patients.
#10. Geographic References
Patients tend to search for plastic surgeons in their immediate area. Another great SEO practice is to mention your location on your website often, which will help Google to distinguish your practice in your area. This can include your city, neighborhood, major streets or highways, or any other landmarks near your practice.
Conclusion
An SEO strategy for a plastic surgery practice can vary from simple to complex. Extensive SEO strategies if done correctly will help you rank at the top of rankings results.
With several different elements to focus SEO efforts on for plastic surgery practice, it is worth seeking out a healthcare marketing agency to help you get more patients.