Physician Marketing Strategies to Improve Patient Retention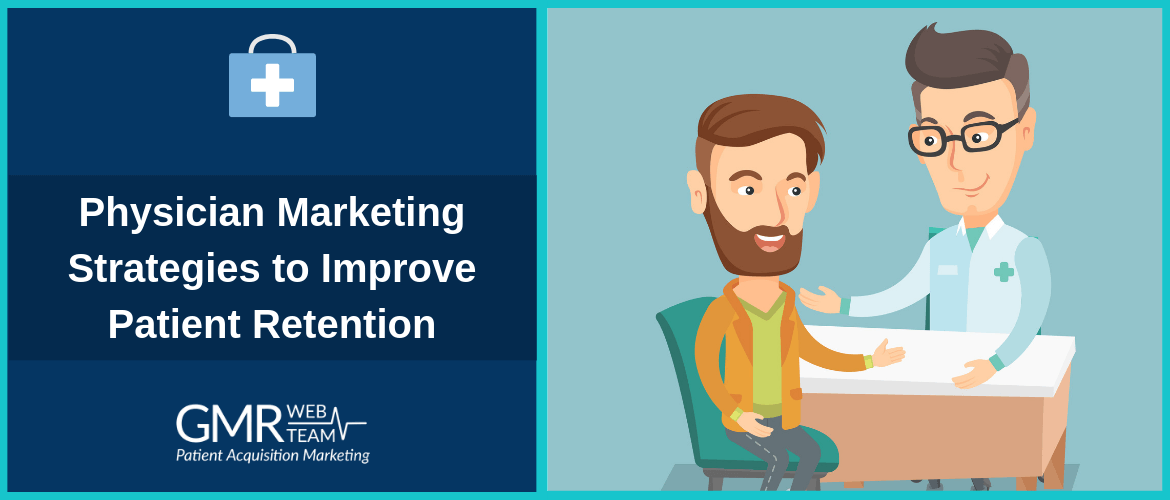 The number of independent physicians in the US has dropped over the last several years thanks to disruptive market conditions! The most common factor here, as cited by the majority of independent physicians in an Accenture study, is the reimbursement pressure that restricts them from staying in an independent practice. According to an Accenture study, only 33% of all physicians in the US were working in independent practices by the end of 2016. To survive these changes and to remain independent, physicians are turning to aggressive marketing activities. Excessive advertisement and other promotional materials are making patients feel overwhelmed, confused and indecisive about selecting a provider; higher patient attrition rates remain a challenge for most physicians as well. They are struggling to forge a patient-doctor relationship with their patients to increase patient loyalty and retention, which is the foundation for the success of any private practice. Therefore, independent physicians like you should implement a marketing strategy that focuses on improving patient retention by integrating all digital and offline marketing efforts with the need to improve your overall patient engagement and experience. The more happy and engaged your patients will be, the more their likeliness to remain loyal to you. In this post, we'll learn about the most effective physician marketing tools and tactics that help in improving patient loyalty and retention. Keep reading!
Why Patient Retention Is the Key to Success for Physicians
Studies of thousands of patient reviews and comments confirm that patient loyalty relies primarily on three factors; namely, communication, provider empathy, and care coordination. Communication being the most vital concerns with things, like always letting your patients know why they are waiting. The other two points relate to patients' understanding of your concern towards their care, and your team's collective effort in providing the best quality of care and service to them. Being an independent physician, you have the advantage—because of your small, private practice setting—of being able to provide personalized care and forge a close patient-provider relationship with your patients. As there are fewer physician practices like yours remaining that provide that kind of relationship, winners will be those who can succeed in retaining most of the patients who have selected them over others. Here's an attachment of a study done by Statistica, which found that patients like to stick with just one physician for all their usual healthcare needs.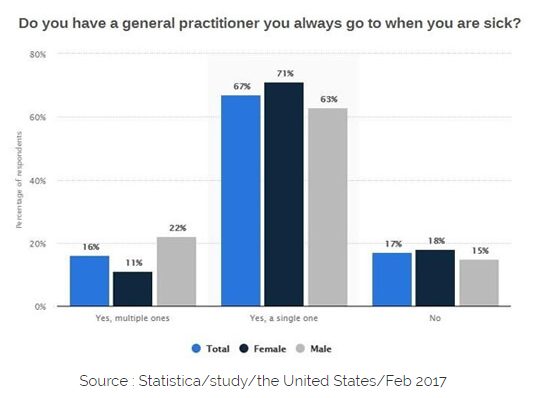 You can clearly see that 67% of patients stay with a single general practitioner, provided they get the expected patient satisfaction and superior care.
Retention-Focused Physician Marketing Tactics and Tools
The most effective physician marketing strategy not only focuses on acquiring new patients, but also on implementing ways to retain them. Different physician marketing strategies that help in improving patient retention opportunities are search engine optimization (SEO), pay-per-click (PPC), targeted email outreach, social media community development, and reputation management. Using these digital tactics, you can easily provide relevant information to patients through preferred communication platforms, which will help you in increasing engagement. These digital marketing tactics are also helpful in gathering additional information about patients—from email addresses to psychographic data—that can inform and improve your future retention efforts. Moreover, you can also utilize digital media to present patients with retention-focused incentives. For example, you can send your patients an invite via email to a local sports event. Their participation will help them stay engaged with your practice. Physician marketing tools and technologies, such as automated patient survey systems, sentiment analysis, etc., are other valuable digital means that you can implement for improving the quality of face-to-face communication and interaction between your patients and your staff. Different retention-focused physician marketing tools and technologies are:
Automated Patient Satisfaction Survey Tool In any business, including healthcare, satisfaction is the key to improved customer retention. With an automated patient satisfaction survey tool, you can gather quality data, in the form of patient comments and feedback, which will also give detailed insights into a patient-provider interaction. An automated survey tool also helps by notifying you or your practice manager when a bad review or rating has been submitted, which lets you quickly begin the service recovery process.




Sentiment Analysis Technology Patient sentiment analysis technology lets you systematically analyze patients' comments on satisfaction surveys to determine the emotional tone of their feedback. It uses natural language processing and artificial intelligence to identify and categorize trends in feelings and emotions of patients at large. The analyzed data is then presented as actionable reports, which you can use to reflect on your past performance and determine solutions for improving on any aspects of your care.




Performance Monitoring Tool You and your team's attitude and behavior plays a major role in your practice's patient retention rates. However, as patient-staff or patient-doctor interactions happen in a private space, monitoring these becomes difficult. Performance monitoring tools assess patient feedback data to provide collective performance reports for your staff, and individual performance reports for each co-provider. Ideally, sentiment analysis and performance monitoring should be a part of the patient satisfaction survey tool, as both start with patient feedback. GMR Web Team's proprietary automated patient satisfaction survey software RepuGen has built-in unique sentiment analysis technology. It can also provide you with patient satisfaction reports for your whole practice as well as individual providers.
Conclusion
Struggling private practice physicians can become more competitive and can easily survive the growing physician attrition crisis if they direct their attention and efforts not just on acquiring new patients, but also on retaining their existing ones. As it's said, the best way to grow your patient base is not to lose the patients you have today.