Medical Practice Marketing: 15 Best Ways to Attract More Patients to Your Practice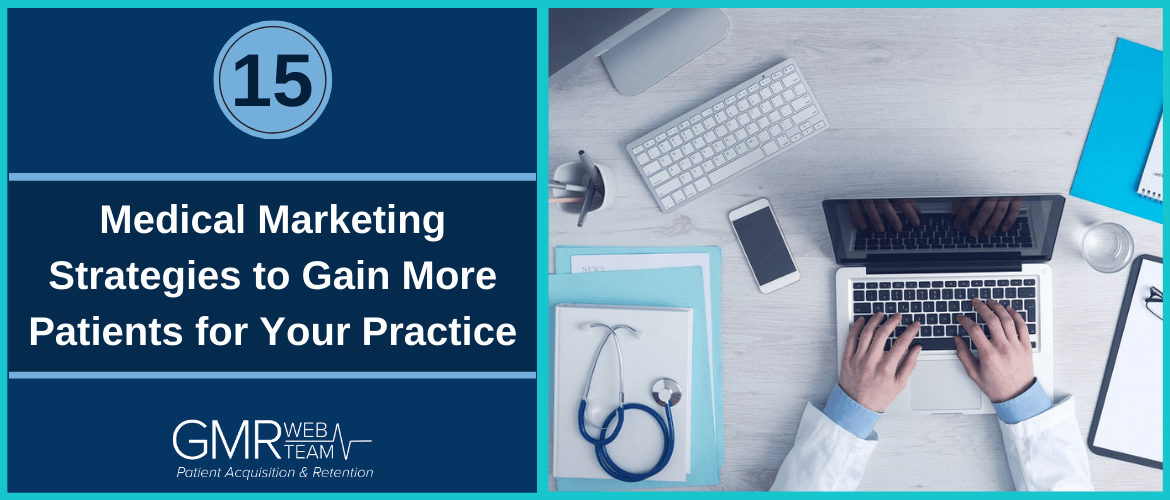 To stay visible and relevant, medical practitioners need to maintain an accurate online reputation and increase online visibility. It is imperative for private medical practices to develop effective digital marketing strategies that build trust and credibility between them and their patients. A stronger online presence can help your practice stay ahead of the competition.
Medical practices also need a strategy for long-term reputation management. As good as traditional marketing tools, referrals remain one of the most efficient sources of gaining new patients. Usually, when existing patients find your care effective, reliable, and satisfactory, it increases the likelihood of them telling their experience to family, friends, and coworkers. However, if you are just starting out, you may not likely have referrals. Therefore, starting strong requires a strong online presence that is constantly giving patients the desired search results and reviews.
Learn the 15 best medical practice marketing strategies to scale up your practice.
1. Have a Patient-Friendly Website for Your Medical Practice
The Pew Research Center reported that about 72 percent of U.S. adults search online for medical-related information. If you are using several ways to market your practice online, all of your efforts must point to your website. In a Google survey, it was estimated that up to 61 percent of people would likely leave a website that is not mobile-friendly. Make sure your website can respond to different devices, has a patient-friendly navigation menu, clearly laid out information about specific treatments you provide, and fast-loading speed.
2. Connect with Your Patients through Social Networks
Leverage the power of social media by creating profiles for your practice on popular social networks such as Facebook, Instagram, and Twitter. Keep your profiles updated with fresh content that your prospective patients would be interested in. Rich, relevant, and quality content on your social media profile will boost your brand name and credibility. Also, it will let your patients communicate with you in ways they already know and are familiar with.
3. Email Marketing: A Personalized Tactics to Engage Patients
According to Marketing Sherpa's Survey, about 60 percent of respondents chose email as the preferred way to receive promotions and updates from prospecting companies. Email marketing is one of the most cost-efficient medical marketing strategies, with some sources claiming an ROI of 400 percent or more. It offers easy, cheap, quick, and one of the best choices for personalized communication to stay in touch with your existing and potential patients. It is also a proven channel for sending appointment reminders to ensure your patients do not miss their checkups.
4. Leverage Your Current Patient Base
People are four times more likely to try a new brand or business when it is referred to them by a friend. Remind your patients to recommend your practice to somebody in need of it. If you provide excellent patient care, your patients will likely recommend your practice friends and family, and you will likely gain a new patient. If possible, offer rewards for your referring patients!
5. Match Google's Rankings to Get Found by Prospective Patients
Your search engine ranking is very important because ranking has become very competitive. When a potential patient looks up medical practices online, you want to be one of the first names that pops up. Therefore, medical practices must invest in SEO techniques in their marketing strategy to get easily found by prospective patients searching for medical care information they need.
6. Use Video Content to Educate Patients about Your Services
With a budget-friendly advantage, video contents provide medical marketers with enchanting and compelling content for their audience. This is because users are more likely to watch and share video content than other forms of content. You can prepare a slideshow or a short video to showcase your practice and the facilities available to let patients know what they can expect. Remember, the distinctive nature of videos allows medical marketers to boost brand reputation and showcase their practice for maximum online outreach.
7. Register Your Practice on Local Directories to Get More Exposure
To acquire more patients, you need to list your practice on relevant online forums, online directories and review sites with distinguishing descriptions that stand out among the numerous competitors. This helps with building authority for SEO and increases your rankings.
8. Use Newsletters to Share Information
Collect emails of your patients and send out newsletters that advertise new offers, office changes, and updates about your staff, as well as educate them about general healthcare tips. This helps keep your practice top of mind. Remember that newsletters are an effective tool to strengthen patient-provider relationship and can provide healthcare practitioners with excellent insights on patient behavior.
9. Contribute to Reputed Healthcare Publications
It has been found that healthcare providers who contribute to reputed medical publications can effectively acquire more potential patients from online platforms. Contributing content to the best medical publications and healthcare blogs will not only demonstrate your know-how and efficiency as a healthcare practitioner but will also help build trust and manage your reputation.
10. Webinars Can Help You Establish Authority Among Patients
Scheduled periodic webinars keep your medical practice top of mind for patients. Webinars provide an avenue to educate your followership, thereby increasing confidence and establishing authority in your area of specialty. These should be free and highlight educational information to show-off your knowledge.
11. Showcase Patient Testimonials to Enhance Credibility
Satisfied patients can provide some of your best marketing. In compliance with HIPAA, publish their testimonials on your websites, newsletter, and social media. Testimonials create credibility and provide social proof to prospective patients about the care you provide.
12. Improve Patient Experience
Seeing patients shop around for better medical care, you need to establish a strong relationship with your patients and make them your greatest advocates. You must have satisfied patients and address any issues that arise. This is part of your marketing strategy to retain your existing patient base. The Hallmark of patient experience is to build the patient's trust and confidence to check in again and refer another person.
13. Sponsor an Event to Maximize the Reach of Your Practice
Sponsoring a health-related event can get your medical practice out to large audiences, whether online or in person. It will also help in tapping into mailing lists of more prospective patients loaded with names, phone numbers, and other details. So post an event whenever you have the time to track new leads, go for it. You can also hold a summer picnic and invite all current and prospective clients.
14. Reward Loyalty to Boost Patient Retention
There are patients who have stayed longer with you and have also contributed in bringing others to your practice. You could organize a special occasion to honor them or do a holiday raffle. Always thank current patients when they pay their bills.
15. Send Birthday Wishes to Make Your Patients Feel Valued
You can send each patient a "Happy Birthday" letter or card and stay in touch if you haven't heard from a patient in a while. You can also send them pens, key chains, note pads, or other freebies displaying your logo. This will make your patients feel valued and they will more likely recommend your practice to others.
Remember, the above-mentioned medical practice marketing strategies will help you better connect with your existing patients and also attract new ones. So, use one or more of these healthcare marketing tactics to scale up and help get more new patients for your medical practice.