LASIK Marketing: Digital Strategies to Attract More LASIK Patients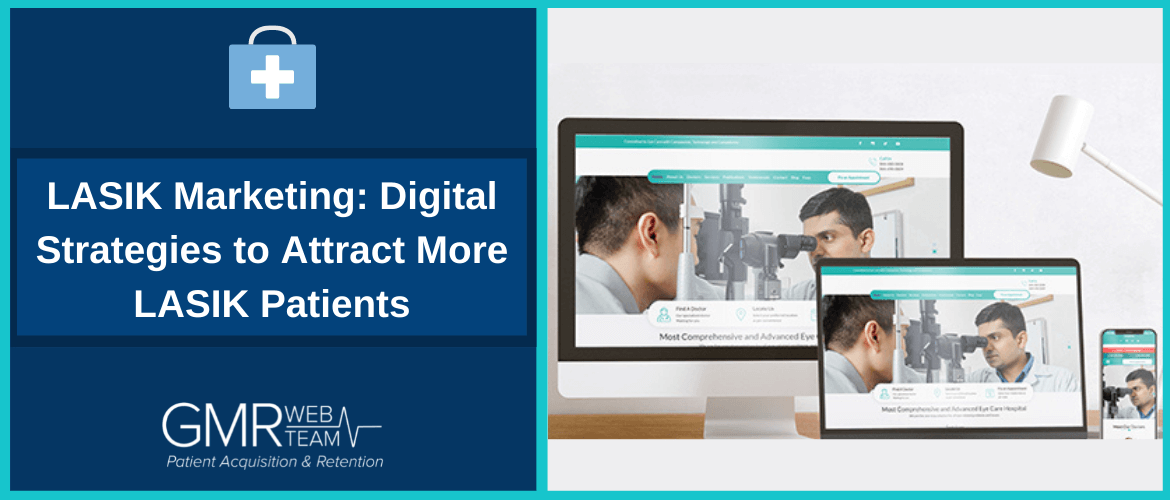 As laser vision correction grows in popularity annually, any healthcare practice offering LASIK must implement strong marketing strategies to set itself apart from the competition.
With patients turning to the internet to choose new healthcare providers, it is imperative to have a strong digital presence stocked with intuitive digital tools that encourage patient engagement and improve satisfaction.
Smart digital marketing practices are a proven way to build trust in both current and prospective patients searching you out online. Keeping patients engaged in their healthcare journey improves retention, increases referrals, and boosts satisfaction.
There are some essential LASIK marketing strategies to keep your practice ahead of the competition while simultaneously driving awareness and engagement with your patients.
1. Digital Patient Engagement Platforms
Digital patient engagement software is a one-stop digital interface with powerful tools to keep patients engaged with your practice and within their own care. This includes online scheduling, appointment confirmation reminders, general communication with the staff, birthday and holiday ecards, reviews and surveys, and more.
Implementing a digital patient engagement platform gives LASIK patients a holistic view of their care journey with your practice, everywhere from scheduling their appointments to leaving feedback after their visit. Keeping LASIK patients engaged makes them feel important and engaged with their provider, which is greatly helpful for patient satisfaction, acquisition, retention, and referrals.
2. Online Reputation Management
With 81% of patients turning to online reviews before choosing a provider, it is extremely important to have a solid online reputation. When patients are searching for a LASIK provider, they are looking at your practice's entire online reputation on review sites like Google, Yelp, and HealthGrades.
Replying to all reviews is an important way to show that your practice cares about the patient experience regardless of if they are positive or negative. Keeping up with your online reputation for LASIK marketing doesn't have to be time-consuming. Online reputation management services exist to facilitate to gauge, monitor, respond to, and increase reviews for your practice.
3. Patient and Physician Referrals
Nearly half of the LASIK appointments are booked from word-of-mouth referrals. Therefore, by keeping patients engaged and satisfied, your patients are more likely to refer your practice to any family or friends seeking LASIK services.
With increased referrals in mind, providing your LASIK patients with a top-tier experience is the best way to ensure that they are quick to recommend your practice to anybody seeking your services in the future.
4. Automated Patient Experience Tools
In this new digital age, it is easier than ever to monitor patient experience and satisfaction, which are important indicators of how your practice is functioning. Automated patient experience and satisfaction tools can include anything from automatically triggered post-visit surveys to AI intelligence to determine the intensity of your patient's trust in you (yes, that technology exists!).
Once you are able to understand how patients think and feel about their experience with LASIK at your practice, you can implement any suggested changes or even congratulate your staff to keep up with the momentum of a positive patient experience.
5. Patient Retention Plans
When a patient becomes upset or dissatisfied with their visit, they are most likely in need of somebody on the staff to listen to them. Whether in person or online, it is important to handle dissatisfied patients properly if you wish to improve patient retention.
Patients who feel seen and heard after a bad experience are more likely to feel satisfied with the proper response and return for their next visit. When they are not responded to, they will likely seek another practice or leave a negative online review.
6. Make it Easy to Request Appointments
Consider a patient with a choice between two LASIK practices. One practice allows them to schedule and confirms an appointment time with just a few clicks, while the other requires them to call the office during business hours, wait on hold, and go through dates and times with reception until something lines up with their busy schedule. This patient would most likely choose the former.
7.Online Listing Consistency
With multiple business listings online where patients can discover your LASIK practice, it is important to ensure they are all consistent, especially when it comes to your name, address, and phone number. This can be a tedious task to take on alone, but luckily there are automated services to make it simple.
With clean, consistent listings, search engines will recognize your LASIK practice better than those with inconsistent listings. Consistent listings make sure that no matter where patients come across your information, they will never click an outdated link or call an old number.
8. Why Choose a LASIK Marketing Agency?
When a patient begins their search for the best LASIK services in their area, they first turn to the internet. They browse reviews, click around websites, and compare practices with one another. Ultimately, they will end up choosing a practice with a strong, established online presence and online reputation over others.
To make sure your practice stands strong and can distinguish itself from any nearby competition, it is important to implement LASIK marketing strategies. With proper marketing, you can improve your patient acquisition and retention.