Laser Hair Removal Marketing: Best Strategy to Build Your Patient Base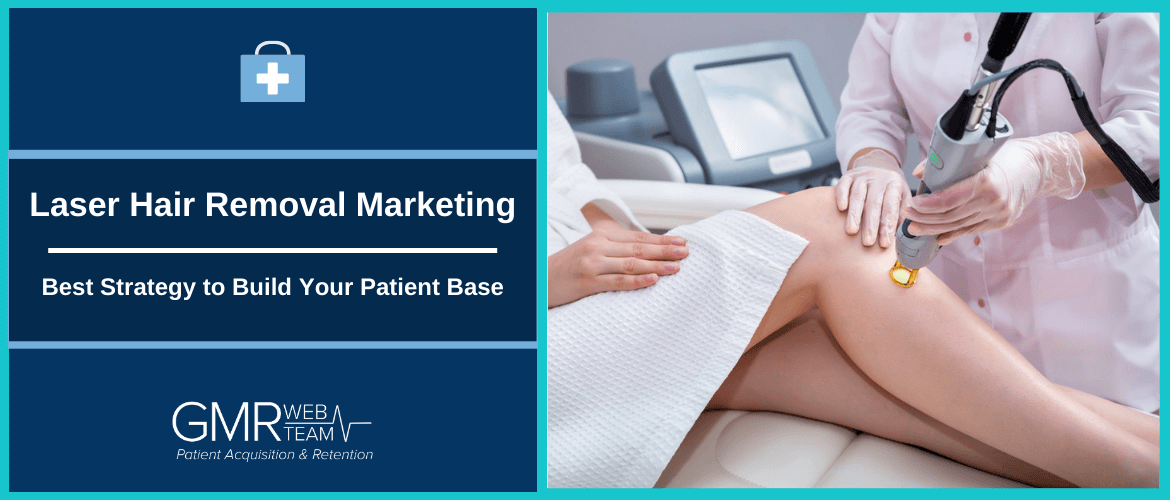 With the global laser hair removal market valued at USD 798.6 million in 2021 and expected to grow in the coming years, marketing for laser hair removal clinics or practices has become crucial today.
Also, with the world going digital, people are turning to online resources more than ever before. That means you're missing out on many potential patients if your clinic needs to make an online presence. Here, digital marketing can help you reach those people where they spend most of their time - on the internet!
Social media, email marketing, and pay-per-click advertising are just a few examples of the powerful digital marketing components at your disposal. Using these, you can showcase your services, connect with potential clients, and build your brand online. Besides utilizing the channels mentioned above, you can also use comprehensive digital marketing strategies to stand out in the market, attract new patients, and retain the old ones.
Why Marketing for Laser Hair Removal Clinics is a Must in Today's Age
Around 13,200 searches were conducted online for "laser hair removal near me" in 2022. The global market for laser hair removal is projected to grow at a compound annual growth rate (CAGR) of 18.4% from 2022 to 2030, indicating an increase in demand for this service. Consequently, like any other business, laser hair removal clinics need marketing strategies to succeed.
Nevertheless, the competition in the sector is also intensifying, underscoring the importance of marketing to differentiate oneself from the rest and appeal to prospective clients. So here are the strategies categorized into four segments to build a loyal patient base for your laser hair removal clinic.
#1. Improve Patient Acquisition for Your Laser Hair Removal Clinic
For effective patient acquisition, you need to understand the requirements and preferences of your target patient population and develop tailored approaches to attract new and retain old patients. Subsequently, maintaining an excellent online reputation helps attract more patients cost-effectively.
Utilizing the following digital marketing elements can help with patient acquisition for your laser hair removal clinic:
Website Design & Development
Search Engine Optimization
Online Reputation Management
Paid Search Marketing
Content Marketing
Referral Marketing
Marketing Automation
#2. Run and Measure the Success Rate for Your Practice
You can implement AI-based patient sentiment analysis, multi-question surveys, appointment and confirmation reminders, and online appointment scheduling, which are crucial strategies for your laser hair practices. These strategies will improve patient satisfaction, reduce costs, and increase revenue, leading to a more successful practice.
AI-Based Patient Sentiment Analysis
Multi-Question Surveys
Appointment & Confirmation Reminders
Online Appointment Scheduling
#3. Integrate Patient Retention for Your Laser Hair Removal Practice
You can maintain a successful medical practice by implementing patient retention strategies such as patient satisfaction monitoring, service recovery, and communication tools. Regular satisfaction surveys will provide valuable feedback to identify your areas of improvement and enhance the patient experience. Email, text messaging, and phone calls can keep your patients engaged and informed about their health, appointments, and events, improving loyalty. Hence, the crucial elements for enhanced patient retention are:
Patient Service Recovery Program
Patient Satisfaction Monitoring and Surveys
Communication & Engagement Tools
#4. Build a Strong Brand for Your Laser Hair Removal Clinic
A strong brand is crucial for your laser hair removal marketing to attract and retain clients. To achieve this, you can use a custom branding strategy and a well-crafted social media strategy. These strategies involve developing a consistent visual identity and creating relevant content, showcasing testimonials, and responding to feedback on social media. By implementing these strategies, your laser hair removal practices can attract more clients, increase revenue, and build a solid and recognizable brand.
Custom Branding Strategy
Social Media Strategy
Revitalize Your Laser Hair Removal Practice with GMR Web Team
With the strategies mentioned above in this digital age, it is essential to have a solid online presence to attract and retain clients for your laser hair removal practice. At GMR Web Team, we understand this and specialize in developing comprehensive marketing campaigns focusing on patient acquisition, engagement, and retention. Let our cutting-edge digital marketing strategies help you to reach out to your target audience and grow your practice's revenue.
Contact us today to learn how we can help take your laser hair removal practice to the next level with our proven marketing strategies.